The 411 on 623: From tech to tools, one Columbia building has it all
By Leah Love, Staff Reporter
September 19, 2022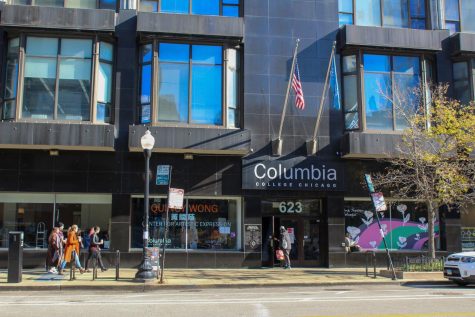 Columbia's 623 S. Wabash Ave. building is home to various resources for students, allowing them to access materials and equipment for their artistic practices. The variety can be overwhelming, and knowing what prerequisites are needed to access each resource can be daunting. Here's a floor-by-floor breakdown of the resources that can be found there.
The TechBar
New to the building is the first floor's TechBar. Now open after a year and a half of development, the space provides students with "tier one," or basic support with technology.
"Our Columbia students are providing tech support to [their] fellow Columbia students," said Dok Kang, an academic technology architect.
While students shouldn't expect miracles, the tech bar can address pesky issues that can hold up an assignment or prevent access to one's email.
"We do not open up the computer, we do not fix hardware, but we provide simple technology solutions, especially [for] first-year students," Kang said.
The TechBar specializes in software used college-wide, such as Canvas and Office 365.
The TechBar is open weekdays from 9 a.m. to 5 p.m., and students can have questions fielded in person or remotely—via email, phone or through Microsoft Teams. In addition to assistance, students can also rent a Chromebook for up to a week and borrow chargers for phones, iPads and several kinds of computers for a 24-hour period.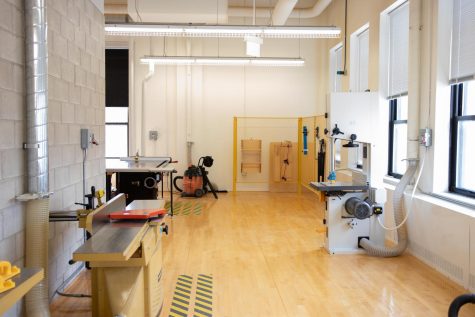 Printmaking Facility
Though it serves as a classroom for many printing classes, the second floor's Printmaking Facility is also available to students beyond instructional hours.
Open 8 a.m. to 10 p.m. Monday through Thursday, 8 a.m. to 4:50 p.m. on Fridays and 9 a.m. to 5 p.m. on Saturdays, with specific open studio hours that vary day to day.
The space is accessible to students who completed the five-week screen printing course or "Printmaking I." The space is then available to students through graduation, regardless of whether they continue to take printmaking classes.
With five printing presses, risograph printers, a direct-to-garment printer and materials available to purchase on-site, students can experiment with a variety of techniques, including etching, lithography and relief printing.
The space, which is plastered with prints and student work, is what Meghann Sottile, an instructional specialist at the Fabrication Facility said is "smaller [and] more intimate" than other facilities, which makes it something of a haven for students.
"It is a really inclusive environment," Sottile said. "There's definitely like a community, especially as the semester goes on and students start to become more familiar."

The Fashion Lab
On the seventh floor, The Fashion Lab is open to all students in the School of Fine and Performing Arts. There are industrial sewing machines, dress forms and other sewing supplies available to students from 8 a.m. to 10 p.m. Monday through Thursday, from 8 a.m. to 5:30 p.m. on Fridays and from 9 a.m to 5 p.m on Saturdays.
Fashion students become authorized to use the space through many of their classes — including "Pattern Making and Construction 1" and "Apparel Evaluation" — but all other students need to set up an appointment for fashion authorization with an instructional specialist.
For specialized equipment such as the embroidery and knitting machines, demonstrations will be held at the Fashion Lab on Wednesdays at 3 p.m. through Nov. 22.
"Every semester, we're giving incoming students their own kits to start off the semester with," said Ruqyyah Karim, 2015 fashion alum and instructional specialist at the Fashion Lab.
Within the free kits, students will receive materials such as muslin and a sewing kit, which are also available to purchase in the lab.
Though the space is not usually too packed, Zena Salam, an instructional specialist and 2016 fashion alum, warns that it gets hectic towards the end of the semester.
"Come early during finals to claim your space," Salam said.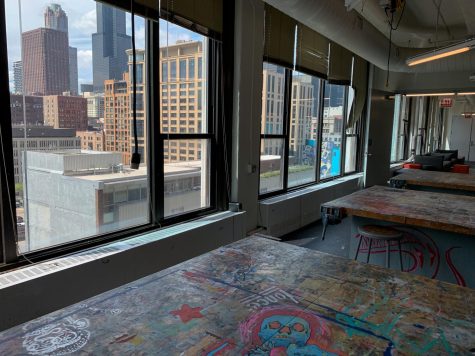 Open Studio
The Open Studio, housed on the eighth floor, is a free workspace available to any student.
"The idea is anytime, all building hours, any day of the week, this space is available for students to work on models, painting, drawing, sculpture, whatever it is they want to work on," said Chris Kerr, director of Instructional Facilities.
There are no sign-in or prerequisites needed to use the space, which features work tables, a photo shoot area and storage lockers for students to store work. The studio is open from 7 a.m. to 10:30 p.m. on weekdays and from 8 a.m. to 6 p.m. on Saturdays.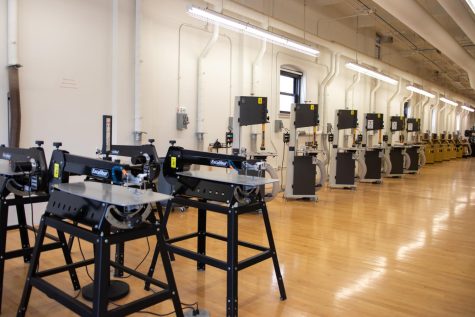 Fabrication Facility
The 10th floor's Fabrication Facility hosts an assortment of tools and materials that span a range of disciplines—from woodworking to digital output. Once a student has taken a class in design, photography, theater, art and art history or fashion studies they automatically have access to the space.
In the Fabrication Facility, students will find a computer numerical control router, a vacuum former, pottery wheels and power tools, among other equipment. And when classes are not being held in the facility, students can use the classrooms and computer lab as study spaces.
Students can buy materials at bulk prices, and can also rent out tools for the day.
For certain tools, such as laser cutters and 3D printers, students need individual authorization training before using them. For most of the resources, authorizations are issued through a level system.
A short training video grants students access to level one, giving access to simple hand tools, ceramics and the training center.
For levels two and three, in-person training sessions are longer and students are granted access to advanced wood and metal working tools. The authorizations are granted throughout the fall semester, with the majority taking place in September.
"A lot of people are scared to come up and use the big power tools, and that's only some of what we have up here," said Andy Young, an instructional specialist at the Fabrication Facility. "I always say that it's no matter what major you're going for, it's great to have tools under your belt, and I say that no pun intended."