The 2020 race for president, as told by Columbia College students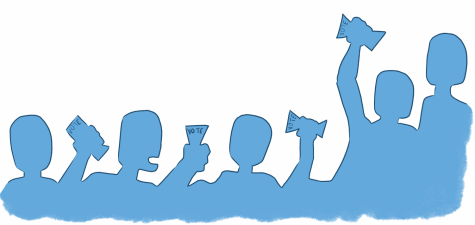 With more than a dozen people running for the 2020 Democratic presidential nomination, only four months from the Iowa caucus and five months until the Illinois primary, the race is on for who will win the youth vote.
When millennial and Generation Z voters are combined, they make up the largest voting bloc, giving them the most potential influence in the upcoming 2020 election. However, data from the U.S. Census shows that those ages 18 to 29 historically have the lowest voter turnout, including in the 2016 presidential election that saw President Donald Trump emerge victorious.
But with so many candidates within the Democratic primary pool and a party increasingly split between moderates and progressives, what do Columbia students really think about the top-polling candidates: former Vice President Joe Biden, Sen. Elizabeth Warren (D-Mass.), Sen. Bernie Sanders (I-Vt.) and South Bend, Indiana, Mayor Pete Buttigieg? The Chronicle set off to find out. Here were students' answers:
Joe Biden
"Creepy, old, white man; invasion of women's space, that's what I think of [with Biden]. … I've seen clips of videos where he's just too touchy, even with young girls," said Samantha Milligan, junior creative writing major, who is undecided in her vote.
"I get why some people are so eager for [Biden] to win just because people are so desperate to get Trump out of there that they're like, 'We're only going to win if we get this bland, vanilla, mayonnaise, milkshake guy to knock elbows with literally everybody and have so watered down of an opinion that nothing matters just for someone else to get in there.' My fear is that the [Democratic National Committee] is going to do what they did last election and be like, 'We have to win at all costs, so we're just going to push this candidate forward' despite the fact that almost everyone I've talked to and everything I've seen online, no one likes Biden; they think he's spineless. If the DNC chooses him as a candidate, it's going to knock away a lot of already disillusioned young voters," said Skyler Daniels, junior television major, who would vote for Dwayne "The Rock" Johnson over Trump being reelected.
Elizabeth Warren
"It'd be kind of kicka– to have a woman president," said Sydney Sexton, sophomore filmmaking major and Warren supporter.
"I really like Elizabeth Warren. Sometimes I am concerned that she takes money from billionaires, but I think that she has the right idea, and she has good plans," said Lauren Manning, senior American Sign Language-English Interpretation major.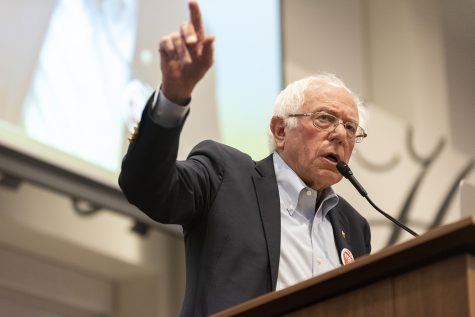 Bernie Sanders
"I'm a student, I'm young, so obviously lots of the things [Sanders is] rooting for I care about, personally. When it comes to loans for students, and then I have older family, so it'd be nicer if we had better health insurance and things like that—which are all things that he is really supportive of. I'd like to see it, but I also know he's quite radical and might stir up some things similar to Trump but in a different way," said Stephanie Grasse, junior animation major and Sanders supporter.
"I have a soft spot for him because of all the things that he wants to do to help America and help 'fix' all the garbage we are going through right now. But, I do also have my doubts because his views are kind of extreme to a good percentage of Americans," said Zoe Elerby, sophomore creative writing major.
Pete Buttigieg
"[Buttigieg] sucks, I hate him. He just seems like he is an opportunist, and he is only out there to advance his career. What arrogance. He's the mayor of a small town; he only won his reelection by 8,000 votes, and he thinks he can win president? That just seems a little arrogant to me," said Nathan Zurawski, junior public relations major and Sanders supporter.
"I really like him, he's probably my favorite candidate. He's very, very smart, well put together. I think he speaks like seven or eight languages. If the Democrats want to take a risk and pick someone who, I think, is well-suited, well-equipped, I think [Buttigieg] is their best bet. … He appeals to a lot of demographics," said Raul Vasquez, sophomore broadcast journalism major and Buttigieg supporter.
Donald Trump
"Absolutely f—–g not. [Trump's] kind of like a chicken running around with his head cut off. Have you ever met a person who knows he's an idiot, but he keeps the persona that he's not because he kind of has some false hope and faith in himself? That's where Trump is at right now," said Geon Ruffin, sophomore public relations major and Sanders supporter.
"I feel he isn't fit for the presidency. … He's very selfish and only thinks of himself. He does immature things [such as] when he came to Chicago and they booed him out and he left. I feel like even though they booed him out, he [should] have stayed in Chicago. … He tweets some things that [are] ridiculous in a way, and this is the first president to do something like that," said Christon Ford, freshman graphic design major.