'That's right, woodchuck chuckers—it's Groundhog Day'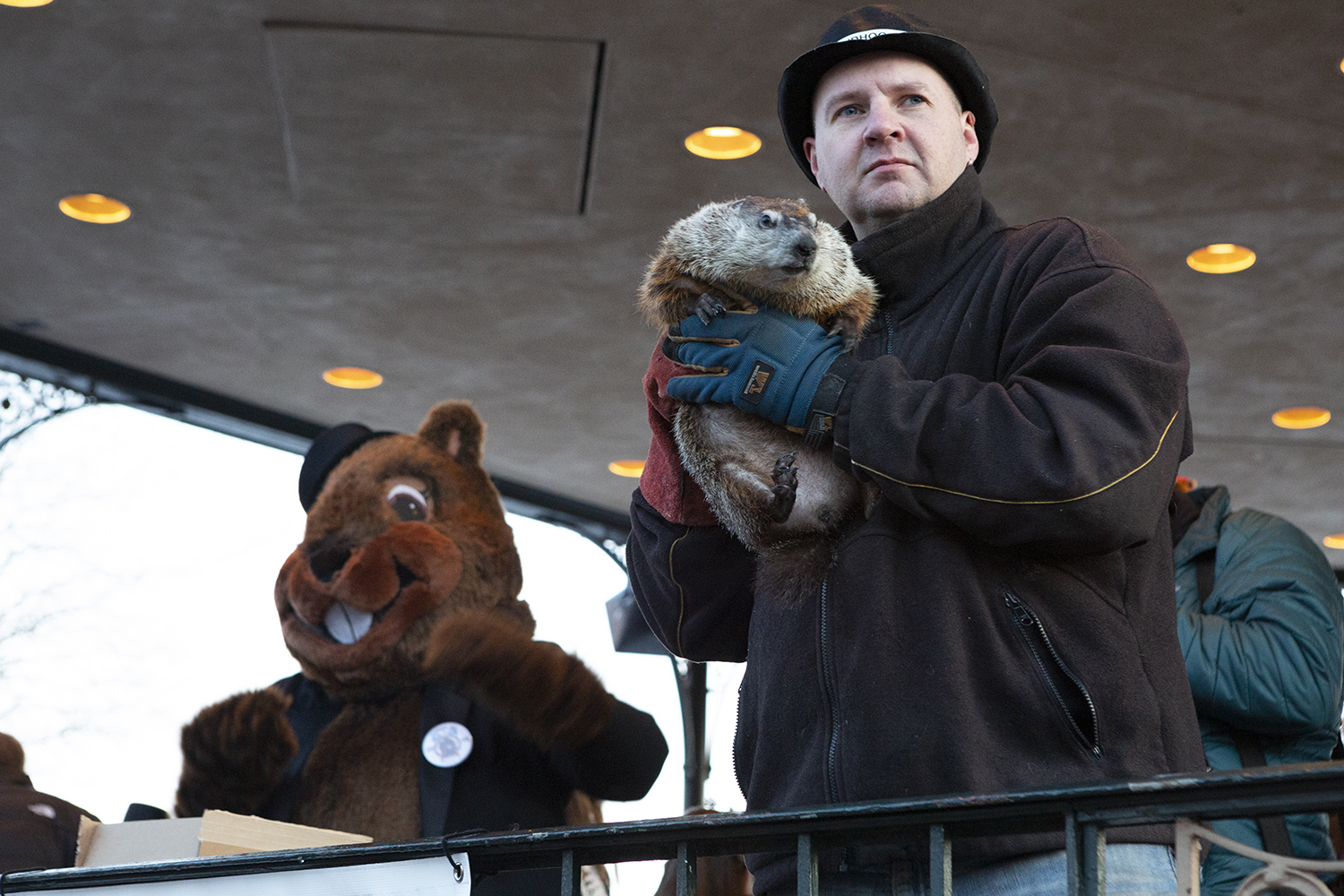 WOODSTOCK, ILL.—The "Pennsylvania Polka" blasted throughout Woodstock Square, a similar sight to fans of the 1993 film "Groundhog Day" starring Bill Murray and Andie MacDowell, which was filmed in the town.
The Woodstock Police Department estimated 2,500 to 3,000 people met in the square for the Sunday, Feb. 2 celebration.  This year marked the 25th Woodstock Groundhog Day breakfast, which has grown into five days of festivities that culminate in the town's groundhog prognostication featuring Woodstock Willie, who determines when spring will arrive.
An irritated Woodstock Willie deliberated with Mayor Brian Sager, before announcing he saw his shadow, meaning winter would continue for another six weeks. Meanwhile, in Pennsylvania, Punxsutawney Phil predicted an early spring, determined by the groundhog not seeing his shadow.
"Groundhog Day" based the film on the annual tradition and a narrative about a cranky news anchor who is forced to re-live the same day repeatedly until he becomes a better person.
"I just love the movie and love watching the prognostication," said Larry Lang of Aurora, Illinois, who has been attending the event in Woodstock since 2005 and now designs T-shirts for the celebration. "Most people are like, 'You do what? You go watch a groundhog?' Well yeah, you just gotta get into it."
Murray was not present for the prognostication but did return to Woodstock a week prior to film a Super Bowl commercial for Jeep, along with his brother, Brian Doyle-Murray, who played Mayor Buster Green in the movie. Along with them were Stephen Tobolowsky who played Ned Ryerson, the life insurance salesman Murray's character runs into every day. The actors reprised their roles from the film for the commercial.
Attendees at Sunday's Groundhog Day event were treated to two guest appearances from Bob Hudgins, the location manager for the movie, who "helped bring Harold Ramis and 'Groundhog Day' to Woodstock," and Richard Henzel, who echoed the morning broadcast he has repeated since playing one of the morning DJs that awakened Murray's character every morning.
Filming wrapped for the movie in 1992, then in 1994 locals decided Woodstock should begin its own Groundhog Day celebration, which began the next year. The first event was a small breakfast consisting of only 25 people, and no groundhog.
Since then, the celebration in Woodstock has played host to thousands from all over, and the town has fully embraced the legacy of the film. Woodstock Square, where the prognostication took place in the movie, is bordered by some of the original filming locations, including a plaque where Murray's character stepped in the puddle, groundhog cutouts in shop windows and Chilly Willie's, Woodstock Willie's very own ice cream shop.
"We've taken Groundhogs Day on as our own holiday," said Rick Bellairs, chairman of Woodstock Groundhog Days. "We've got visitors here from all over the country, and from other countries."