'Thank You Goodbye': Columbia alumni showcase art in West Loop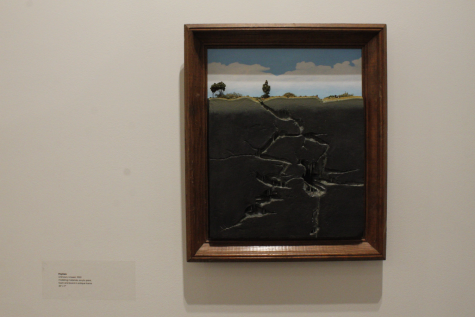 Not far from Columbia's campus at the Epiphany Art Center in the West Loop, an exhibit of artwork made by Columbia graduates called "Thank You Goodbye" is coming to a close. 
The exhibit features five alumni who have graduated with a Bachelor of Arts or Bachelor of Fine Arts from the Art and Art History Department.
The idea for this exhibit came from alum Kaylee Fowler, a 2022 graduate from the Art and Art History Department, who works as the assistant director at the center. 
"It was kind of an idea between me and Aaron [Baker, Epiphany's director of art and programming] and one of the former faculty members at Columbia," Fowler said. 
The trio came up with the idea after Anna Kurz, a retired art and design adjunct professor, came to view a friend's work and told them about doing a show for undergraduate students. 
"A lot of galleries are more accepting of MFA students, but she was like, 'You should do shows for undergraduate students,' because a lot of the undergraduate students were making good work at the time," Fowler said. 
From there Fowler announced they would be holding an open call for undergraduate students from Columbia who graduated between 2019 and 2022 with a bachelor's degree or Bachelor of Fine Arts degree to send work in for a jury to review. 
Fowler also said they are considering making this an annual exhibit and changing the gallery to include more art mediums and more than five artists.
The current idea is to do an annual showcase where juniors and seniors can coordinate and curate their own show, with Epiphany, 201 S. Ashland Ave., serving as the host space. 
"I think it's such a complicated field to be in art … and I think getting yourself out there, it's just the first step," Fowler said. "Any work you have is important, too, so you can get over that mental hurdle of the application process being the scariest part of showing your work." 
The way the artists were selected was through a juried selection process where three people voted on what work would be featured.
"If you received two or three votes, your work would go into the show, and then if you didn't get two votes, you wouldn't get into the show," said Seah Fitzgerald, a 2022 alum featured in the exhibit. 
Fitzgerald said they find jury selection more stressful when it comes to work getting accepted because one has to deal with one or two people not liking your work or it not meeting their standards.
"Be humble [and] take in the resources you are given. I've spoken to so many people who are offered a networking opportunity from a professor or a resource or advice that they end up not taking because they're shy or because they think, 'A couple of weeks have passed, and I don't know if they would still do that for me,'" Fitzgerald said. 
Acting on a resource given to him, Darby Jack, who graduated in 2021, submitted work to the open call for the exhibit after finding out about it and being encouraged by Fowler, his friend and curator. The work he sent in was a series of paintings he had been working on since the beginning of the year that aim to "create psychological narratives."
"My goal is to make the viewer thrusted into the perspective of the subject of the painting," Jack said. "A lot of them have to do with different scenarios of moments of bliss or terror."
Jack was especially excited about being included in the exhibit because it was the first time his work would be shown outside of Columbia's campus. 
With one show under his belt, work is now underway for his next showcase back in his hometown. 
"I have a show in January at a gallery called Gallery Vox, in Birmingham, Alabama, and that's what I'm trying to make lots of work for, so I'm on the grindstone right now," Jack said. 
The three other artists selected and showcased in "Thank You Goodbye" are Nadia Khan and Micaela Felix, who graduated in 2022, and Simon Knuth, who graduated in 2020 and goes by the name Psymon in the art world.
The exhibit will close Friday when it will have a closing reception from 6 to 9 p.m. Tickets for the event can be bought on the Epiphany Art Center's website.