Textbooks, other course costs cause financial fatigue for students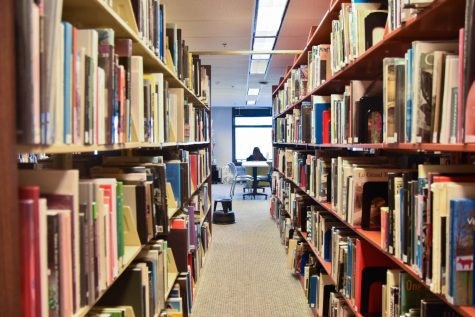 DEI ISSUE
---
Jasmine Dunigan, a first-year film and television major, found out on her first day of "Liberal Arts Mathematics" that she needed to purchase an online textbook that contained six quizzes and six assignments for the class.
After taxes, the cost of the e-textbook came out to $107 and access to the text lasted 180 days, she said.
"I was upset because I felt like since I'm already paying to be here at Columbia, and I'm paying to take the math class, I shouldn't have to pay to do the work that is already assigned to the math class," Dunigan said.
In each year of the last decade, more than a quarter of first-year students have left Columbia prior to their second year largely due to financial concerns, according to the 2022 Student Retention Workshop. In fall 2022, the majority of first-year students who left after one semester were students of color, the Chronicle reported in March.
Students told the Chronicle the costs of books and other materials — on top of tuition — are causing them grief and stress. A new fall 2022 policy requires incoming students to provide their own computer devices; the college lists hardware and software requirements by major. Some, but not all departments, list additional equipment and other requirements.
Instructors at the college have responded to the concerns by trying to find lower-cost alternatives and by making sure that students know what materials are required when students register.
Christopher Shaw, an associate professor in the Mathematics Department and coordinator of "Liberal Arts Math" said the actual hardcover book for "Liberal Arts Math" is "really expensive."
"The publisher used to be able to make a custom version that was just the chapters we cared about; it was significantly cheaper, but the publisher stopped doing that," Shaw said.
Shaw said he personally finds the "prices of these things to be really frustrating."
Shaw is the only professor teaching statistics this semester and said this allowed him to choose the textbook for the class. He also teaches "Math in Art and Nature," and "Intro to Statistics," where he provides "not a great book" but a "fine book" that is a free and open source for students.
He said he can assign the textbook to his students, directing them to the webpage where they can download it as a PDF.
Arlie Sims, head of Reference and Instruction for the library, said all course books can be requested through the library's website; these are usually available within two weekdays or sooner.

The library buys print copies if an ebook is not available for all textbooks that cost over $40.  Those are available in the library for students to use anytime the library is open.
"For all required texts that cost more than $40, the library purchases the e-book, when available as a library purchase," Sims said in an email. "Most e-books published as textbooks are not available for the library to purchase in e-book format."
However, these books do not allow students to access online materials that come with them, like quizzes, exercises and homework; these materials need individual codes the library cannot provide access to, he said.
For technology accommodations, Jeff Meyers, the director of Academic Curriculum Innovation, said students can access the Student Technology Toolbox and the Columbia SharePoint portal, which can be used to check out equipment for classes.
Bill Boris, associate chair of the Music Department, said if students need financial support, they are referred to Columbia Central.
Columbia Central also provides a Book Charge Program, a resource where students can set up a payment plan to purchase books and supplies through the Columbia Bookstore. Students must complete a form within the provided date range listed on the website.
Boris said the Music Department used to have technology requirements but these are now recommendations.
"Music students can access a department Sharepoint which features a page that lists software and hardware recommendations for music majors," Boris said.
He also said many faculty members make course content available online "so students do not have to purchase additional materials."
Students can check out equipment from The Music Center or reserve usage when in the Library.
Ginny Johnson, assistant vice president of Student Financial Services, said course materials, such as books and software, are indirect costs, just like off-campus rent and transportation. These are included in the student's cost of attendance.
The Cost of Attendance is an estimate of the annual costs a student will incur, which is the sum of "direct costs" like tuition and indirect costs. This is received in a student's financial aid letter.
Before textbooks, class materials and other fees, the cost of tuition was estimated as $14,635 per semester for full-time undergraduate students at Columbia for the 2022-23 school year.
"Students should carefully consider all types of financial aid when creating their financial plan for the academic year," Johnson said. She also recommended filling out the Free Application for Federal Student Aid for more funding opportunities.
The college used to charge instructional resource fees per course that were for course instructional materials, including textbooks. These were phased out after the 2021-22 school year.
Johnson said these were eliminated so students would have more predictability from semester to semester with their bills; the college changed to a single, flat rate for fees.
Senbi Turner, a first-year fashion design major, signed up for "Patternmaking and Construction 1," a required course for her major, where she spent almost $200 on materials for class in addition to the expected textbooks for the course.

Turner said the lack of disclosure surrounding required expenses made her feel slighted.
This is not the only time Turner has struggled with spending money on class materials and said she now expects to "spend an arm and a leg for my class, aside from what I already spend on the class with tuition."