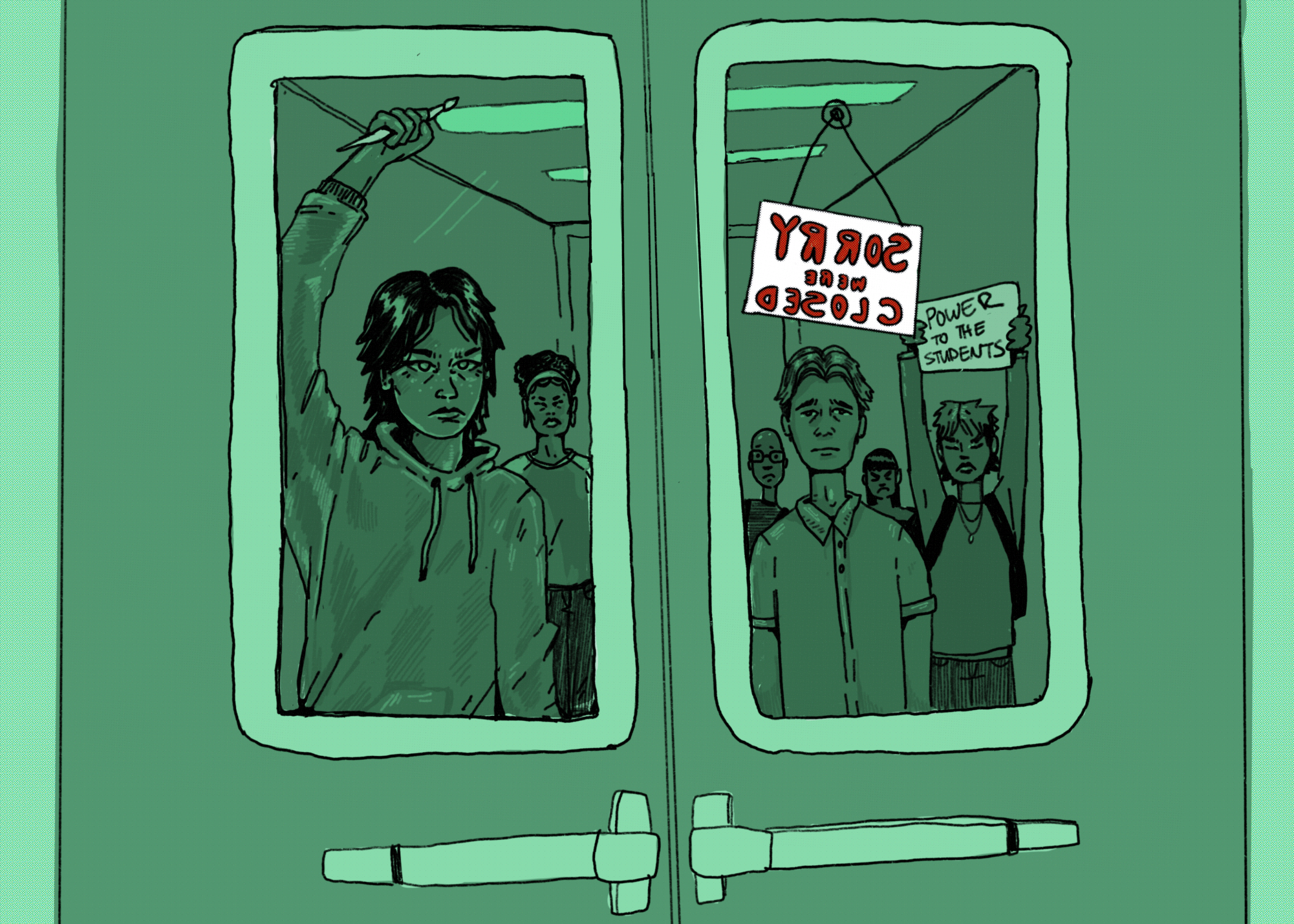 The Fabrication Facility, located on the 10th floor of Columbia's 623 S. Wabash Ave, cut its operating hours as part of a college-wide effort to reduce the school's $20 million financial deficit.
 The facility used to be open Monday to Thursday from 8 a.m. to 10 p.m., on Friday from 8 a.m. to 5:30 p.m. and Saturdays from 9 a.m. to 5 p.m.
The new hours are 8 a.m. to 10 p.m. on Monday and Wednesday, 8 a.m. to 5:30 p.m. on Tuesday, Thursday and Friday. Only ceramics students and faculty can use the center on Saturdays from 12 p.m. to 5 p.m.
The Fabrication Facility is a hub for the Art & Design departments and provides on-campus space for woodworking, metalworking, 3D printing and laser cutting.
Students told the Chronicle they worry that as the college continues to decide what to cut, their education and opportunity to create freely will be compromised.
Senior illustration major Babs Stevenson launched a change.org petition on Sept. 18 and gained almost 600 signatures on the first day.
The petition has now reached over a thousand signatures in support of improving student access to design facilities and committing to providing a quality education amid the college's financial crisis. As of October 18, the petition reached 1,200 signatures.
"I thought it was going to be hard just to get 100 signatures," Stevenson said. "Now the post is at 1,300 likes. It's reached 8,000 people, which is more than the size of our student body." Columbia has 6,646 students.
The petition asks for the college to rescind the decision of reducing the hours of the Fabrication Facility and other creator spaces or "a partial refund of the increased 10% tuition for students affected by class and facility cuts campuswide."
 "The budget cuts have already begun to affect our educational experience," Stevenson wrote in the petition. "Reductions in resources and availability mean less open studio time to work on projects and assignments for class, hindering our ability to develop our artistic skills to their fullest potential."
Stevenson, a student worker for a few of the Visual Arts Facilities, said she has seen how much students love the Fabrication Facility and would hate for it to go to waste. 
The Fabrication Facility, one of 15 Visual Arts Facilities on campus, provides a space for classes like furniture, jewelry making, ceramics to use equipment but gives all design students a space to work on individual projects as well.
"I feel like we're so privileged and lucky. Professors who work at Columbia and other art schools in the area have said that we have the best spaces out of all of them," Stevenson said. "I mean, you have multimillion dollar equipment in those buildings. And just to see it kind of start to go to waste made me feel really sad."
When asked about the change in hours, Duncan MacKenzie, chair of Art and Art History and the interim chair of Design, directed the Chronicle to Lambrini Lukidis, associate vice president of Strategic Communications & External Relations.
Lukidis said the college analyzes usage data and makes changes while considering "the least overall impact on student achievement."
"Recent changes to fabrication facility hours, approved by the dean of Fine and Performing Arts, have been made with input from the department chairs and facilities staff to ensure open lab hours are available for students to complete coursework and experience hands-on learning," Lukidis told the Chronicle in an email on Sept. 26.
Stevenson called for more transparency between the administration and students as the college continues to decide what to do to decrease the financial deficit.
"I just wish that there was more of a connection with the administration and the students because I think that if there was some kind of easier movement between those two bodies, I think that this could be a really, really amazing school that people would finally be proud to go to again."
Rosita Sands, dean of the School of Fine and Performing Arts, did not respond to three emails requesting comment.
On Oct. 9 Sands asked art and design, fashion studies and photography students to complete a survey on changes to the hours for Visual Arts facilities.
"While the School of Fine and Performing Arts may not be able to address all student preferences by making immediate changes to Facilities' schedules, the input we receive from survey responses will help align Visual Arts Facilities hours with the times of greatest student demand," Sands wrote. Students were asked to complete the survey by Oct. 16
 Stevenson said she felt students are left out of the conversations when decisions are made, and stated they don't have many ways to voice their grievances.
"Typically, when students have concerns, they're encouraged to go to their chair. And that's pretty much the only like resource we have, or student government, which will direct you to the chair," Stevenson said.
Student Government Association President Tyler Harding said they directed Stevenson to her department chair.
SGA will be hosting an Art | Design town hall at 5 to p.m. on Nov. 14 in Room 203 in the 623 building.
Hannah Brumfield, a senior film major, said she signed the petition as an act of solidarity across majors and recognizes that every department is going to be affected by the budget cuts.
"I believe in supporting my other fellow students and helping our voices," Brumfield said. "Just because the petition is focusing on one specific department doesn't mean it applies to everything. It does apply to everything. I'm sure one little part of it getting up there means that it'll help everyone win the fight."