Student-led initiative asks the college to reconsider virtual graduation plans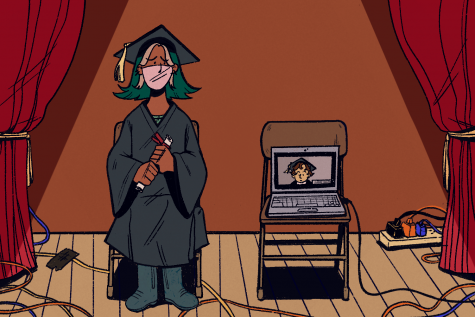 Since President and CEO Kwang-Wu Kim sent a collegewide email announcing another virtual commencement following the Spring 2021 semester, senior public relations major Jahmelah Miller said she feels the college has given up on working toward holding an in-person graduation ceremony.
Miller, who is 34 and returned to college in 2017—nearly two decades after graduating high school—said this is frustrating because the college has not tried to involve students in the planning process.
"I've always looked forward to graduating, especially after graduating high school 17 years ago," Miller said. "This is something I've wanted to accomplish, and I know that a ceremony isn't the goal, but it's that moment that you look forward to."
Miller said she has heard multiple students in her classes openly air their grievances about the planned virtual graduation. She later brought the issue up to another classmate, Nathan Branch, a senior public relations major.
Due to their shared dissatisfaction, Miller and Branch—who is 38 and began attending Columbia in 2019—created a student-led initiative called #commenceanyways.
Planned over the span of a few days in February, the initiative is meant to change the college's decision on virtual graduation through data, insights and research from Columbia students and other institutions carrying out in-person ceremonies.
"It's something we wanted to do for ourselves but also to see what would happen," Branch said. "It's kind of exciting and also [makes us] angry."
After their classes or with any extra time they had, Branch said he and Miller would normally share their problems with each other. One day, after their "Social Change Communications" course, the idea of leading a student initiative arose.
"I honestly didn't give [graduation] a lot of thought before Nate and [Miller] approached me because as an adjunct, I'm not as involved," said Jeremy Berrington, an adjunct faculty member in the Communication Department and instructor of the "Social Change Communications" course. "It's not like I had a strongly passionate view that it should be in-person or hybrid or remote, but ultimately, I think it is important for the students to have input in it."
Berrington, who teaches both Miller and Branch, said he helped them set up a survey to better understand the thoughts of other students on campus.
Branch said the survey receives anonymous responses from students on campus and asks four questions for students to offer their own opinions on how graduation should be held.
The questions include what year the student is in, if an in-person commencement interests them, which graduation experience they would prefer and how important walking across the stage is for them.
Branch said the survey will be open for an indefinite amount of time to garner more student responses. As of publication on March 5, he said around 75% of 239 respondents are in favor of an in-person or hybrid commencement, and student sentiment surrounding the college's decision is generally composed of disappointment, sadness and anger.
With student input ongoing, Branch has already informed Senior Associate Provost Nathan Bakkum and others involved with commencement planning about the initiative.
In a March 4 email to the Chronicle, Lambrini Lukidis, associate vice president of Strategic Communications and External Relations, said the college is aware of the student initiative, but they do not have access to large-scale, outdoor venues, "especially at such short notice," and find it unlikely that restrictions will permit "greater numbers at public gatherings."
Lukidis also said vaccinations for faculty and staff will likely still be underway around commencement time and may not start for students until later in the summer.
"Columbia is not communicating and advocating for the needs, thoughts and wants of their students," Branch said. "They're making these decisions for them."
Miller said she has focused more on researching schools—locally and nationally—that have found ways to hold events for students in-person for graduation.
Some of these examples include: Batavia High School holding its graduation in Northern Illinois University's Convocation Center; the University of Tennessee, Knoxville, and Kean University in New Jersey both having ceremonies on their own football fields; and Illinois State University filming students separately in a mock graduation to add to its virtual ceremony.
Though Columbia does not have a football field, Miller said, there are other venue options such as Grant Park and Soldier Field that are in open areas and have enough space to allow groups of people to meet, while also being socially distanced.
Miller said if Columbia does not change its decision about commencement, she and Branch have a backup plan to fundraise and create their own graduation ceremony for students to experience in person. Miller is requesting graduating seniors interested in being part of an in-person commencement email them at commenceanyways@gmail.com.
"We're looking at a hybrid option where we will have students walk across the stage … [and then stream] it to Zoom so our family and friends can still watch us while we have our moment," Miller said.