Student Employee and Student Supervisor of the Year announced: 'It's nice to be noticed for the things that you do'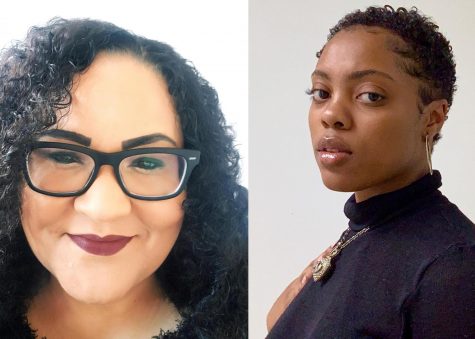 Even a pandemic could not stop Columbia's Career Center from showing its appreciation for student employees.
The Career Center's annual celebration of National Student Employment Week, April 12–18, could not proceed in full due to the campus closure, but it still recognized the Student Employee of the Year and Student Supervisor of the Year.
Essence Mack, a junior graphic design major, and Charee Mosby-Holloway, director of Student Diversity and Inclusion, were announced as the winners in two separate Zoom meetings. Both meetings were disguised as regular staff meetings to surprise the two with the announcements.
Mack, the finance chair of the Student Organization Council and a Student Organizations and Leadership employee, said she knew she had been nominated but did not expect to win because this was her first year as a student employee.

Once the meeting began, Assistant Director of Student Employment Eric Wordlow told attendees the meeting was not about work, but rather about Mack being selected as Student Employee of the Year, she said.
"It's nice to be to be noticed for the things that you do, especially in times like these," Mack said. "I feel like the sun came out on a gloomy day."
Mosby-Holloway said she was also grateful and pleasantly surprised—especially during this "weird time in the world."
"I got into this work because I love working with students," she said, adding that she appreciates that her job allows her to help students explore their identities and feel they are part of an inclusive community.
"Charee makes it known that her work comes from such a personal space," said Matthew Rillie, who works for Mosby-Holloway as coordinator of Student Support and Engagement.
Rillie said people who visit Mosby-Holloway's office often find themselves talking to her for hours without noticing so much time has passed, due in large part to her "warmth and graciousness."
"SDI wouldn't be what it is without her," Rillie said.
Wordlow said for candidates to be considered, staff and students must be nominated by the opposite workgroup. Then, a panel of unbiased staffers select the winners.
Mack was nominated by her boss, Stephaine Villanova, coordinator of Student Organizations.
"One of the biggest things that really stuck out to me specifically with Essence was just how much growth I've seen within the short amount of time I've worked with her," Villanova said. "She has much more confidence now in the work that she does. … She also doesn't have a problem asking for help, which I really appreciate."

Columbia began recognizing employees for National Student Employment Week three years ago. The week is sponsored by the National Student Employment Association and was established at Columbia by Wordlow.
Wordlow said when he began working at Columbia five years ago one of his goals was to implement the recognition program.
"Quite frankly, without [student employees], a lot of our departments would not be able to operate," Wordlow said.

In previous years, winners were also announced as a surprise during staff meetings. Last year's celebration took it a step further with a carnival-themed event featuring food, decorations and a DJ.
Wordlow said a similar celebration was planned before the campus closed.
Currently, many Columbia staffers—including student employees—are working remotely through the end of the spring semester. Those whose duties are not easily transferable were told they would receive new assignments. If "extenuating circumstances" prohibited a student from working, they were told to speak with their supervisor but they continue to be paid, according to an April 9 email sent to student workers from Vice President of Student Affairs Sharon Wilson-Taylor.
As in previous years, both winners will receive trophies, and the student employee will also receive a $400 bonus on their next paycheck.
"I hope it adds some value to that individual and lets them know that they are outstanding, and we rely on them and we appreciate them," Wordlow said.
See a full list of nominees for the awards here.