Student Athletics Association groups co-host clothing swap, providing sustainable and free clothing options for students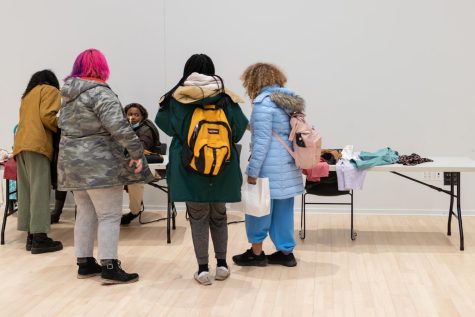 Piles of graphic tees, sweaters and an assortment of bottoms covered the tops of plastic picnic tables organized throughout the fifth floor auditorium in the Student Center. Students from all majors crowded around the tables looking at their options as they traded their own clothes for something fresh, all for free.
"We know that everybody at Columbia loves clothing and is really fashion-oriented," said Sage Brahmstedt, president of the Renegades Outdoor Collective and a junior cinema and television arts major. "What a better way to get everybody involved than a clothing swap."
The ROC and the Renegades Volleyball Club organized their first clothing swap Feb. 11 as their organizations' collegewide event. The event brought more students together than they expected, Brahmstedt said.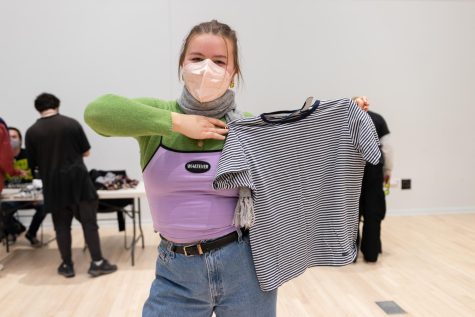 "We have never had this many people show up to one of our meetings before," she said. "This is just impressive to see this many people come to an event."
Taylor Boydston, president of Renegades Volleyball and a senior marketing and public relations double major, said students even rolled in suitcases full of clothing ready to be swapped.
Diego DeGuzman, a first-year film and television major, said it was a good opportunity to get rid of the clothes he was no longer wearing and replace them with a few new T-shirts and jeans.
"I had a lot of clothes that just either didn't fit me, or I didn't like anymore, so I thought this is a good chance to give those to people that might need them," DeGuzman said.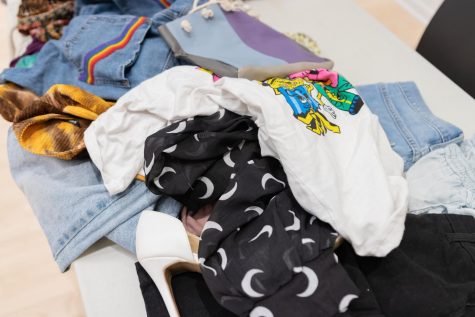 According to the Business Research Company, the global ethical fashion market is expected to grow from $6.35 billion in 2019 to $9.81 billion by 2025 and $15.17 billion by 2030.
"I like [sustainability] because there's so many different ways to be sustainable and integrate sustainability into your life," said Leila Manthi, a junior acting major. "It's definitely a collective effort, and it definitely doesn't just fall on the individual person, but there's ways to make it accessible for everyone."
The ROC and Renegades Volleyball plan to donate the remaining items that weren't swapped and hope to host another clothing swap in the future.
"This is a one-time thing, but you know, maybe in the future, we can put another one on because it was so successful," Brahmstedt said.