Staff leadership wants more flexibility in return to work process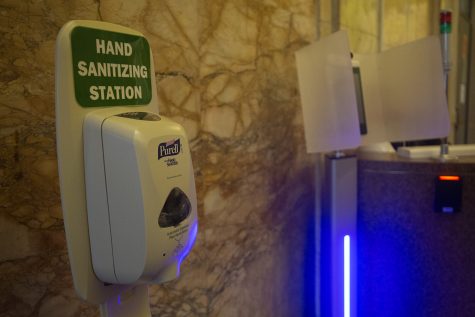 Columbia staff members have been working from home for more than a year. And while everyone is anxious to return to normal, a consensus has not been reached on what the new normal should look like.
Now, with the city's loosening COVID-19 restrictions, Columbia staff will soon begin a mandatory process toward fully in-person work to the chagrin of some staff.
On May 19, President and CEO Kwang-Wu Kim sent a mass email to staff and faculty outlining return-to-campus policies. Staff members will be required to return in phases beginning July 19. Faculty who are not teaching during the summer will return on Aug. 16. Both faculty and staff will be required to follow the college's COVID-19 guidelines.
In a March 10 email to faculty regarding fall registration, Senior Vice President and Provost Marcella David said the college was excited about returning to "some degree of normalcy." The email said that further adjustments to the schedule could be made during the summer based on health guidance from the city and state but did not address the time faculty is expected to spend on campus.
Some staff members who have adjusted their lifestyles and schedules during the past several months may find the transition back to campus to be challenging.
"If you take away the commute time, I'm able to instantly get started on work and my work schedule," said staff member Darlene Jackson, creative industry liaison in the Career Center. "I'm able to put more time into the work itself and make connections with companies and businesses and it's just a more effective time."
Having an option for remote work saves time and money for Jackson. She said it takes her an hour to commute to campus, and on average she spends $200 on parking a month and around $20 to $40 on gas.
During the week of July 19, staff members will be required to return to campus for one day for consultation with their specific manager. On the week of July 26, they will be required to return to campus for two days, and beginning on Aug. 2, staff members will return to campus at "their regular fall work schedule," according to Kim's email. Kim said some flexibility would be allowed, but that employees would be "expected to be working in person on campus for the preponderance of the week."
Matthew Rillie, membership chair for the United Staff of Columbia College union, said many staff members are excited, but some have concerns that need to be processed before the college mandates them to return on a certain date.
"[This communication] doesn't leave actual room for people to be humans and be people, it only treats them like they are employees and nothing more," Rillie said.
Jennifer Halperin, internship and career adviser in the Career Center, said finding the best balance between work and personal life during the pandemic was challenging.
"There was no dividing line between my home and personal life; this was something I did on my own [and] was not expected by my supervisors," Halperin said. "I took to working almost all waking hours; my productivity was high, but I don't know if it was sustainably high."
Halperin said she misses the campus and being a part of the South Loop community, but also wants an option to meet with students both online and in-person. She said many students enjoyed the accessibility of the Zoom calls, and she now has more open time slots because she saves time on commuting.
In an email responding to questions from the Chronicle, Associate Vice President of Strategic Communications and External Relations Lambrini Lukidis said the college recognizes there are still ongoing COVID-related challenges that staff and faculty face and that is why the return process was extended over two months.
"In that message, we emphasized the return to campus would have built-in flexibility, such as, where feasible and appropriate, staggered work times, alternating in-person days, and some remote-work days," Lukidis said.
Lukidis said that intellectual exchanges "gain their fullest dimension in person, and that is especially the case at a school for creatives like Columbia."
She said the best way to deliver the fullest experience to our students is to work together in person, adding that vaccinations and masking are part of the toolkit that ensures the campus resumes safely. "We look forward to a re-activated and re-engaged Columbia campus later this summer," Lukidis said.
Rillie said Columbia needs to take into consideration not only returning staff, but the ones who have always worked remotely. They said some of the remote-working staff felt like the college was framing work from home as easier than work on campus.
"People are feeling everything," Rillie said referring to staff members' views on returning to campus. But they added that "it has to be a time to view your colleagues and your staff as people, which seems really simple, but often isn't the default in a business setting."