South Side hunger strikers tell their story: 'A fight for the right of every Chicagoan to breathe clean air'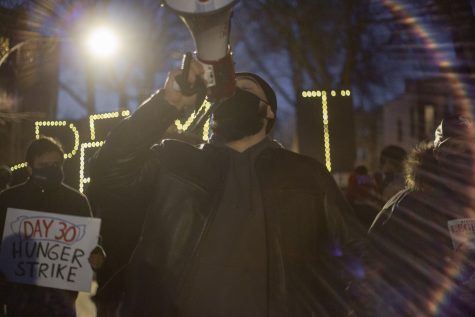 After 25 days of hunger striking with Southeast, Southwest and South Side community members, Yesenia Chavez, an Olive-Harvey College student, addressed the crowd on March 4 in front of Grace United Methodist Church, describing her declining health in detail.
"I experienced anxiety attacks; I experienced doubt, impostor syndrome, irritability, hunger pains, heart pains, various types of headaches, pains in my skull, random muscle spasms, chest pain, hair loss [and] weight loss," Chavez said outside of the Logan Square church not far from the home of Mayor Lori Lightfoot. "[I've spent] countless hours crying myself to sleep, worried I wouldn't wake up but praying I would, and by the grace of the universe, I did."
On Feb. 4, several community members on the Southeast Side began a hunger strike in an attempt to pressure Lightfoot and the Chicago Department of Public Health to deny the scrap metal-shredding business General Iron an operating permit.
General Iron's North Side facility was shut down in 2020 due to a history of structural hazards and explosions—after having been targeted multiple times since the 1990s by federal environmental regulators.
Now it plans to relocate near the Whiting, Hegewisch and East Side neighborhoods, blocks away from George Washington High School, where residents—primarily Black, indigenous and people of color—already experience the highest rates of air pollution and adverse respiratory conditions in the city.
Like many social justice movements, youth and community organizers have been at the forefront of this hunger strike, fighting against environmental racism and to prevent General Iron's operation from coming to the Southeast Side.
Oscar Sanchez, Breanna Bertacchi and Chuck Stark, a biology teacher at Washington, were the first three organizers to start the hunger strike, keeping the quickly moving timeline of the permit approval in mind.
"We said, 'Let's do something to get eyes on us,'" Sanchez said.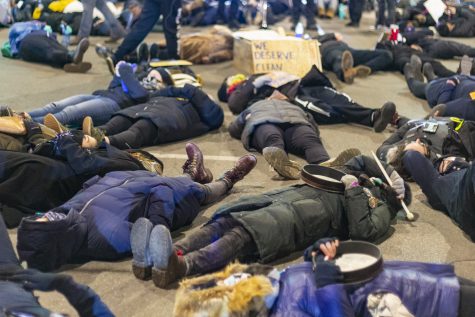 Throughout February, they were joined by Chavez, William "KiD" Guerrero, Melany Flores, Maritza Darling-Ramos, Audrey M. Harding, Jade Mazon and 25th Ward Ald. Byron Sigcho-Lopez.
"This is a fight for the right of every resident and every Chicagoan to breathe clean air and have clean water—that should not be determined based on zip code," said Sigcho-Lopez, whose ward includes the predominantly Latinx Pilsen community. He joined the strike on Feb. 23.
In addition to those striking, others campaigned for the cause on social media and took to the streets in protest.
Not long into the hunger strike, strikers began noticing serious health repercussions.
Sanchez, a co-founder of the Southeast Youth Alliance, said going 30 days without solid food took a heavy toll on his mind.
"I went through more emotional and mental breakdowns than physical," Sanchez said. "I was tired, drowsy, and that [led] to me feeling lazy and unproductive, and then it made me feel like I wasn't doing enough for my community."
He added that he experienced cloudy thoughts and short term memory loss, in that he was unable to remember conversations he had only days before.
While Sanchez experienced negative side effects, one of the perks, he said, is seeing how this campaign is inspiring people, especially young people.
"I think that's the biggest part … realizing the power that people have," he said.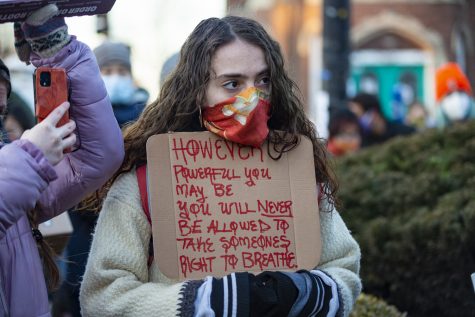 Guerrero said he learned a lot from the George Washington High School students who have been participating in the movement and attended the March 4 Logan Square rally against General Iron.
"How powerful their voices are, how resilient they are, how brave they are to be in a position where they can finally speak freely and not worry about Lori [Lightfoot] saying this and that, because they deserve to be heard," he said. "At the end of the day, that was a youth led Southeast Side unity environmental justice march."
Flores, a 24-year-old mother and Southeast Side community organizer, joined the strike on Feb. 15. Flores said strikers cut out all solid foods from their diets and only consumed the bare minimum necessary to survive, including fruit smoothies, broths and other liquids.
"It mostly ended up being broths that I would intake, because that made me feel really full," Flores said. "I didn't really need the shakes anymore, so I could definitely feel my stomach changing and the things that it could intake."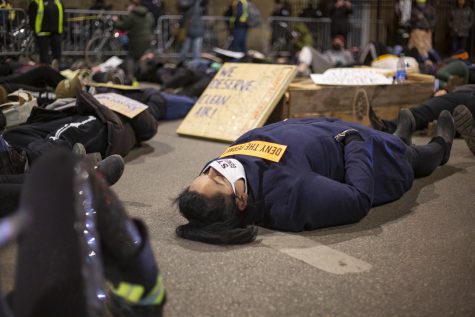 Flores said she struggled both mentally and physically while striking.
"My anxiety definitely spiked; I was very irritable; I would have to go to sleep a lot earlier, and being cold was probably one of the worst things," Flores said. "I honestly don't know what was worse—being cold or being hungry."
On top of it all, Flores said those striking had to be strategic about how they managed their energy and schedules.
"The hunger strike … isn't the main thing we do every day," Flores said. "This is something that we do other than work, being a mom, being a dad. We all have other responsibilities."
Guerrero, a 19-year-old Pilsen resident, also joined the strike on Feb. 14, and he said by day seven his father was very concerned about his health.
"He said that my skull [was] starting to show," Guerrero said. "He's like, 'Mijo please, this is not your fight. I wouldn't want to lose my child to a hunger strike that is not part of this community.'"
Despite the difficulties, Guerrero said he is very thankful for those on the Southeast Side allowing him to have a platform and a voice.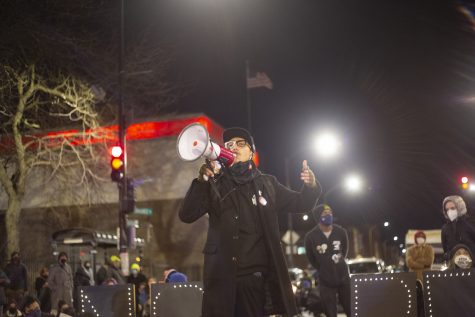 "I've gained a lot of motivation; I've gained a lot of [confidence] to speak in front of the people [and] to actually to express my thoughts and my emotions," he said. "I'm really grateful and humbled to have that opportunity. I've gained allies."
Darling-Ramos, an American Sign Language-English interpretation major and Southeast Side community organizer, said she was only able to go without food for a week.
"I started to feel very weak and very out of it," she said. "So now I have been eating in the morning and just fasting for the rest of the day until the next day. Transitioning back into solid foods has been very difficult."
Sigcho-Lopez, who joined the hunger strike late, said he cannot imagine what it was like for those who were striking for the full 30 days.
"Having to work and having to fulfill the same duties during the hunger strike was not easy," he said.
In her public address on March 4, Chavez announced that while the hunger strike was ending, the fight for clean air is far from over.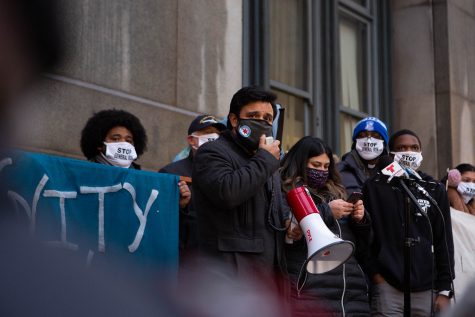 Sanchez said strikers wanted to put their lives on the line until the permit was denied and justice prevailed, but they chose to prioritize their health and wellness as the symptoms became overwhelming.
"We've seen the weight loss; we've seen the cramps; we've seen the mental breakdowns," Sanchez said. "And we don't feel like [Lightfoot] is gonna care if we die."
In spite of this, Guerrero said he felt ending the strike meant letting Lightfoot win.
"I was like, … 'This sucks, screw Lori' and all that,'" he said. "But they were like, 'No, we need you alive, eat so that you can have more energy, and so you can do more good things.'"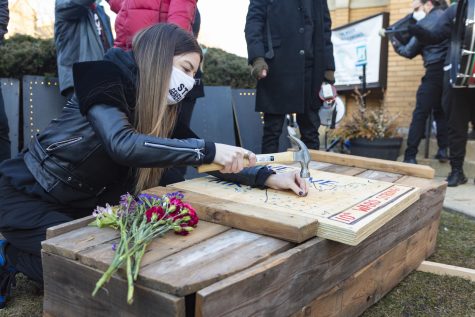 Darling-Ramos said the hunger strike was just one of the many ways community organizers have been protesting General Iron for almost a year now.
"We have done multiple public meetings; we wrote letters to the mayor; we did marches in front of [10th Ward Ald. Susan Sadlowski Garza's] office as well as the mayor's office, and they still haven't heard us," Darling-Ramos said. "It's very upsetting."
On Feb. 23, Lightfoot sent a letter to hunger strikers and said she was "committing to an open dialogue," but did not indicate whether she intends to deny the permit to General Iron and support the strikers' movement.
Strikers released a statement on Feb. 24 calling her response "insulting."
Sadlowski Garza tweeted on Feb.10 that she had asked the Illinois Environmental Protection Agency to delay the permit until the Southeast Side community "had a meaningful opportunity to voice their concerns" but her request was rejected.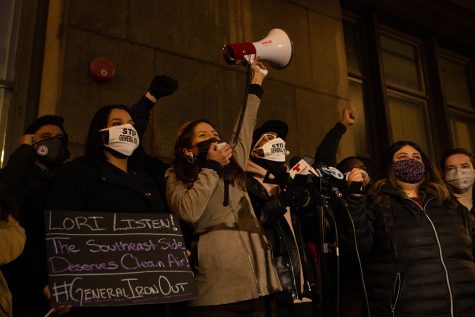 "They're acknowledging us, but they're not saying anything that's worth anything," said Darling-Ramos.
Emboldened by a petition signed by more than 3,500 people and pressure from supporters gained through their virtual campaign, organizers are still demanding that the CDPH deny the final permit to relocate General Iron to any residential neighborhood, Guerrero said.
Audrey Harding, a South Side political organizer and member of United Neighbors of the 10th Ward, said the strike was important in showcasing how structural racism is, even when it comes to the environment.
"If [General Iron is] kicked out of [Lincoln Park], why would it be appropriate for them to be in any other neighborhood, let alone a Black and Brown neighborhood that's already overburdened with a lot of industry and pollution?" Harding asked.
She said bringing a General Iron facility to the Southeast Side would be damaging for community members' health.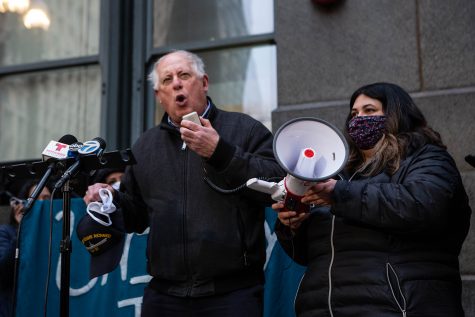 "There [is] a large amount of particulate matter that they would be emitting into the air, and this will cause high cases of asthma as well as [chronic obstructive pulmonary disease] that the residents are currently already experiencing from other plants," Harding said.
Darling-Ramos said she has asthma, which makes this issue very personal to her.
"This is my neighborhood. This is where I grew up. This is where I want to stay," Darling-Ramos said. "We deserve clean air."
On General Iron's website, the company indicates it is "a recycler, not a polluter," and Reserve Management Group CEO Steve Joseph wrote an October 2020 commentary in the Chicago Tribune defending the company's processes.
Currently, there is a lawsuit filed by two South Side ministers against the city of Chicago for helping to relocate General Iron as a source of pollution. The lawsuit aims to stop the business' final operating permit, according to Block Club Chicago.
U.S. District Court Judge Mary Rowland said in a March 8 hearing for the lawsuit that she plans to rule on whether or not to stop the permit by early April, according to reporting from the Chicago Sun-Times.
Flores said one of the main things she has noticed since the strike began is how much love and solidarity has come their way.
"Now there are so many people who are also trying to take care of us, we definitely built a community," she said. "This is just such a big movement that we didn't even think that it would get here."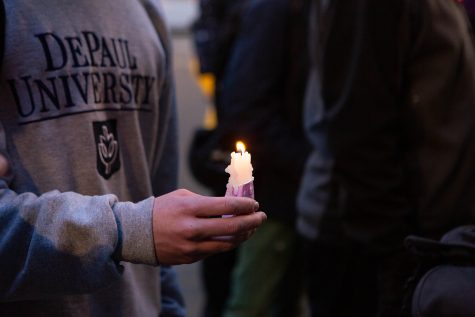 Sigcho-Lopez has been able to see firsthand how impactful this campaign has been in Chicago communities.
"The hunger strike has made visible the issue of environmental justice in Chicago, the issue of environmental racism [and] the issue of lack of oversight at every level of government," Sigcho-Lopez said. "[Community members] have been able to raise awareness and build a coalition of environmental activism and environmental justice that I think is growing stronger."
Chavez emphasized that the commitment of organizers and strikers moving forward will maintain the same momentum as when they started.
"[We will] keep working toward policy and representation to improve the environment for everyone, but especially for Black and Brown communities throughout the city of Chicago that face the burden of industrial polluters," she said.