South Loop exhibitors find inspiration in opposite forces; discover meaning through art in 'Soft Allergy' exhibit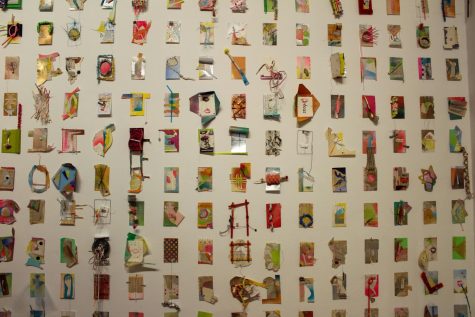 Inflatable installations with colorful lights on the inside and a wall filled with various items strung together with thread can be found in the Glass Curtain Gallery.
The exhibition opened on Nov. 11 at 1104 S. Wabash Ave. and features Chicago-based artists and adjunct professors Claire Ashley and Judith Brotman from the School of the Art Institute of Chicago, along with Connecticut-based artist Cameron Clayborn.
Curator Meg Duguid, the executive director of the Department of Exhibitions, Performance and Student Spaces at Columbia, gave the exhibition its name.
Duguid said conversations with the artists about polar opposites, such as the work being seen as darkly optimistic or uncomfortable yet soft, was what helped her create the name of the exhibition.
"These polar opposites make up a gray area and that's where this show lives," Duguid said. "A soft allergy is something with a certain amount of exposure that you can develop a tolerance to, so I thought about these practices, about developing tolerances to the world around you and allowing different things to flow in and out of your work."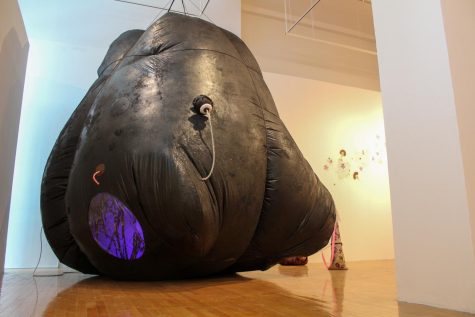 The artists came together on Zoom amid the pandemic to develop the show virtually and began mailing each other different materials to add to their own work.
Brotman said even though the exhibition has been installed, she still uses leftover materials given to her by the other two artists, ranging from pages from books to costume jewelry, as she feels they still help her with her own pieces.
"To get something that's outside my frame of reference that I don't normally work with is greatly inspiring to me and changes the nature of the object I'm working on in ways that I find keep pushing me forward," Brotman said.
The artists said they want viewers to know they do not have to take any literal meaning from the show and instead invite them to enter the space, be curious and create their own narratives regarding finding beauty in opposing ideas.
"In some ways, I'm not asking them to get anything literal out of it at all," said Clayborn, a 2016 SAIC alum. "That's where I start to default into the idea of it being more about feeling than anything else … so mainly I want to be able to invite the idea of feeling."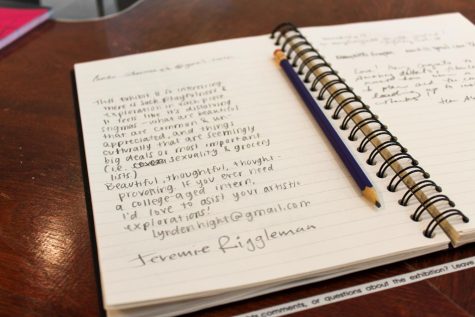 Duguid said Soft Allergy matches what most students are doing in their classes and that she hopes students can gain knowledge on how deep the practice of materiality can go.
Ashley encourages students to collaborate with one another and to expand their artistic practices.
"Try and use the tools at your fingertips to your advantage and really see the positive in things and work outside of your comfort zone," Ashley said. "It really reinvests energy into your own practice."
Online talks from each artist are free and will be held virtually, Clayborn's talk was on Jan. 27, Brotman's talk is on Feb. 3 from 6-7 p.m. and Ashley's talk will be on Feb. 10 from 6-7 p.m.
Soft Allergy is on display at the Glass Curtain Gallery on the first floor of 1104 S. Wabash Ave. until Feb. 18, 2022. For entry into exhibition spaces at Columbia, masks and proof of vaccination or proof of a negative COVID-19 test within the last 72 hours are required.