South Loop bike lanes hazardous, cyclists and pedestrians say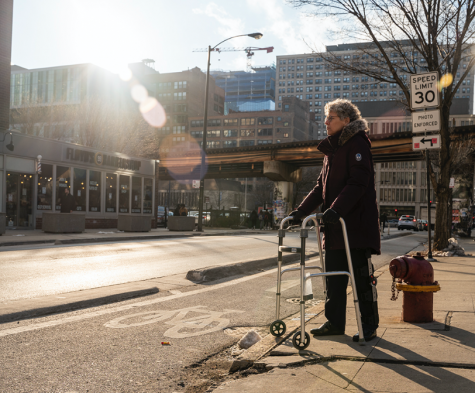 Con Buckley, a part-time faculty member in the Humanities, History and Social Sciences Department, was crossing the intersection at Harrison Street and Wabash Avenue on Tuesday, Feb. 4 during her commute to work, when she fell over the lower end of a concrete-protected bike lane  near the crosswalk and shattered her kneecap.
After heading to the emergency room and later seeing an orthopedic specialist, Buckley was fit with a full leg brace and learned the healing process for the interior surface of her kneecap would likely take longer than six weeks.
"I'm managing to hobble about, but I just really am annoyed that they would put these bike lanes in and basically camouflage [them]," Buckley said, "because the curb is the same color as the street."
Concrete barriers are meant to protect bike lanes and ensure cyclist safety by separating the pathway from car lanes. However, they can also create an unexpected tripping hazard for cyclists and pedestrians due to visibility issues exacerbating the ongoing battle between pedestrians and bikers.
Accidents like Buckley's are becoming more and more common, according to anecdotal reports from Columbia students, staff and others who frequently travel on foot in the Loop.
Paula Brien, an academic advisor in the College Advising Center, said she has witnessed a number of people trip and fall over the low ends of the concrete dividers around Harrison Street and Wabash Avenue, leading to ripped jeans, bloody gashes and personal belongings flung across busy streets.
"I know the bike lane dividers are created to keep the bikers safer," Brien said. "But what I've been seeing is they're also causing problems."
Junior cinema arts and science major Charles O'Brien said as he was walking to class on Harrison Street outside of Starbucks he saw a man fall over a divider while crossing the road.
"I'm pretty sure he tried to leap to clear the concrete, but his foot got caught, and he went facedown," O'Brien said.
Freshman illustration major Talia Blevins has tripped over the bike lane dividers several times while walking and said they are not always effective in keeping out cars.
"They're pretty close to the same height as the street, [and] they're not that much of a barrier, honestly," Blevins said. "They're not super noticeable."
Anne Alt, a paralegal at Freeman Kevenides Law Firm in Chicago, said her friend was injured after crashing into a concrete divider on a bike.
At a December Mayor's Bicycle Advisory Council meeting, Alt said she suggested the Department of Transportation add paint to the barrier edges to increase visibility and prevent further accidents.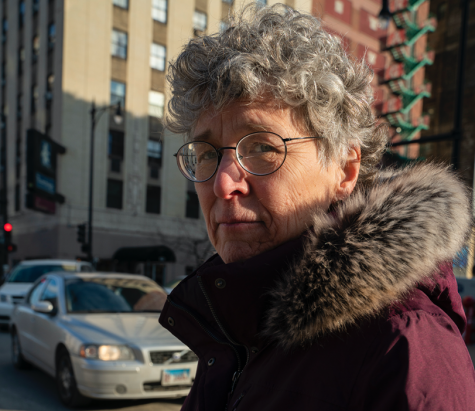 "When I raised the issue of these, I was told the reason for having these lower curb heights was that there's a big issue with truck traffic," Alt said. "They're concerned about the curbs getting completely destroyed if they are regular full height. So they've done this design where it's very low at the leading edge and then it steps up."
The barriers feature several thin strips of concrete approximately 24 to 27 feet long and 6 inches tall, separating the bike lane from adjacent traffic lanes. Some barriers are topped with white posts and others, near the crosswalk, are about 13 feet long and 2 to 2.5 inches tall with no paint or markers to differentiate the raised surface from the street.
Architect and urban designer Jacob Peters, who serves as a representative on Mayor Lori Lightfoot's Bicycle Advisory Council, said installations of the one-way protected "cycle tracks" began in summer 2019 as a way to prevent drivers from parking or loitering in existing bike lanes.
While the Chicago Department of Transportation's response rate for feedback on cycle track construction "is often wonderful," Peters said the bigger problem is often the opposition from elected officials making compromises for vehicles without keeping all of their constituents in mind.
"There have been multiple bike lanes across the city that have been made less safe during the design process because of feedback from aldermen and community members who wanted the street to be faster rather than safer," Peters said.
Ald. Sophia King (4th Ward), who represents constituents from Hyde Park to the South Loop, has been criticized on bicyclist advocacy platforms, such as StreetsBlog Chicago, for focusing on parking and decongesting traffic over infrastructure for bicyclist safety.
Despite multiple phone conversations with King's staff, voicemails and email exchanges with her office personnel between Friday, Feb. 9 and Friday, Feb. 14, King was not available for comment as of press time.
When the Department of Transportation first presented plans in 2017 to add concrete curbs to existing bike lanes on several streets in the South Loop, construction was delayed due to an emphasis on adding more parking spaces instead, according to StreetsBlog Chicago.
A number of people have voiced complaints in ward meetings and on social media about King's obstruction of the updated bike lanes, as reported May 7, 2019, by the Chicago Sun-Times.
In the Chicago Sun-Times article, King said while she had been described as a "bike hater," she thought the barriers were "a pretty good proposal," even if they wouldn't make everyone happy.
Joshua Mark, director of development and infrastructure for the 47th Ward, said if the concrete barriers pose a safety issue, it is up to the Chicago Department of Transportation to change the design, something he said alderpersons do not have much influence over.
"The alderman's power, officially, is calling for or paying for a specific tool," Mark said. "CDOT has their own ways of implementing things based on what they believe to be best practice based on their own engineering assumptions."
However, Mike Claffey, CDOT spokesman, said they work frequently with alderpersons who "have a big say," along with other stakeholders advocating for and funding bike lanes.
Claffey said CDOT has not heard of any safety complaints about the protected bike lanes, adding that the bigger issue is cars parking in bike lanes.
Micki Leventhal, Buckley's spouse, said although her wife's injury had a logistical impact on their lives in terms of doctors' visits and longer commutes to work, they likely will not pursue legal action against the city.
"There's a lot of pain and suffering and inconvenience, but we are not litigious people by nature," said Leventhal, who served as Columbia's director of Media Relations from 2002 to 2009. "What we really want at this point, our primary objective is for the city to do something about [the concrete-protected bike lanes]; to just be responsible and paint the darn things."