SGA survey results find majority of students wanting more sustainability measures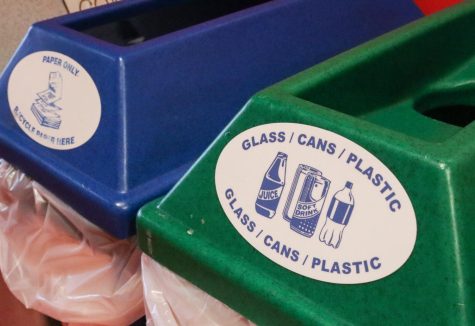 Columbia students are passionate about the environment and want the college to do more about sustainability, according to results of a student survey just released by the Student Government Association's environmental provisional committee.
Last semester, SGA established the first-ever environmental provisional committee, led by student President Tyler Harding and student Senators Jenna Davis and Kayla Wood.
The survey was sent at the end of last year, and 62 students responded.
Questions in the survey were based on what students would like to see from the college to take measures toward helping the environment through sustainable action.
The SGA committee reported the following highlights:
Nearly all (86.6%) of students stated that they believe that Columbia should be doing more toward environmental sustainability.
One-third (35%) of students who took the survey rated their perception of Columbia's sustainability at a five, believing it to be moderately sustainable.
Three-fourth (76.7%) of students reported either being "very passionate" or "somewhat passionate" about environmental sustainability.
Ranking on a scale of most importance to least importance, on average, students set moving the campus to carbon neutral as a top priority, followed by clean electricity usage, having more recycling options, personal sustainability workshops and lastly creating a campus-wide paperless initiative.
To be carbon neutral, Columbia would need to offset the carbon emissions it creates through its daily operations with efforts to absorb carbon from the atmosphere.
According to the report results, students specifically asked for more accessibility and transparency regarding recycling, as well as a call for divestment from fossil fuel corporations.
Columbia students have been pushing the college to divest in fossil fuel holdings for at least a decade. The University of Chicago students also are pushing their institution to divest as more colleges and universities limit or ban investments in fossil fuel corporations.
Last year the Chicago City Council voted to ban city investments in coal, oil and gas companies.
Alex Kropniewski, a senior film major, said they are an environmentalist and do not believe in investing in fossil fuels.
"Anyone who invests in fossil fuels… it's pretty obvious they're just doing it for the high return," Kropniewski said.
Kropniewski said Columbia needs to be more transparent about their investments, especially since film students like them are getting less access to resources, and students don't know where their tuition money is going.
Kezia Ranillo, a junior interior architecture major, said they would like more options to discard trash properly, including having bigger recycling bins.
"I do building models, so I bring around these big bins of cardboard and materials, and at the end of the day, I just throw them in the trash bin because I don't know where to put them," Ranillo said.
Jordan Zwolinski, a senior music recording major, said while the college is private, it should still be transparent about its sustainability efforts.
"As a student, I wouldn't want to be misled, especially when there's so much of my money going towards them," Zwolinski said.