Seniors torn on commencement postponement until 2021: 'At the end of the day, it's the four years that you put in'
As a 31-year-old senior radio major, Eva Eig's college experience has been different than most. She worked hard to get her education back on track after taking a few years off from school. What kept her going was the thought of walking across the stage at commencement.
But when Eig received the April 3 collegewide email from President and CEO Kwang-Wu Kim notifying students that the 2020 commencement would be postponed until 2021 due to the coronavirus, or COVID-19, pandemic, Eig was conflicted.
Although she was glad the traditional ceremony was not entirely canceled—as was initially announced by the administration

Instead, Eig said she would appreciate a form of online recognition this year for her "decade of hard work."
"They kind of told us, 'If you want to come back in 2021 for it, you can, I guess,'" said senior cinema art and science major Zoe Lipinski. "It's just not a good way to treat people who have been giving their all to the school for four years to not give anything back to us once we're done."
Lambrini Lukidis, associate vice president for Strategic Communications and External Relations, said in an April 13 interview with the Chronicle that while it would not be feasible for the college to hold commencement later this year due to the uncertainty of the pandemic, the college plans to add ceremonies for 2020 graduates during the May 2021 commencement weekend.
"There was never an intention to not offer something to the class of 2020," Lukidis said. "We're trying to do what we can to honor the graduates this year during commencement weekend, coupled with the opportunity to march next year."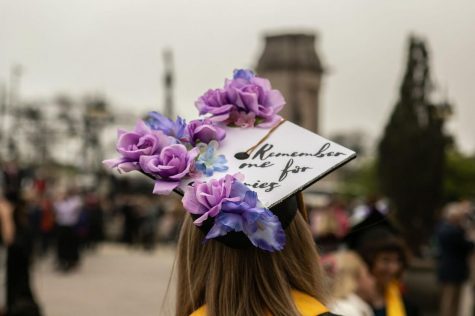 Lukidis said the college is also planning to incorporate virtual elements of commencement on the college's website this year.
From "fauxmencements" and "coronamencements" to graduations with robots in place of students, colleges across the world are adapting commencement events to honor graduates while following social distancing measures.
DePaul University canceled its live commencement, instead opting for a series of virtual ceremonies, as reported March 27 by the DePaulia.
At Loyola University, commencement ceremonies are postponed until Aug. 8 through Aug. 12, and the university is creating ways to celebrate virtually with graduates who cannot attend, as reported March 20 by the Loyola Phoenix.
Lainie Rabinowitz—who lives in Buffalo Grove, Illinois, and whose daughter is a senior TV production and writing major—said they likely will not attend commencement unless it is rescheduled for an earlier date or held virtually this year. No matter the outcome, she said she will be proud of her daughter whether she walks across the stage or not.
"This is life," Rabinowitz said. "Our kids are going to have disappointments. If this is the biggest thing that should ever happen to my kid, I consider her lucky."
Between his first college—McNally Smith College of Music in St. Paul, Minnesota—shutting down unexpectedly due to bankruptcy, and now the global pandemic postponing his graduation celebration, senior music major Ryan Pollock said, "It seems like the universe is telling you: 'Hey, maybe you shouldn't finish college.'"
But Pollock said he is focused on earning his degree and enjoying his success as a graduate, and said he will attend the ceremony next year if he is in the area.
"The pomp and circumstance is always fun, but at the end of the day, it's the four years that you put in. It's the hard work," Pollock said. "There's no ceremony, no diploma that can really wrap up all of that work you've done."