Sen. Kirsten Gillibrand: 'Trump's claims of total exoneration are wrong'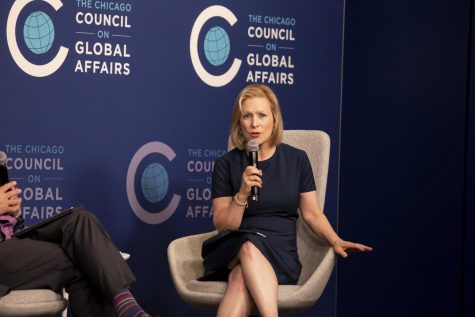 As Special Counsel Robert Mueller wrapped up his much-anticipated testimony before Congressional committees Wednesday, 2020 presidential candidate Sen. Kirsten Gillibrand (D-N.Y.) emphasized President Donald Trump's claims the Mueller Report exonerated him were false.
Gillibrand is one of many Democrats at odds with Speaker of the House Nancy Pelosi (D-Calif.) as she advocates for Congress to pursue the impeachment of Trump.
"It's never been more clear Russia took to the digital battlefield to attack the core of our democracy," Gillibrand said during her Wednesday address to the Chicago Council on Global Affairs, held at One Prudential Plaza, 130 E. Randolph St. "Rather than stand strong for our country and our long-held ideals, Trump and his associates welcomed aid from the Russians."
Mueller testified before two congressional committees Wednesday, as Democrats attempted to extract additional information from him. At the same time, Republicans aimed to discredit Mueller, along with his 448-page report that outlined Russia's interference in the 2016 election and Trump's associates' attempts to cover up ties to Russian officials.
During his testimony, Mueller said Trump could be indicted for obstruction charges after leaving office—but has not been indicted previously due to an Office of Legal Counsel ruling disavowing sitting presidents from being indicted. Mueller also warned Russia will try to interfere in the 2020 elections.
Gillibrand condemned Trump for standing with Russian President Vladimir Putin instead of his own country's intelligence agencies, particularly in Helsinki, Finland July 16, when he stood with Putin's denial of interference despite the U.S. government's analysis.
"We cannot let Donald Trump's glaring inadequacies on the world stage dull us to this dangerous behavior," Gillibrand said. "We must stand firm every time he risks another endless war and puts politics and his ego over the lives of our troops."
Trump took to Twitter following Mueller's testimony to voice his own thoughts on the political events that transpired Wednesday.
I would like to thank the Democrats for holding this morning's hearing. Now, after 3 hours, Robert Mueller has to subject himself to #ShiftySchiff – an Embarrassment to our Country!

— Donald J. Trump (@realDonaldTrump) July 24, 2019
Trump's hashtag referenced U.S. Rep. Adam Schiff (D-Calif.).
Other 2020 hopefuls voiced their thoughts on Mueller's testimony, which occurred just one week before the second round of Democratic debates.
I read the Mueller report the day it came out. Three things were clear: A hostile foreign government attacked our 2016 election, Trump welcomed their help, and Trump obstructed the investigation into that attack. I agree with @NAACP—it's time to begin impeachment proceedings. pic.twitter.com/W0iCN9Cv7k

— Elizabeth Warren (@ewarren) July 24, 2019
The possibility of Russian interference in another election is a major concern for Gillibrand.
"I am concerned that, yes, they will intend and try to undermine us again," Gillibrand said in a press briefing following her address. "President Trump hasn't taken the steps he should have by now to protect our democracy."