Second annual 'Black Carpet Showcase' spotlights Black men's mental health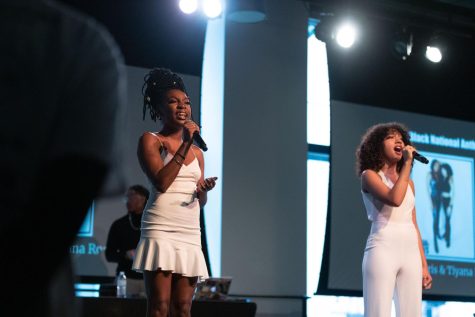 Several Black artists performed and showcased work to bring awareness to Black men's mental health during the second annual Black Carpet Showcase.
The event, which took place March 11 at Columbia's Conaway Center at 1104 S. Wabash, featured Columbia students, small business vendors and a gallery of visual art. It was organized last year by Black Artistry Chapters, an artist collective founded by CK "Deadshot" King, a junior dance major. 
The work shown came from a range of disciplines and genres, including photography, contemporary dance, hip-hop, pop and musical theatre.
At the start of the show, Kayla Gilmore, the artistic director, said they chose the theme of Black men's mental health because "a lot of Black men find it hard to be vulnerable and "a lot are taught that it's not 'manly' to share your emotions." 
"Sometimes, all we need is just somebody to listen and open up safe spaces for our men and our youth," Gilmore said.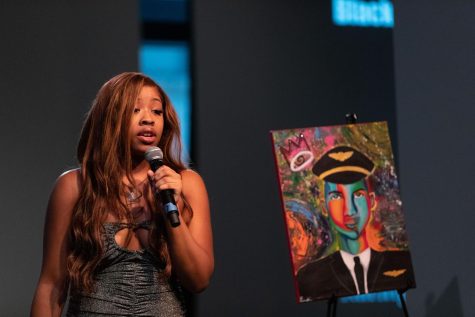 The theme resonated with Columbia student artists who displayed artwork and performances demonstrating personal experiences.
Asia Spaulding, a senior illustration major, said she is aware of the struggles Black men go through from her father and various friends.
"I feel like it's such a pressing issue and it's so bypassed and it's normalized … that a lot of Black men don't deal with it," Spaulding said.
Spaulding highlighted issues that need to be "handled and dealt with" like police brutality, in her digital art piece, "Boys Don't Cry."  
Graphic design major Monte Jones, a rapper who goes by Leone Capone on stage, performed his song "what you know bout me," which describes staying motivated in the face of the loss of his uncle. Despite the serious subject matter, Jones said performing is fun for him.
"I get a chance to be vulnerable and connect with the people and let them know that I don't have a problem being vulnerable, and neither should you," Jones said. 
Jones said the show's theme was meaningful to him because of his work as a mentor with CHAMPS Mentoring, a mentorship program for young men of color.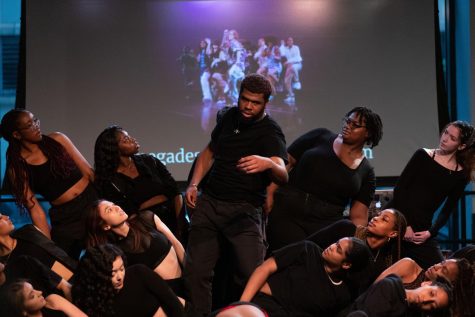 "I'm involved in the lives of hundreds of Black young men who go through trauma and life experience that nobody will ever be able to relate to," Jones said. "People think it's a surprise, but we actually go through these things."
Hezekiah Duncan, a junior comedy major, was the only comedian in the show. In his set, Duncan talked about dealing with his parent's divorce. In an interview, Duncan compared his life to a movie in the comedy franchise "Madea."
"When I found out the theme was Black men's mental health, I got excited because my life is like a "Madea" movie without all the "Madea" parts—so just really sad," Duncan said, referring to Tyler Perry's film franchise. "So I was like, I can definitely do this. A lot of my jokes aren't even meant to be mental health-oriented, but they sort of just are because it happened to me."
There was joy and camaraderie among the artists, an environment Spaulding said was new to her, as she is "usually the oddball out" as a Black artist among her white peers.
"I never really got to come to a community or a space where there was people that are like me until this," she said.
Too often, King said, Black people are not "given their flowers" — are not decorated or shown respect — until after they've passed. To remedy that, the show closed with each participant literally getting their flowers, in the form of a red rose.