SATIRE: Kim delivers post-break keynote serenade
After a long, relaxing week off, President and CEO Kwang-Wu Kim met with the Student Government Association and the college community to catch up with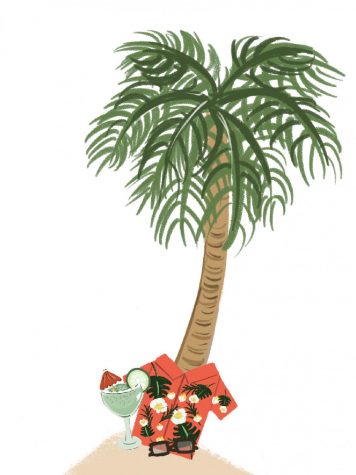 everyone and compare spring break escapades.
Kim decided to have the event to connect with students and let them know he is "just like them." SGA hosted the last chat in November 2018 to discuss advising, open labs and future plans for Columbia. This semester, Kim said he wanted to spice things up.
The discussion, held at Stage Two, 618 S. Michigan Ave., kicked off with Kim, clad in a Hawaiian shirt and sipping a margarita, playing a rendition of "Spring Break Anthem" by The Lonely Island on his piano. Once the crowd settled in, Kim asked what everyone did during spring break. When a student started to respond, Kim cut her off with his own answer.
Kim said he unwound by playing some tunes on his piano. After Chief of Staff Laurent Pernot finished cleaning the baby grand piano, Kim used his skills on the keys to conduct a spring break piano workshop for any students who remained on campus during
the week.
During the three-day workshop, Kim taught participants covers of his favorite songs, which included the entire discography of the band Phish.
"It was awesome," Pernot said.
Multiple students said Kim was spotted on the Red Line over the course of the week. He went back and forth from campus to his home on the Near North Side during the break.
"I saw President Kim asking strangers for money for the school's budget," said a freshman Columbia student.
When he was not giving students piano lessons, Kim used his time off to visit hot destinations in the
downtown area.
"Who knew Chicago had a big bean statue?" Kim asked.
Although spring break was an opportunity for Kim to take some time off, he used it to strengthen his public speaking skills and practice his dialogue for the Let's Chat with Dr. Kim event. Kim said he worked on the speech daily for two hours. He also bought a large quantities of mirrors to hang in his home so that no matter where he turned, his reflection would gauge his readiness for the performance.
"Kim is a natural performer," Pernot said.
Kim concluded the discussion with a rendition of Semisonic's "Closing Time" on the piano and a questionnaire of suggestions for how he should spend summer break.
SGA said they will host another discussion for the fall 2019 semester.
Kim, who had thrown a construction vest over his Hawaiian shirt, left the discussion early to make sure the student center was finished on time.