Russian protests have ties to Chicago, Columbia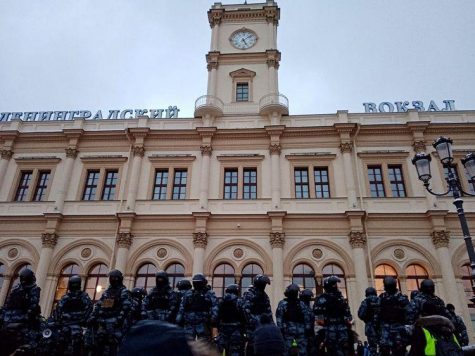 Mary Filatova, a senior journalism major, watched closely as Russian youth took to the streets to protest the alleged poisoning and subsequent arrest of a Russian activist.
Protesters in more than 120 cities in Russia and several cities around the world, including New York, took a stand on Jan. 23 against President Vladimir Putin's alleged involvement in the poisoning of political opposition leader Alexei Navalny.
Filatova, who was born in Russia and still has family there, said she has friends who participated in the peaceful protests and is grateful that none of them were arrested.
"People didn't have any weapons or bad intentions—it was a peaceful protest," Filatova said. "But [it] seems there were so many people [that the] police had to spread them out with something like pepper spray."
The protests are the largest Russia has seen in recent years, and they began after Navalny was allegedly poisoned during a flight in August 2020. Navalny was transported to a hospital in Berlin where doctors and the Organization for the Prohibition of Chemical Weapons confirmed he had been poisoned, according to the New York Times.
After recovery Navalny posted a two-part video based on an investigation by Bellingcat, an independent international collective of researchers, investigators and citizen journalists, outlining in detail who poisoned him and why. According to reporting from The New York Times, Navalny concluded that he was poisoned by Russian agents and received confirmation over the phone from a Federal Security Service officer involved in the plot to kill him.
Upon returning to Russia, Navalny was promptly arrested at the airport and later sentenced to three and a half years in prison for violating the terms of his probation from a 2014 prison sentence when he went to Berlin to seek treatment for poisoning.
Following Navalny's call to protest on social media, mass protests unfolded across the country in response to his arrest.
Jane Doe, an adjunct professor at Columbia who shared her story with the Chronicle on condition of anonymity, immigrated to the U.S. from Russia nearly three decades ago. She still has relatives and friends in Russia whom she visits regularly and said even though people from older generations in Russia tend to support Putin, she is not one of them.
"First [Putin's leadership] looked like order in a good way, but what we have now is not better," Doe said. "He doesn't want to go—it's been 20 years and the mentality is that … there is nobody to replace him."
Doe said the protest movement in Russia has never been strong, but she said that is changing with the recent actions. She said Navalny "is a perfect hero for Russian people—the way he looks, the way he speaks. People love him."
Ronald Suny, professor of political science and history at the University of Chicago, said Navalny and his charisma are what made these protests different from past movements in Russia.
Suny said Russia is far from democracy but is not as repressive as totalitarian countries can be. He said arresting Navalny was a "mild way to crush the street movement."
"Navalny has already built up a network; there are many young people who will try to carry on his work," Suny said. "My sense is they will be effective. Having Navalny in [a] penal colony gives the crowd a focus, something to rally about and that might be very powerful."
Mary Smith, a 19-year-old Moscow resident who participated in the mass protests, shared her story but asked the Chronicle to protect her identity to protect her from retaliation. Smith was arrested while protesting on Feb. 2, the day Navalny's sentence was announced.
"I don't know whether it's sexism, [or] whether I should be glad [because] they were particularly brutal on that day toward the males, but the females were relatively unharmed," Smith said. "I saw some guy [get] tackled, and he was on the floor, completely unarmed, and a couple of guys were just hitting him with sticks."
Smith said after arriving at a police station, she was given the option to accept the charges of participating in an illegal protest and pay 20,000 rubles, around $270, or take her case to trial. Smith agreed to a trial, but later agreed to pay a fine of 10,000 rubles, around $135, she said.
Filatova said the protests have a larger mission than just to support Navalny—they also demonstrate how people are fed up.
"At this point, it's not really about Navalny, it's more about being against Putin," Filatova said. "Navalny was a reason to confirm that something is off, just based on why he went to prison. I think people are united and they're finally ready to [go] against the government."