Rocky relationships and Erotic Isolation: the Chronicle's guide to love during a pandemic
This is the second in a two-part series on sex and love in the age of the coronavirus.
Stay-at-home mandates have left no love life untouched, from single people struggling to meet others from their living room to couples struggling to adjust their relationships within the new normal.
With the global coronavirus, or COVID-19, pandemic, there are a lot of unanswered questions around dating and relationships. The Chronicle set off to find answers.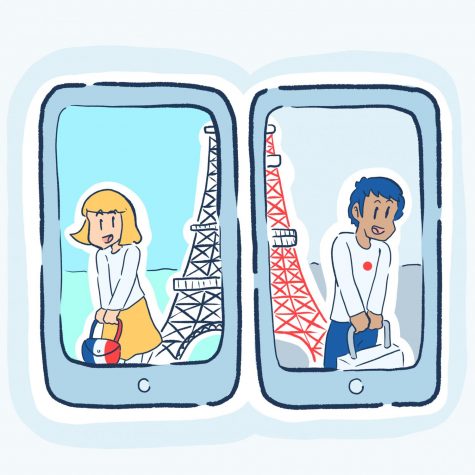 How do I find the love of my life while in quarantine?
Just because you're stuck inside doesn't mean you can't meet people.
Here/Now—a company based in New York City and Los Angeles that traditionally offers in-person group events to spark connection—has recently gone online to give people the connection they are craving.
"When the coronavirus hit, we obviously couldn't continue to do in-person experiences," said Lyndsey Wheeler, co-founder and CEO of Here/Now.
The virtual hangouts are hosted over scheduled Zoom calls that can be held in any city as long as there "are enough applicants" in the area—approximately 14 people.
The company has seen "probably three times as many people applying to our services" since virtual meet-ups have gone into effect, said Rachel Breitenwischer, co-founder and COO of Here/Now.
"What quarantine has done for a lot of people is [make them interact] … with existing friends or do these virtual happy hours with their college roommates, but there are fewer opportunities to go out and meet new people," Wheeler said. "For those who are isolated at home alone or are single and want to meet someone or just are extroverts who love meeting new people all the time … we are a place where that's the expectation."
But not everyone is interested in sitting down to have a drink and a person-to-person chat over the internet. This is where Slo 'Mo—a Chicago-based company that hosts dance parties for the LGBTQ+ community—comes in. Slo 'Mo has taken their monthly parties online and added a new kind of virtual connection.
Kristen Kaza—co-founder and producer of Slo 'Mo, who also serves as an adjunct faculty member in Columbia's Communication Department—said their latest event, "Slo 'Mo From Homo: Erotic Isolation, a sensual storytelling series," allows people to connect with themselves during isolation.
"It was a great success because it was something different," said Kaza, also a 2007 marketing communication alumna. "We believe that pleasure is power, and tapping into it is a great way to find fulfillment and self-affirmation in uncertain times."
The Erotic Isolation event offers live sensual poetry and storytelling set to music from a local DJ. While the next Erotic Isolation is yet to be announced, "Slo 'Mo From Homo: Live Digital Dance Party" will be hosted every third Thursday.
"Queer people have a legacy of using music, dance, self-expression and celebration as a way of surviving in hard times," Kaza said. "Finding a way to channel this in the pandemic is important for our community's sense of hope and humanity."
Stay-at-home mandates are putting stress on my relationship. What do I do?
Home-life dynamics have shifted for many couples who may now be separated or forced to live in close quarters, adding complexity to their relationships.
Ally Gill, a sophomore filmmaking major at Columbia, has not seen her boyfriend of three years for several weeks. She moved back home to Cadillac, Michigan, after campus closed and is unsure how long it will be until she sees him again.
Now, they rely on texting, and Gill said they do not talk on the phone as often because it just makes them sad.
"It's frustrating and then my boyfriend's upset," Gill said. "I can't help it, the whole world is falling apart."
Yet, one relationship expert said just because the world may seem like it's ending doesn't mean your relationship needs to feel like that, too.
Lindsay Anderson, head dating coach at Smart Dating Academy—a Chicago company that helps people date smarter and find love—said for couples who are separated by quarantine, the best thing for them to do is call each other, and call often.
"We have been telling everyone—video date, video date, video date," Anderson said. "You can truly build a great connection face-to-face through a screen … [then] you actually get to see facial cues, and you get to see [how] their eyes sparkle."
Nicole Sojda, a junior marketing major at Southern Illinois University at Carbondale, has been adjusting to living in quarantine with her boyfriend.
While it has been financially beneficial because her boyfriend has been splitting bills with her, Sojda said with all of this free time on her hands she is still getting used to being with him constantly.
"We're kind of stuck together now," Sojda said. "I'm used to living by myself in my own place. … It's a good thing, though."

Given the new layers of stress added to any relationship—especially romantic ones—having "guidelines" with your partner regarding when and how you see them, whether in-person or virtually, is crucial, Anderson said.
For couples living together during this time, where necessary distance may no longer be an option as it once was, she said being "the better partner" is imperative.
"Start noticing the things the person you're with is doing really well. Are they finally loading the dishwasher the correct way? Do they step up and help out with the kids in an unexpected way? Are they helping to pitch-in in ways they haven't?" Anderson said. "Because romance really begins in the mind, and making people feel like they're actually being seen is the first step."
But let's not forget the chemical side of our bodies. While we fend off anxiety and depression during the pandemic, physical touch—whether romantic or platonic—can do a lot of good.
"Touch each other more and often," Anderson said. "We tell our clients [about] the 10- to 30-second hug. … But if you connect and just hug your partner and really hold on for about 30 seconds, that's enough time to actually build that oxytocin, which boosts that romance hormone."
Whether physical touch is an option or not, Anderson said the importance of carving out time for one another, be it exercising together to increase endorphins, getting take-out dinner and a virtual show or simply having a night of "Netflix and Chill," time with each other is valuable while we have it to spare.