Review: Upcoming poetry collection embodies a kind of 'madness' in its composition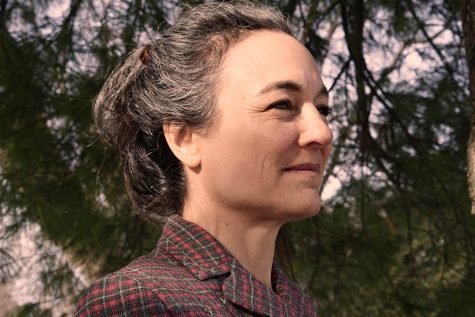 Lately, Lisa Fishman arranges her work on her dining room table, full of loose sheets of paper, notebooks, lists and drawings. She and her family eat at a smaller table pushed against the stove.
"For me, making a book is … it's quite physical as a process," she said.
Fishman, an associate professor in the English and Creative Writing Department, wrote her seventh book, "Mad World, Mad Kings, Mad Composition," which consists of 16 years of work.
The collection takes moments of observation, collected teaching notes, lists, writing prompts and drawings and arranges them alongside one another.
The book reflects Fishman's philosophy of allowing writing to come naturally; the collection spans numerous years. This is also a philosophy she teaches her students.
The poetry in the book is observational but not forced. In one poem, which is untitled, she writes about a note from her mother in the '70s that reads, "Hi, Honey / I borrowed $8 from your Snoopy bank / and will be at the Ashram until / 9 or so."
Just as she encourages her students to do, Fishman said she does not need to explain her poems because they can speak for themselves.
"Let the poem be," Fishman said. "It's a matter of trust, both in the poem … but also trust in the reader to have a way of both being receptive to the work but also interacting with the work."
The book also plays with sound in a distinct and fresh way.
In one poem she starts with the word "loss" and travels through the words "Los Angeles," "Laos" and "Louisiana." For Fishman, she said sound is the single most important thing because it generates what comes next.
While this book is the longest and most "loose," her other work shares similar themes and observations, which she said is common for many writers.
"Your work is always in conversation with itself, as well as with the work of others," Fishman said. "Both dead and alive, maybe both real and imaginary."
Fishman began putting together "Mad World, Mad Kings, Mad Composition" in 2017 because "being a writer in a time of peril means that one goes to one's own writing, the work of art, out of necessity for oneself."
The title of the book speaks to writing during this time period—and more specifically but not limited to—living under the regime of Trump. The title is a quotation from the play "The Life and Death of King John" by Shakespeare, and it asks, "How can we make art right now?"
"Some of the language of the poems embody a kind of madness in their composition and that I feel is true to the conditions that we are living in," Fishman said. "If things really feel like they don't make sense, then it can be kind of fake if I feel like my poems always need to make sense."
It is fitting, then, that this collection of poetry will be published in 2020—a presidential election year.
This is a collection for readers who are patient and willing to put in work to fully understand. While these are words written on a page, they have their own distinct voice. Her writing is not separate from life or herself—it is hearing, questioning and listening. This work begs that you hear it, too.
"When you ask the question, what writing is alive? That's what this book is," Fishman said.
"Mad World, Mad Kings, Mad Composition" is set to be released Aug. 4.