Review: Student production 'Beneath the Orange Tree' a thought-provoking look into a complex family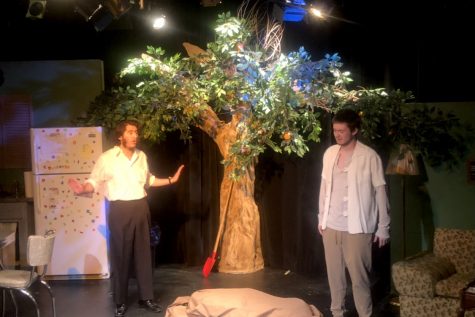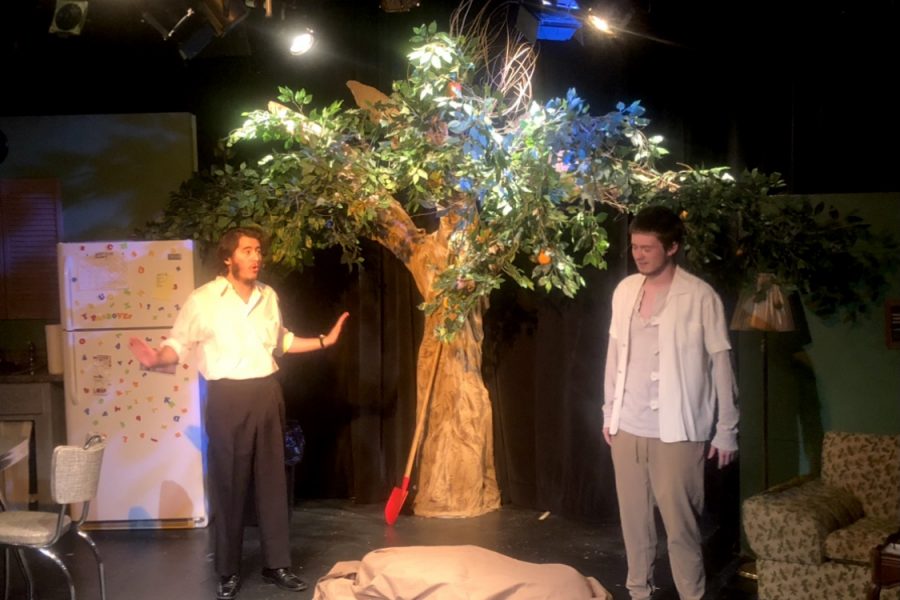 "Beneath the Orange Tree," a Columbia student production, mixes humor, social commentary, family drama and the struggle to find religious identity. The story follows the Friedman family, a household with a complicated Jewish identity and complicated family dynamics.
This Senior Playwriting Showcase production was written by senior playwright Zachary Robinson and directed by Gabby Rooney. It serves as Robinson's final production at Columbia.
The play's catalyst is the death of Herschel Friedman, played by Luke Comfort-Cohen, the father to the patriarch of the Friedman family, Saul Friedman (Elliot Lockshine). Hershel was the "Jewish glue" of the family, and his death prompts the sale of his home, which then brings the audience to the main plot of the story.
Throughout the play, the family simultaneously tries to downplay their Jewish identity in order to sell Saul's father's home, which is located in a predominantly evangelical neighborhood in Florida — a neighborhood depicted in the play as heavily Christian and intolerant of anyone who doesn't fit their mold.
From downplaying their Passover Seder, an important ritual meal that marks the beginning of Passover, as a mere dinner during an open house, to removing important Jewish objects from their wall, such as Yiddish passages framed on a wall and a mezuzah, Saul goes to great lengths to hide their Jewish identity from prospective buyers. He would then replace those items with a picture of Jesus, decorative pillows and a cross for the sake of selling the house.
Saul oftentimes tries to downplay his relationship with his father, as well as his Jewish identity — an identity that Saul feels has died with his father. From the family ceasing to go to synagogue, not speaking Hebrew and not keeping kosher, Saul feels as if they are no longer Jewish.
The house is a great metaphor for the Friedmans' Jewish identity, as well as their relationship with the deceased Herschel. It was constantly changing, both visually and metaphorically.
Saul's wife Darcy (Scarlet Frishman) converted to Judaism, but she is often referred to as a shiksha, which is a non-Jewish girl or woman who does not observe Jewish precepts used by Orthodox Jews.
Despite this, she tries to become the "Jewish glue" of the family by preparing the Seder dinner, encouraging a family relationship with Elijah, the family friend and rabbi, and wanting to save religious texts and other items Herschel left behind, which Saul would have thrown out.
Darcy's efforts are often viewed as not enough or unnecessary. Her complex Jewish identity and Saul's complex relationship with his own identity cause a great amount of confusion for their only child Nate (Mollie Menuck). Nate is an eccentric child, whose rather bizarre speech at his bar mitzvah caused a massive divide in the Friedman family.
Darcy's storyline is not given justice. Her character lacks closure, even after all the stress and trouble she goes through throughout the play in trying to find her Jewish identity, all while constantly being undermined by the men around her.
Darcy could have been shown, at the very least, some more compassion by the end of the play and could maybe even be seen as an equal, but perhaps the Friedman family is not ready for that yet.
Lockshine and Frishman gave convincing performances as Saul and Darcy. Both were able to have enough chemistry and hostility toward one another to create the necessary tension and love that would be expected of them, given the nature of the story and its events.
Jordan Baker did a phenomenal job of playing the obnoxious and eccentric — but surprisingly tolerable — real estate agent who was tasked with selling Hershel's home. Her presence provided comic relief, but it was more than that. Baker's stage presence demanded the audience's attention while she served as the mediator between evangelicals and the Friedman family.
Viewers can decide whether they believe the play ends on a happy note. The conclusion offers something of a resolution to some of the conflict seen throughout the play; however, it did feel a bit abrupt.
Despite this, "Beneath the Orange Tree" successfully accomplishes exactly what it set out to do — addressing misogyny and discrimination, tackling grief after the loss of a loved one and exploring a family's complex identity in an at atmosphere plagued by intolerance.
"Beneath the Orange Tree" began showings on Tuesday, Nov. 30, at The Classic Theater, 72 E. 11th Street. It runs until Thursday, Dec. 2.