Review: Marvel's 'Loki' finally gives some self-worth to the trickster god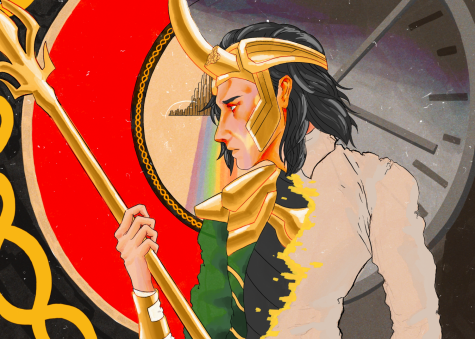 After years of fan service Loki, we receive a love letter to the character in a new series, which follows him on a journey into self-love and acceptance in Marvel's "Loki."
In the six-episode series starring Tom Hiddleston as Loki, the now confirmed bicon is brought back from the dead in a fan fiction-esque AU, or alternate universe, with a divergence from his destined path.
This Loki and the one fans have seen on the silver screen for the past 10 years differ in the obvious ways, such as the plot and aesthetics, but this one has something crucial the other does not—character development.
In the Marvel Cinematic Universe timeline fans know, Loki is sent to an Asgardian prison following his failure to overtake Earth in "The Avengers" (2012) and is ultimately killed off in "Avengers: Infinity War." Whereas, in the Disney+ "Loki" timeline, Loki escapes after his defeat by the Avengers and is taken into custody by the Time Variance Authority for venturing off his destined timeline. From there, the TVA enlists Loki's help in capturing another Loki variant who has eluded them for years.
In the first few moments of the show, Loki is the same Loki we have seen before—a pompous, annoying little brother with a penchant for violence. Eventually, though, fans begin to see what drives these traits—facades for the sake of power and attention—and the character returns to a certain vulnerability of which Hiddleston is a master and which made the character so popular in his initial appearance in "Thor" (2011).
It's because of Hiddleston that Loki was never poorly portrayed. However, he hasn't been written with this much depth since his first hours onscreen.
When we are let into Loki's headspace in the first episode, we see immaturity accompanied by self-loathing, which evolves throughout the show into emotional growth and falling in love—with himself.
The unhinged Sylvie Laufeydottir, played by Sophia Di Martino, is Loki, but not. As a Loki variant, she is different enough from him that their motivations clash, but both are similar enough that when Loki begins to catch feelings for her, it looks like narcissism. I see this as a personification of self-love as Loki finds pieces of himself within her that he enjoys.
More than that, these feelings lead to something we have never seen in Loki. As a character who is always putting on a show, we have seen Loki receive care, but we have never seen him take care of someone as he tries to when he feels Sylvie needs to be reeled in during a particular moment of blind rage in the season finale.
Sylvie, however, is not the only catalyst for Loki's change of heart. Mobius M. Mobius, played by notorious stage whisperer Owen Wilson, is an excellent scene partner for Loki to bounce both banter and emotional breakthroughs off of.
If you don't care to watch for the character development, the star-studded supporting cast may pull you in. Audio chameleon Tara Strong as Miss Minutes, an animated clock and henchperson, and effortlessly smooth Gugu Mbasa-Raw as Ravonna Renslayer, a TVA judge, add a backbone of tension and a face for the TVA. Additionally, Johnathan Majors deserves props for his performance as He Who Remains—without his elongated consonants and variable dialogue speeds, the character's season finale monologues could have been long stretches of flat, static chitchat.
If you can keep up with the multitudes of timeline talk, I'd recommend "Loki," not only for the titular character and his multitudes of dramatic hair flips, but for the expertly crafted exchanges between all of these characters.
What I'm hoping for in season two is a delve into Loki's rising confidence and what that could mean for his powers—which could be bigger than Hiddleston's Loki had imagined before as hinted to by the other Loki variants' abilities—and a tiptoe through the looming playground that is the golden city in the TVA's facilities.