Restricted access raises student concerns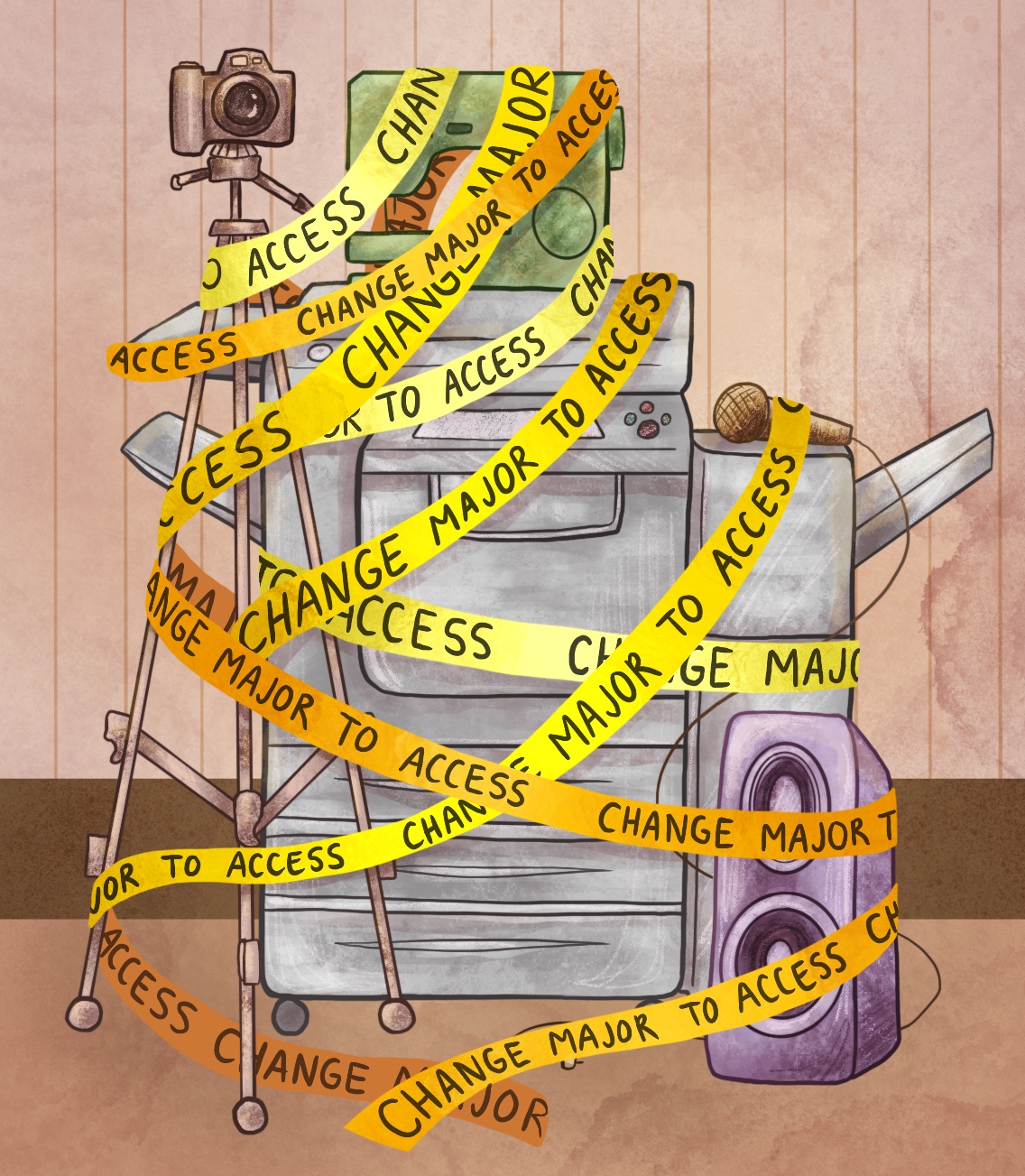 Ava Butera photographs concerts and has accumulated most of the necessary camera gear for her work. But when she photographed Riot Fest in September, she said she was left without the correct lens and had no way to borrow one from the college.
Because Butera, freshman public relations major, is not a photography major or enrolled in a photography course, she did not have access to the photography equipment cage located in 1104 S. Wabash Ave. Although the library contains limited equipment for all students, she said it did not suit her needs, and she did not have the money for a deposit on a lens from an off-campus shop.
"It frustrates me because I paid tuition to the school, and I feel like I should be able to take advantage of the resources," Butera said.
The restriction of access to photography equipment comes down to space, said Ross Sawyers, chair of and associate professor in the Photography Department.
With 265 photography majors, Sawyers said opening up facilities and equipment to non-majors would mean that photography majors may have difficulty accessing what they need to complete their coursework.
"We have a decent amount of equipment, but we don't have an abundance," Sawyers said.
Abbie Krider, a sophomore photography major, said that despite being in the department, her access to certain facilities is still limited based on the courses she has taken. For instance, she was not able to use the Lighting Studio, 1104 S. Wabash Ave., because she had not yet taken the "Principles of Lighting" course.
This was especially frustrating last year, Krider said, when she found it difficult to complete class projects without access to the studio.
Sawyers said certain equipment requires high-level knowledge to operate, and because equipment is limited, the department wants to ensure expensive gear is in the hands of those who will not damage it.
But facility and equipment limitations are not specific to the Photography Department. Non-majors cannot access Audio Arts and Acoustics recording spaces in the basement of 33 E. Ida B. Wells Drive, and the Equipment Cage of the Interactive Arts and Media Department is available to IAM majors or students enrolled in IAM courses only.
The Media Equipment Center, 1600 S. State St., has lighting and sound gear that is general access and is available for those taking a course in the School of Fine and Performing Arts, said Meimei Yu, manager of digital facilities. Other, more expensive equipment like video cameras can be borrowed only by students who are enrolled in at least a single one-credit class.
"In the past we had a general access policy on the higher-end gear, and the problem with that is … because we're servicing the whole of SFPA, [a student's] knowledge base could be anywhere from really knowledgeable to really, really lax," Yu said.
In fact, many campus facilities cite student knowledge, or lack thereof, as the reason for restricting access in some capacities.
Amy Leners, manager of the Makerspace facilities, said certain courses are required for students to use equipment in the Fashion Lab, 623 S. Wabash Ave.; Fabrication Facility, 623 S. Wabash Ave.; the Printmaking Facility, 623 S. Wabash Ave.; Bookbinding Studio, 1104 S. Wabash Ave.; and the Papermaking Studio, 1104 S. Wabash Ave. But, students can still access some equipment without having taken those courses.
The Fashion Studio Lab has a few sewing machines available to all students, Leners said, while access to industrial sewing machines can be gained by taking certain fashion courses. The Book, Paper and Printmaking Facilities require a minimum of a five-week course to use the equipment, while the Fabrication Facility offers in-house training on how to use the power tools and other equipment safely.
"A lot of [the equipment] can be very dangerous," Leners said. "Having access to that without having the coursework to support it is actually a disservice to a lot of people."
Another disservice to students, Krider said, is that even those who have access to facilities or equipment do not know how or where to access it.
Sawyers said this information is not publicized in order to protect the equipment from theft.
"We don't want to create a shopping list for would-be thieves," he said, and added the department is still working on a solution that lets students know what they can access without opening that information up to the wrong eyes.
Some spaces on campus are already open-access, such as the recording studios on the seventh floor of 33 E. Ida B. Wells Drive.
The Makerspace on the second floor of the Student Center, 754 S. Wabash Ave., also houses sewing machines, power tools, laser cutters and 3D printers among other equipment that all students can use. Leners said the Makerspace has specialized staff on hand to help train students in how to use equipment they may have issues accessing in other parts of the college.
"We're working really hard to expand our access over the entire college, but that's a lot of students to service," Leners said. "We want everyone to have access to everything, but building that infrastructure takes time."
Correction 11/09/19 at 9:09 p.m.: A previous version of this article said use of more expensive equipment from the Media Equipment Center requires students to take an online authorization workshop; used the incorrect name of the Papermaking Studio; and said only IAM majors are permitted to use the Equipment Cage. The Chronicle regrets these errors.