Reform CFAC slate addresses concerns from union members: dues, officer compensation, transparency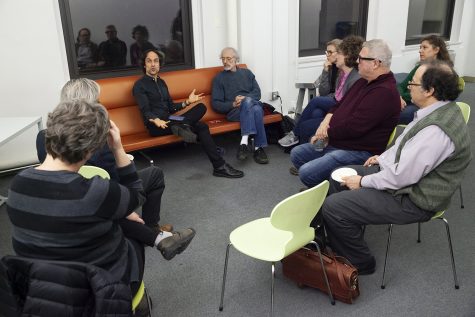 The first thing Derek Fawcett will do if he is elected president of the Columbia part-time faculty union in December is release the union's financial books to demonstrate how much debt the union is in, how member dues are being spent and how much officers have been compensated.
"Provided that we win, that turnaround period is going to be really breathtaking, challenging and maybe a little scary," said Fawcett, an adjunct professor in the Music Department, during a Wednesday, Nov. 20 open discussion held at 33 E. Ida B. Wells Drive.
Fawcett is part of a slate of four CFAC members who call themselves "Reform CFAC." They are all first-time candidates running for union officer positions, including Fawcett for president; Jason Betke, an adjunct professor in the Cinema and Television Arts Department, for vice president; Christopher Thale, an adjunct professor in the Humanities, History and Social Sciences Department, for secretary; and Colleen Plumb, an adjunct professor in the Photography Department, for treasurer.
Ballots were sent to members in good standing the week of Monday, Nov. 18 and will be tallied Dec. 9. All ballots must be sent through the U.S. Post Office as per U.S. Department of Labor guidance for the election, as reported Oct. 11 by the Chronicle.
During the Wednesday meeting, the candidates answered questions about how they would address concerns from nearly a dozen adjunct faculty who attended. One of the most contentious of these questions revolved around union finances.
Officer compensation
Attendees scrutinized Diana Vallera's salary as the current union president, pointing to public tax documents required of unions that show Vallera was compensated more than $25,000 for fiscal year 2019. In comparison, current Vice President Andrea Dymond was compensated $38 and Treasurer Susan Van Veen was not compensated.
Faculty members and candidates questioned the validity of Vallera being compensated thousands of dollars and said if the work were delegated more to department representatives—which there are not a full slate of in many departments across the college—Vallera would not need to justify an hourly wage to that extent because others could pick up the workload.
In an interview with the current Steering Committee for a follow-up piece profiling candidates as part of the Chronicle's ongoing CFAC coverage, Vallera said she has never heard complaints from members on this topic and that she has never hidden her salary.
"My salary … that's always been transparent, what I've made and what I've been able to accomplish," Vallera said. "Compared to what labor leaders make, or certainly what I've been offered to make, it is significantly less. Why? Because I love the work. … The old way of thinking was that you'd work only five hours a week as union president. If I worked five hours a week we wouldn't have the union we have today."
If elected, Fawcett said the Reform slate will put officer compensation to a union-wide vote so members can weigh in on how much the officers should be paid, in addition to producing regular financial reports. They also weighed the idea of paying stipends to department representatives to incentivize them and show their work is valued, which Vallera also said she is working to implement.
Dues
Candidates also discussed how to make it more financially reasonable for adjuncts to instruct at the college after union dues were increased in September as part of an affiliation vote with the Illinois Federation of Teachers, as reported Aug. 28 by the Chronicle.
Not only do the candidates want to examine why dues were increased to 2.5% of salaries, but also how the union can work with the college to improve adjuncts' financial stability. Fawcett said he would create a commission to focus on making life as an adjunct less "punishing" by bringing "reasonable" requests to the college's administration.
"One of the things this union should be advocating for is making it easier for us to go all in on Columbia," Fawcett said. "This notion that, 'Oh yeah, we all need to teach at three different schools, that's just kind of the nature of the beast,' is kind of garbage. It's the reality that we're living in, but it's kind of terrible. It strikes me that an organized, thoughtful, professional union like this could zero in on a few things that we can do to make it that much easier … to invest further in our work here."
Transparency
One of the biggest criticisms from some union members is the lack of transparency from the current Steering Committee officers. To counteract that, if the Reform slate were to win, Plumb said she would want all meetings to be videocast for any members who cannot attend them in-person.
Vallera said allegations of a lack of transparency are frustrating given how far the union has come since before she took office. She said one result of improvements in communication was the increased voter turnout rate to approximately 50% in contract approval and strike votes.
When it comes to negotiating with the college's administration, Fawcett said he wants to be as transparent with rank-and-file as possible. This comes after emails from leadership during the most recent contract negotiations seemed "apocalyptic" while the college's emails looked "measured" by comparison, confusing members to the reality of the negotiations, he said.
Finally, Fawcett said he will become acquainted with adjuncts in other departments to find out what members need. In the first six months, Fawcett wants to be able to say he has met with every department. 
"You've got to be a Columbia expert. You've got to be a teacher-to-teacher expert," Fawcett said. "Otherwise, how on earth, were I to be union president, would I be able to help you if I didn't have an intimate knowledge of what you're going through?"