Recycling fashionably: The Rack seeks donations of winter essentials for Columbia students and families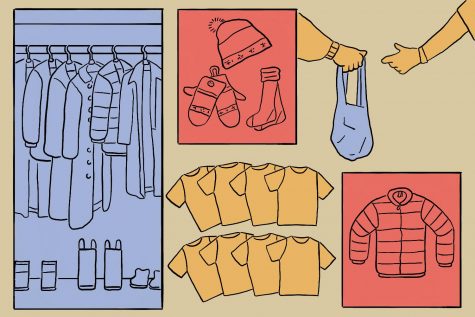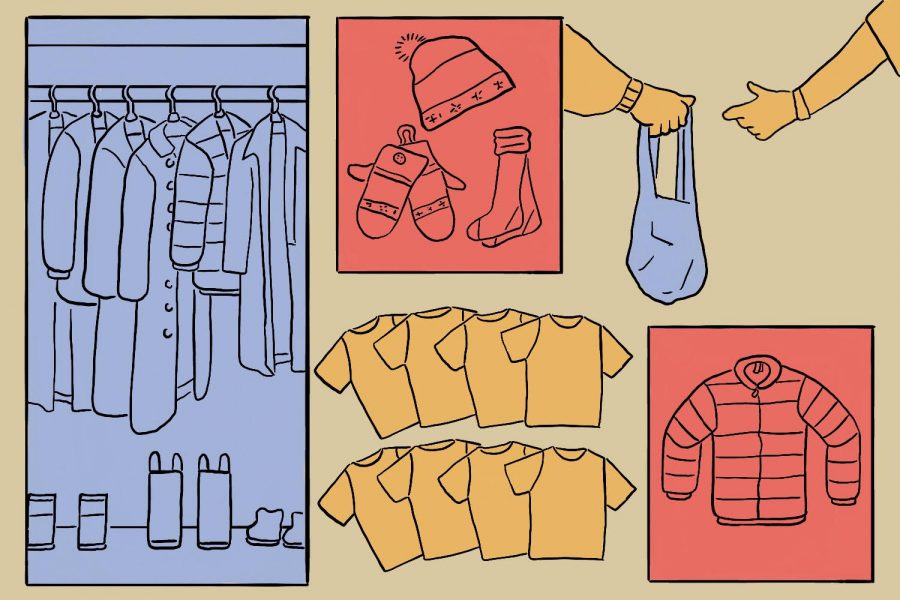 It's the most wonderful time of the year! Well, for the holidays it is. For the cold Chicago weather that has Jack Frost nipping at our noses … not so much.
For some Columbia students and families, the cold weather can be costly and detrimental to their wallets and physical well-being.
This winter season, Academic Diversity, Equity and Inclusion and Student Diversity and Inclusion have teamed up to run the Fashion & Function Drive — a donation drive for which they are seeking size-inclusive and gender-affirming clothing for students and their families for the cold months ahead.
The drive started Dec. 1 and will run through Dec. 15. All donations will be sent to The Rack where students can pick up items. The Rack is a clothing exchange and free clothing service area run by SDI, located on the fourth floor of the 618 S. Michigan Ave. building.
"We have a lot of clothes [at The Rack], but it's not all winter appropriate," said Alejandra Marroquin, a senior social media and digital strategies major and peer mentor at SDI. "We know how cold Chicago gets in the winter … and we don't have that many sizes. We want to be more inclusive in sizes."
Donations of winter essentials — new hats, gently used gloves, coats and any other clothing items of all sizes that can be layered — are needed.
The DEI and SDI's Instagram has a list of additional items needed, such as shampoo, menstrual products and other basic necessities.
There are three locations where students, faculty and staff can drop off new and gently used items to be donated to The Rack: the SDI Office, located on the fourth floor at 618 S. Michigan Ave.; the Undergraduate Admissions Office, located on the third floor at 600 S. Michigan Ave.; and the Maker's Space at the Student Center, located on the second floor at 754 S. Wabash Ave.
"I've been one of [the students] who has taken a lot of stuff for my parents at home," Marroquin said. "It's really expensive to buy clothes that are past size in extra-large, and there's some good quality stuff that staff and students have donated … literally anybody can benefit from this."
Abby Smith, a junior Illustration major, visited The Rack for the first time recently. Smith said she got a sweater, sweatpants and a tote bag free of charge.
"Every college student has their struggles with money, and it's just really nice to know there is that free option available for us," Smith said.
This is the first time SDI and DEI have collaborated on a project like this.
"Both of [the SDI and DEI teams] coming together is something that really needed to happen," Marroquin said. "We both have similar messages; [DEI] is more the academic side and [SDI] is more the personal side of students, and we're both here for the same reason — we want to help and make it easier for students to progress in their Columbia careers. … [This drive] is a way to not only promote us, but promote the students."
Marroquin said DEI and SDI are currently planning future donation drives for the spring and summer.
Adriana Brown, a sophomore marketing major and media coordinator for DEI, is the creator of the Fashion & Function Drive. She said she is hoping the campus collaboration between these two offices can encourage more unification within the school — and can encourage people to donate and make a difference in students' lives.
"People don't realize that there are students and families that go to Columbia who are struggling financially," Brown said. "It's important to support our fellow students here on campus. … We want that to be one less burden for them to find clothes to wear and have things they need for everyday [life]."