Record breaking voter turnout for SGA Executive Board elections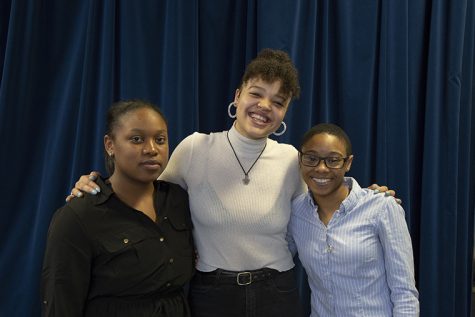 With more than 500 votes cast for Student Government Association's Executive Board elections for the 2019–2020 academic year, three candidates have been elected to take on new positions .
The students elected were: junior dance major Kierah King as president, sophomore radio major Jori Roberts as vice president and sophomore illustration major Ashley Moore as vice president of communications.
Election results were announced during an April 17 SGA meeting held at The Loft, 916 S. Wabash Ave. Before addressing the election results, current President Jazmin Bryant shared the total vote count of 514 students at the meeting.
Students clapped and cheered with excitement at the turnout increase. Last year, just over 100 students voted, as reported April 23, 2018, by The Chronicle.
King attributes the increase in votes to the number of senators on SGA. Coming into the Fall 2018 semester King said there were about 20 senators, which she and other board members were not expecting, as there are usually only about four to five senators each year.
"Having all those members and the representation for each department has made the student voice and student body heard," King said.
As president, one of King's plans next year is to increase collaboration between students and faculty in different departments.
"We have so many diverse faculty [members] that are in the field here and can give resources and good advice that students need to hear," King said.
Along the same theme of collaboration, Vice President-elect Jori Roberts said she wants to increase student engagement through events and in-person visits to departments and classrooms.
Roberts also hopes to be a resource for students and future senators as someone they can go to for help of any kind.
"My number one goal is leaving that mark [so] that when I leave here, we as the student body are … comfortable to speak up and say what [we] want to say," Roberts said.
Incoming vice president of communications Ashley Moore said she plans to use certain social media platforms more.
For example, she wants to keep Facebook as a place where students can find out about SGA events because she will be able to track who is planning to attend or is interested in the event. Moore said she wants to focus mainly on Instagram, where she plans to post content related to common student concerns, such as when U-Passes are distributed and important Student Financial Services announcements.
Looking ahead, King said she wants to see SGA meetings filled with faces that are not just SGA senators.
"It's not just supposed to be senates or e-board, it's supposed to be everyone," she said. "The whole student body can come, and that's what I want to encourage."