Q&A: Papa Chan and Grandma Marina create social media time capsule with 'Drawings for my Grandchildren'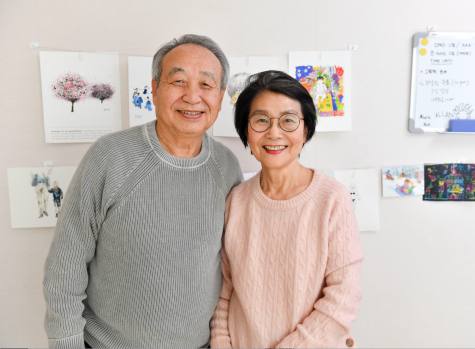 When Chan Jae Lee and Kyong Ja Ahn's daughter moved to South Korea and son moved to New York for work opportunities, they lost the joy of daily family activities like driving their grandchildren to school and spending afternoons together. After the birth of their third grandchild, the 80-year-old couple found a new purpose to help maintain a connection with their grandchildren online.
The grandparents, known as Grandpa Chan and Grandma Marina, made "Drawings For My Grandchildren," their family project on Instagram, where they create watercolor drawings and write stories from their lives for their four grandchildren.
Six years since its creation, the project has gained 411,000 Instagram followers and 1.3 million TikTok followers. The grandparents have also published "Looking Back Life was Beautiful," a book based on their artwork and stories.
Their son, Ji Lee, spoke to the Chronicle about the family's experience creating artwork for social media and what they hope followers take away from their family project.
The Chronicle: What was the inspiration for "Drawings For My Grandchildren"?
One evening, my father over the dinner table asked, "I wonder what [my grandson] will become when he grows up?" I asked why, and he said, "Because I won't be here anymore." … I had the idea of him drawing for his three grandkids, … and he agreed. … I taught him how to use Instagram, which was a very difficult process because he is not somebody who was familiar with any technological thing, … but he was able to learn.
My mom writes all the stories; my dad draws; my sister and I would translate; [and] I would clean up the drawings. … We all work together as a family although we are far away.
How have the grandchildren responded to the account?
I think they're proud of their grandparents because they have appeared in numerous interviews on TV stations in Korea, in Brazil … I think they admire the work they've done and the fact that they have 411,000 followers on Instagram. I do not think they follow every single drawing. They are preteens, and they will be busy playing video games. … These drawings for us are an archive of my parents' experience in their life, their thoughts, their messages and experiences. One day when they are no longer here, then my kids and my nephews can look through their drawing[s] and see what their grandparents were doing and what they were thinking.
Why does "Drawings For My Grandchildren" resonate with its followers?
Even before the pandemic, I think that people felt connected to this story because they feel the warm comfort that comes from the drawings my father makes and the stories my mom writes. I'm always interested in reading [comments] because it feels genuine. We can see that what we're doing is having such a positive effect [on] so many people, and that's part of the incentive, as a family, for us to keep doing this.
What message do you want fans to learn from your family's project?
Old folks, like my parents' generation, who are not really connected to society because they don't know the technology of social media, … feel isolated from the rest of the world. … Old folks are as vibrant, energetic and full of hopes and passion and dreams as anyone else.
I think we tend to neglect them because they're not as connected or updated about the newest technology. There's a huge opportunity for all younger generation[s] … to pay more attention to their older folks, family members and neighbors and really help bring them into this new world of technology.
We believe that this is something anyone can do. If more people could see what my parents did—what my family did—hopefully, they will make that extra effort to connect as a family with older folks.