Q&A: Former Columbia student Phil Tyler says connections are key for film students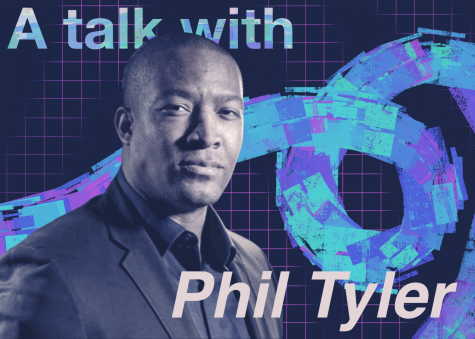 When Phil Tyler got career advice from actor, director and comedian Robert Townsend, he ran with it. Townsend told Tyler to go to Columbia to get the education and attention he would need to pursue a career in film and television.
Since leaving Columbia in 2004, the film and video directing major has kept himself busy behind and in front of the camera on shows like "Hell's Kitchen," "It's Always Sunny in Philadelphia" and "Ballers."
Tyler gave his best career advice during a virtual Career Center panel Monday, Oct. 19, to students navigating the film industry and spoke one-on-one with the Chronicle about his journey and working during the pandemic:
THE CHRONICLE: How did Columbia prepare you for the film industry?
TYLER:I loved Columbia. It was a melting pot of brilliant minds coming together. When I finally moved out to Los Angeles, I already had a home base [because] 12-15 of us that were in my graduating class were already out in LA. We already had a network of people that have similar goals, passions [and] dreams. We are all working toward it and we piggybacked off each other to keep each other going.
It does not matter how great you are in Chicago. Once you go out to L.A., then you have to start over from scratch. There is a different culture, there is a sense of entitlement … and I appreciated it.
People saw that work ethic I got from Chicago, from the Midwest, from Columbia, and they just wanted to snatch me up and have me be a part of their production. I love that. Columbia has a lot of pull just by its name. I didn't really realize that until working [for] four years [because] every time I mentioned Columbia in L.A., [people] are like 'Okay, you're good to go.' It's like saying I went to Harvard.
What do you look for in the roles you take behind and on camera?
When it comes to roles in general, I want it to be honest; [it is always] something that speaks to me. … I always have to represent that truth that resonates with me even if it may be contradicting to our current state.
When I'm training [for a police role], I am thinking about my Uncle KB. My Uncle KB was a police officer. He passed away, but he was an amazing police officer. … If there was any injustice going on around him, he put his foot down.
When I was on "Chicago P.D.," I played a tough, by-the-books cop that did not compromise. With everything that is going on in the world, I thought that it was a challenge to be able to portray a Black cop that still has integrity.
You do not always see that. You do not always see the compassion and the good because there's still good cops out there. We need to see that duality; [if] we only see one side, then we are blinded.
What are the biggest changes you have seen in the industry

?
Comedy is hurting because of it being more limited in what you can and cannot say and how you portray things. But on the flip side, the level of care and concern that we have now with everything is beautiful because we are starting to give a damn where before [we] did not. We have all these remarkable stories that we would have never heard about or even see in the '80s and '90s. That is an achievement. That is a sign of maturity in our industry.
What advice do you have for Columbia students hoping to enter the film industry?
Build a network that you know you can grow with first at school. My friends in college are still my friends now. When it comes to film and television, you cannot do it alone. You need a core group that believes in the same things you believe and is passionate about the same things you are passionate about.
If you see people you believe in along your journey, keep them close. If you see someone you admire, figure out how to reach them. If you want to do an internship with a production company you love, do an internship. If you want to shadow somebody, like [an] actor, director or somebody, [then] write an email, send a letter. You have no idea how many people will say yes. You got to put yourself out there.
A lot of people are scared to communicate and say, 'Hello, how are you?' Don't be. Open your mouth. Let people know what you can do. You got to be aggressive and say, 'Hey, I'm here.' That is powerful because somebody is going to see.