Provost Marcella David 'saying all the right things' in first collegewide address
In Senior Vice President and Provost Marcella David's first collegewide address since arriving in June, she went out of her way to show faculty she understood them, emphasizing her deep appreciation for creatives and highlighting her new initiatives designed to boost enrollment, retention and graduation at the college.
Calling attention to her floral-embroidered boots Monday in a room filled with Columbia faculty, administrators and staff members who are also musicians, artists, writers and performers, David poked fun at her business background, but added she is a "closet creative," having played instruments growing up, being a "master knitter" and also having a portfolio of her photography work.
"I am a detail-oriented, process-focused, data-driven, problem-solving maniac," David said. "Unless you think that being an engineer and a lawyer means I am a robot or a shark or some weird … unfeeling combination of both, my scholarly agenda has included human rights, women's rights and the aftermath of war and labor rights. I both appreciate and celebrate the human condition."
David said her "newness" at the college inevitably means new initiatives, programs and goals.
Some of the new initiatives David plans to prioritize include: creating new undergraduate degrees; adapting curriculum to meet industry innovations; innovating graduate programs; launching an academic leadership program; being open with sharing information; being active on campus as an administrator; providing a support structure for adjunct faculty and staff members; making it easier for students to register for courses; and creating a new teaching award recognizing faculty efforts to incorporate Diversity, Equity and Inclusion elements into courses.
David assured faculty that she'll make an effort to "wander around campus" and keep abreast of what's going on throughout the college, something her predecessor, Stan Wearden, was often criticized for not doing.
David's openness for change at the college was welcomed by many of the attendees who have sought more communication and initiatives.
Monique Maye, an associate professor of instruction in the Business and Entrepreneurship Department, which will be David's academic home, was particularly excited for David's proposals to move forward in the areas of student recruitment, DEI and communication with faculty and students.
"She's saying all the right things," Maye said. "[I am] looking forward to working with her and more collaborative efforts throughout the college, throughout the departments. We're ready. The faculty is energized and ready to work with her, as well. We're going to have some great results from our new provost."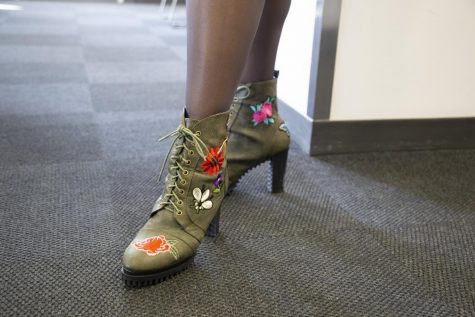 The core of David's address, however, was focused on boosting enrollment, retention and graduation rates at the college—an ongoing struggle for Columbia, although registration numbers for the Fall 2019 semester show optimism, as reported by The Chronicle Aug. 14.
The fastest way to boost enrollment is to retain students year-to-year, according to David, whose goal is to retain 80% of first-year students to their sophomore year and then shepherd 60% of those students to graduate within six years.
Currently, only 70.5% of students stayed at Columbia for their sophomore year, 57.9% for their junior year and 54.5% stayed through their senior year, according to a Fall 2018 Institutional Effectiveness report for the Fall 2015 cohort.
"As [colleges] grapple with enrollment challenges, the trend is not in our favor," David said. "To be successful, colleges like Columbia must have a sophisticated way of accessing those segments of the market that value what Columbia offers, and those segments of the market who are willing to pay our tuition."
David also proposed strengthening collaboration with the Faculty Senate through regular conversations with the executive committee, and encouraged full-time faculty members to get involved with their senators.
Faculty Senate President Sean Johnson Andrews, who is also an associate professor in the History, Humanities and Social Sciences Department, was encouraged by David's address and the areas she intends to work on.
"The new provost brings a lot of important experience, and I am very encouraged and hopeful about the areas that she suggests we need to be focused on, especially around new curricular development and faculty vitality," Andrews said. "These are especially important for the kinds of retention goals that she's saying we need to meet, and I'm also excited and interested to learn more about the DEI pedagogy and other curricular-based initiatives that she's suggesting."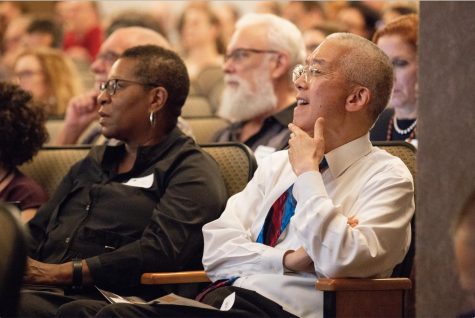 Another priority for David is going to be addressing the academic success gap at Columbia, where she said minority students are substantially behind in terms of graduation rates, particularly the college's African American student body.
David's commitment to Columbia's growing population of students of color—an estimated 900 of 1,750 students in the incoming freshman class identify as a person of color—is meaningful to faculty members such as Shannelle Armstrong-Fowler, an assistant professor of instruction in the Communication Department.
"As a faculty member of color, it is great to see other administrators of color holding significant positions that can actually direct some of these initiatives, especially those ones that are going to impact students," Armstrong-Fowler said. "One of the biggest things that we see is that students of color are concerned there are no faculty members of color and no administrators of color, and a lack of other students of color, and they feel isolated. The more that we can grow our rank-and-file from administration, to faculty members, to staff with people who are dynamic and as exciting and ready to take charge, the better our student body will be."
By the end of her self-admitted lengthy one-hour address, loud applause and jovial laughter were signs of her success, and possibly the college's future success, according to President and CEO Kwang-Wu Kim.
"It's obvious to everyone who was there that she is brilliant and totally engaged," Kim said. "It's remarkable how well she understands the school only having been here since June. To me, all that is a great indication of the work that the faculty will be able to gauge with the provost in this first year and, hopefully, over many years to really move the school forward."
Additional reporting by Steven Nunez