Provost Marcella David addresses faculty concerns at Senate Town Hall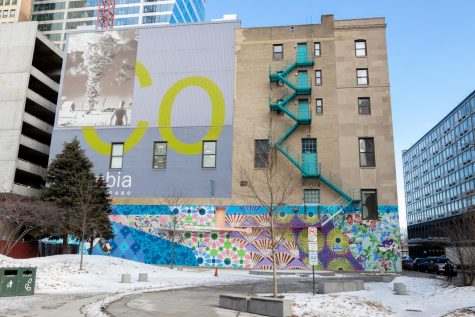 Columbia's Faculty Senate met with Senior Vice President and Provost Marcella David during their annual town hall so she could address full-time faculty questions concerns, including but not limited to those expressed in the 2022 faculty survey.
The meeting was held Feb. 3 in a hybrid format, with faculty moderators Sean Andrews and Jackie Spinner, Provost Marcella David, Senior Associate Provost Nate Bakkum and Senate President Madhurima Chakraborty together in-person, and all other faculty members joining in on Zoom. Over 90 faculty members were in attendance.
Among the main issues addressed during the meeting were the budget, faculty retention and sabbaticals.
Despite the concerns conveyed over the faculty survey, David said she remains "bullish" about Columbia's future.
The faculty survey is created and distributed annually by the Senate. In 2022, 60% of the 258 full-time faculty responded.
Faculty expressed the most concern about a perceived lack of shared governance, inadequate compensation, and recruitment and retention of faculty of color. They were most satisfied with the school's response to COVID-19, working with fellow faculty and teaching their students.
Andrews, who is the former faculty Senate President, and Spinner, the Faculty Senate Parliamentarian, moderated the questions faculty had submitted in advance or through chat on Zoom. The first topic concerned faculty retention and finances; the survey showed that among associate professors, who were the largest group to respond to the survey, 39% of associate professors and 42% of associate professors of instruction were actively looking for another position.
David said in some cases, the college is losing faculty because they are "super stars" being recruited by more competitive institutions. She added that the college is trying to support tenure-track faculty better, with initiatives such as course releases to focus on research.
David said some of the "working condition" challenges faculty have are due to the current circumstance of Columbia's budget.
Sabbatical leave was of special concern among the faculty in attendance, following a pause in sabbaticals during the 2021-22 school year due to the pandemic.
While sabbaticals used to be approved solely based on merit of application, policy now caps sabbatical approvals, according to Joan Giroux, president of Columbia's American Association of University Professors, or AAUP, advocacy chapter and previous Senate executive committee member.
This year, 57 faculty were eligible for sabbaticals for the 2023-24 school year. 27 applications were submitted, and 19 were approved, according to Associate Provost for Academic Personnel Pegeen Quinn.
David said a big reason why sabbatical availability is still low is that the school can't afford to replace instructors who take them while still paying their salaries, noting that Columbia is not the only institution now offering fewer sabbaticals.
David said the vast majority of Columbia's revenue is in the form of tuition, yet there is a gap between the cost of Columbia's education and the revenue the college obtains. This deficit is about $4,000, meaning it costs the college more to teach each student than their tuition brings in at current enrollment levels. David added that the school is $24 million "in the red."
Giroux said that sabbaticals are important for full-time faculty to have a chance to "have time to actually tank up again, and go back in the classroom with new energy on the basis of having re-energized [themselves] with their scholarly or creative work."
When asked about cost-cutting in upper administration salaries to address the deficit, David said she did not receive a merit raise this year, and that President Kim used the funds typically allocated for senior administration staff raises in "other ways, because he needed it."
One of the final questions posed by the moderators was about faculty discontentment towards management; Andrews asked David what administration is doing to build trust with faculty. David said the broadness of what "discontentment" could include made the question difficult to answer, and said faculty and management need to "work together" rather than management needing to earn trust back.
Chakraborty said there has been a push in recent years to have David come into the meetings and respond to the annual faculty survey.
"In the last couple of years there's been this move to ask the provost to respond to the survey, because there was this feeling that… full-time faculty got to say what was on their minds but there didn't seem to be any kind of accountability," Chakraborty said a day prior to the meeting.
The next Faculty Senate meeting will be Friday, Feb. 10. An AAUP meeting will be Friday, Feb. 17.
Editor's Note: Faculty Advisor Jackie Spinner was not involved in the coverage of the town hall because she served as one of the moderators