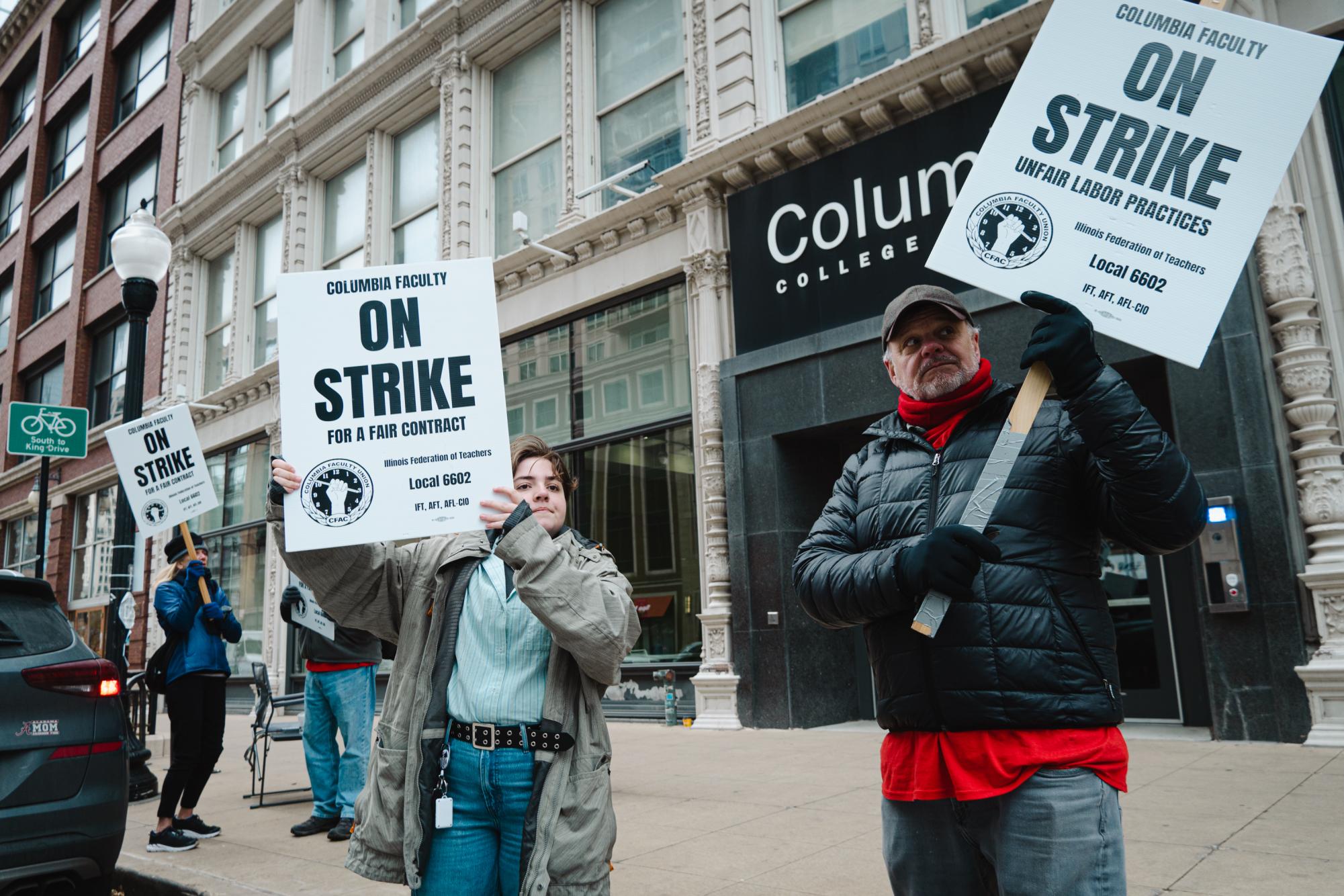 The college is making changes to curriculum, schedules and course delivery to reduce the cost of instruction and stop deficit spending, Provost Marcella David said in an email to students on Saturday, Nov. 11.
"These changes are normal. But what's unusual is that they are happening in a short period of time," she said, noting that she started to ask in August for course section reductions in the Spring 2024.
"The union has stressed that the changes we are making to the schedule are shocking and damaging," she wrote. "They are not."
She said the most significant changes in class size are for lecture classes, most of which are taught by full-time faculty.
The Columbia Faculty Union, or CFAC, which represents 584 part-time instructors, has been on strike since Oct. 30. Although some part-time instructors have continued to teach, the overwhelming majority have canceled their classes, amounting to several hundred each day.
The college's 221 full-time faculty have continued to teach, and in some cases have been asked to cover for striking part-time instructors. The Faculty Senate passed a resolution in closed session on Friday, Nov. 10 that full-time faculty could not be required to do this but could volunteer.
David encouraged students to go to classes that are still being held and take advantage of alternative learning opportunities like hands-on workshops taught by full-time faculty that are being offered during the strike, particularly if it continues into next week. 
She also called for a stop in "hateful behaviors," including name-calling, bullying and doxing of some instructors. "We must do better," she said. "This community prides itself on being welcoming, inclusive, and supportive; surely, we can disagree on principles about important things without resorting to hateful behaviors."
Faculty Senate President Madhurima Chakraborty told the Chronicle in an email that the college community will need to heal after the strike is over.
"I think all of us in the college community will have to do some deliberately reparative work in the wake of all the divisive rhetoric that is flooding our institution at this charged moment," she said. "I don't think it will be easy, or come naturally, so we will have to be purposeful in how we make room for it. 
The college announced on Friday that it had made an offer to the part-time union. The offer, according to an email from Chief of Staff Laurent Pernot and Terence Smith, special counsel for labor relations, included "offers on compensation and benefits, modifications to the spring schedule, compensation for part-time faculty due to the loss of sections and formal channels for input on future changes." 
In an email dispatch to its members, the union called the offer a "marketing strategy" and said it "fails to address any of our strike issues."
"Many of our union's members will not have a job if they take this 'offer,' and those who remain will be forced to teach courses often double in size," the email read.  "The administration refuses to address the increase in class size, quality of education, emotional health and well being and issues of inequality."
Union President Diana Vallera said CFAC has repeated its position "over and over."
"The way to restore courses is to first stop increasing wages at the top, stop the bonuses at the top," she said in an email to the Chronicle, adding that the "bloat at the top" happened even as tuition increased. "Enough is enough," she said.
She said the college can prioritize student learning by "restoring courses, and this can be accomplished by an equitable distribution of any wage reduction.  Or sell a building?  Many options other than those being pursued by the administration."
On Oct. 16, before the union voted to strike, the college announced that it was considering the sale of buildings as one of its cost-cutting measures. It also proposed:
Eliminating graduate programs with low enrollment

Discontinuing certain undergraduate degrees 

Raising class sizes

Reducing the core curriculums credits from 42 to 30
David and other administrators have acknowledged that these curricular changes will lead to fewer opportunities for part-time faculty to teach.
In the email to students on Saturday, David said the union's solution is to eliminate teaching-track faculty positions and not allow staff to teach, which the union denied.
What else the provost said: David said students may not be able to get into every course they want. 
She said the college is committed to making sure that students graduate. 

She said popular courses always fill up and encouraged students to get on a waitlist.

The college should

stop promising students that they will be able to take any class they want

.  "

We will continue to make adjustments to open sections and make seats available in key courses," she said.

F

ull-time faculty should lead discussions about curriculum changes, with input from part-time instructors.
What students are saying about the strike: 
Emma Ockerman, a first-year ASL interpreting major, has one class that is completely canceled, one that has moved online and another that has a substitute teacher. 
"My biggest concern is earning credits for this semester as we continue to go through it," Ockerman said. "It is a lot like COVID where everything just got shut down, so it's just a repeat of that." 
Sophomore acting major Amanda Garza said she has really started to worry about the impact of the strike. 
"I haven't been able to do much like movement and voice so I feel like I've forgotten everything from those classes," Garza said.