'Provocative Play' exhibition shines light on Chicago's burlesque scene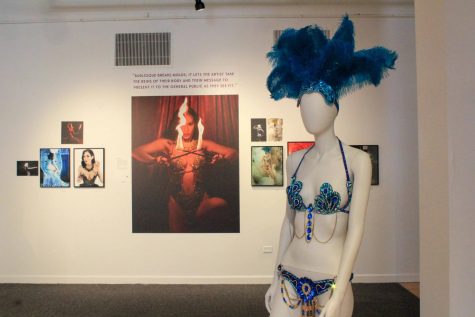 Sword swallowing acts, strip-tease performances and the power of the Chicago burlesque are what viewers dive into when attending the "Provocative Play" exhibition.
Displayed in the Hokin Gallery, 623 S. Wabash Ave., "Provocative Play: The Power of Chicago Burlesque" showcases five of Chicago's notable burlesque performers: Ruby Spencer, Sally Marvel, Zahradka Tonic, Cruel Valentine and Crocodile Lighting.
Erica McKeehen, the exhibition curator, was inspired to direct the "Provocative Play" because of her own experiences performing in the community. McKeehen was an active burlesque performer from 2017 through 2020. She was a part of a troupe and would perform in ensemble group acts until the company she was working for shut down at the beginning of the pandemic.
"I wanted to profile and put a spotlight on Chicago burlesque," McKeehen said, "through the perspective of these five really diverse performers talking about the history of Chicago burlesque, leading up to what it looks like in a contemporary setting, and how burlesque as an art form is truly something that empowers people who do it."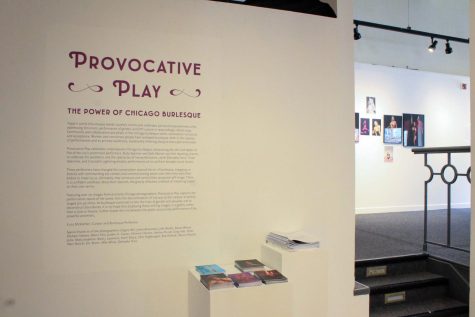 As attendees walk into the exhibition and immerse themselves into the burlesque world, specific areas are dedicated to each individual performer. Each performer has a wall dedicated to photographs of them, with a quote and biography following.
In another section of the exhibition, attendees can sit down in a room and watch a performance from each of the performers, as they learn how "Ruby Spencer and Sally Marvel use dazzling charms to celebrate the aesthetics and the spectacles of live performance, while Zahradka Tonic, Cruel Valentine and Crocodile Lighting employ performance art to confront broader social issues."
Burlesque costumes from Marvel and Spencer are on display as well.
McKeehen received her Master of Arts Management degree at Columbia in 2021 and is currently in her first year pursuing an MFA in photography.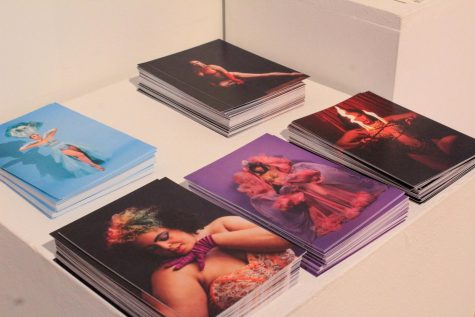 During her time in the arts management program, McKeehen took "Curatorial Practicum," where she did the brainstorming and planning for the exhibition.
"Then, I took 'Gallery Management' … and when I was taking it, I built up the exhibition from the ground up," McKeehen said. "When I graduated last spring, that class still goes on every semester, so that was still an exhibition that they worked on, and I helped from a distance."
Niamh Browne, a junior art history major and international student, was a part of this year's "Gallery Management" class that helped "Provocative Play" come to life.
In the class, Browne said the students were in charge of the installation and maintenance of the gallery. In addition to those responsibilities, some students worked on marketing, such as Instagram and TikTok promotions.

Browne did a lot of the frame-making for the photos and the physical installation, which was a new experience for her.
Browne said before working on the exhibition, she had no connection to the burlesque scene in Chicago.
"It honestly was the best introduction because [the exhibition] was so empowering, cool, approachable and kind of political," Browne said. "There's definitely an awareness about LGBTQIA+ issues, about feminist issues, and that was a great introduction, and if you don't have that, you're kind of there thinking this is just for the male gaze."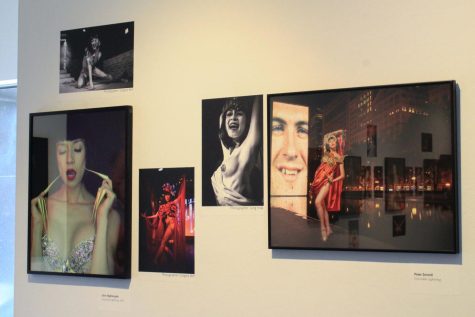 Valentine has been performing the art of burlesque since 2007. Valentine said they incorporate politics in a more overt way into their performances. They address issues such as the history of civil rights, equity, access and lifting the voices of the marginalized.
"I try to use my platform, even if not directly through my performance, for politics and social change and helping to lift people up even on an individual basis, like through mutual aid," Valentine said.
Valentine gave insight on the power of empowering not only femininity in burlesque but the nonbinary community that makes up the art scene as well.
"The original concept of burlesque is derived from the Italian word to send up or satirize, or make fun of … and you know gender is this ridiculous societal construct that's used to keep us in line and tell us how we're supposed to live our lives," Valentine said. "So, I think shirking that in whatever ways and whatever places I can, but especially including onstage, is a really powerful thing."
"Provocative Play" runs until April 4.