Protesters take precautions on the streets during a global pandemic
When social activist and University of Illinois student Fionna Ek attended a rally in Champaign-Urbana to protest the murder of George Floyd at the hands of a Minneapolis police officer, she could not show support the same way others were.
Ek has lupus, an autoimmune disease which causes the immune system to "become overactive and start to attack itself," she said.
Ek said she cannot be exposed to sunlight for extended periods of time because it can make her sick, and being in large groups of people increases the risk of her contracting the coronavirus, she said.
As a result, she has taken nontraditional precautions while protesting to ensure her safety.
"I can't organize in a way that you're seeing on the news right now," Ek said. "What I've been doing is utilizing other ways to contribute to the cause. I took my car to a protest, and I covered it in signs and was able to honk, follow the protesters and show my solidarity."
If Ek were to contract the coronavirus, or COVID-19, she said it could "advance the progression" of her condition, and she could develop kidney disease if it were severe enough.
Like Ek, many people are contemplating how to let their voices be heard at a critical time for the country while at the same time protecting their health during a global pandemic.
Caryn Peterson, a research assistant professor of epidemiology at the University of Illinois at Chicago School of Public Health, said it is "virtually impossible" to practice social distancing in gatherings of hundreds or thousands of people.
Peterson said although many protesters are following Centers for Disease Control and Prevention guidelines by wearing masks, they are also often outside in the heat for a long time, so when they need to drink water, their masks are not being worn.
She said if anyone needs to lift up their mask for some reason, they should step away from large crowds.
Another concern, Peterson said, is that the "largest number of protesters" are younger people who are more likely to be asymptomatic or only have mild symptoms of the virus, which can lead to it spreading easier. Younger people also have the highest rates of infection, she said.
Peterson said it is important for protesters to know their status and quarantining after a protest is essential for those who may have been exposed to the virus.
"Keeping yourself at home for 14 days, that's truly critical," Peterson said.
The pandemic has not stopped people around the world from attending protests and fighting against racism and police brutality, even as cases and hospitalizations continue to rise in parts of the U.S. As of Monday, June 15, 20 states have seen an increase in cases within the last week compared to the week prior, according to The Hill.
"I think we're all anticipating an increase in cases as a consequence of these large crowds," Peterson said.
But the recent rise in coronavirus cases may also be attributed to states reopening businesses, restaurants and parks, according to US News.

Lizzie Kricke, a Tri-Taylor resident who participated in the protest downtown on May 30, said in addition to wearing a mask, she also wore plastic gloves as she rode the CTA to the Loop.
Kricke said she brought a bag of extra masks and hand sanitizer, which she used repeatedly throughout the day. She said as soon as she arrived back home she showered, washed her clothes and disinfected her cell phone.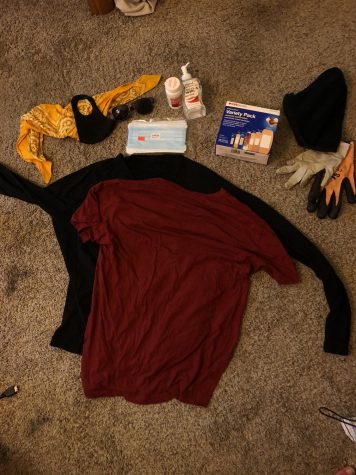 For some protesters, the cause outweighs the risk of potentially contracting the coronavirus.
Senior acting major Jessica Gomes said the majority of protesters she encountered were more focused on addressing issues of police brutality and supporting the Black Lives Matter movement than the pandemic. The majority of protestors care more about the "virus" of racism and police brutality, Gomes said.
But there are other ways to participate in the movement if one cannot go outside, Peterson said.
"There are letter writing campaigns, [and] there are email campaigns," Peterson said. "There are lots of ways in which people can raise their voices beyond just protesting."
Frances Farlee, a 2020 music business management alumna, said she cannot protest in-person because her partner is immunocompromised.
Instead, she has been working food drives, signing petitions and donating to organizations like Assata's Daughters, an organization of young African American women and girls in Chicago protesting against police violence.
Matthew Coscino Jr., a Bridgeport resident who protested in the Loop and at Union Park, also had masks and hand sanitizer on hand, with multiple disposable masks to give to those who didn't have one.
"There [has been] a larger respect for personal space," Coscino said. "When you're together in that group, it's a little hard to keep space, but when it comes to greeting each other, there's definitely been a large shift from hugs and hand grabs to getting the approval before initiating that."

He said the events of this year are moments in history where people are united and are willing to stand up to "tyranny."
"COVID-19 may be serious, and for a lot of the population, it is something we needed to stand together and spike," Coscino said. "But in no way do the effects of COVID-19 outweigh the pandemic of systemic racism, government oppression of people and the need for justice."