Polling station returns to campus for municipal election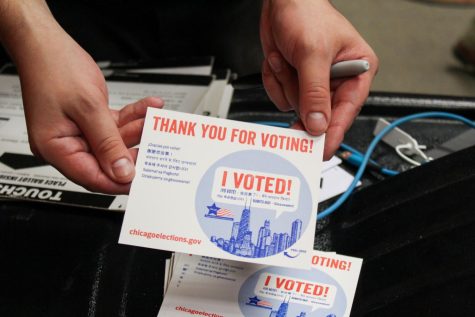 The first floor of Columbia's 1104 S. Wabash Ave. building will be a polling location for the upcoming municipal election.
Residents from Wards 3 and 4 who are part of the 25th voting precinct will be able to cast ballots on campus.
The voting location will be open to the public on Tuesday, Feb. 28 from 6 a.m. to 7 p.m. and follow the same guidelines as other Chicago polling locations. If there is a run-off for the mayoral election, it will be open the same hours on April 4.
Ann P. Kalayil, associate vice president of Facilities and Construction, said Columbia may be able to hold voting for future elections on campus.
The building is home to the Cinema and Television Arts Department and used to be a polling place but stopped due to COVID-19 pandemic.
Sharon Bloyd-Peshkin, journalism professor and creator of Columbia Votes!, said crowding at Jones Preparatory High School may have been an incentive for the new voting location to be approved.
"Jones was getting really crowded because of the increase in student voting, I think," Bloyd-Peshkin said, adding that the new polling place should decrease crowding at Jones.
Columbia's on-campus student housing is within Ward 4's 27th precinct. The 25th precinct of Wards 3 and 4 encompasses parts of lower Grant Park. Ward precincts function as local election districts to determine a polling location.
Michelle Meyer, a senior journalism student and a voter registration genius with Columbia Votes! said the news of the voting location was "relieving."
"It's so hard to get people to vote for some reason," Meyer said. "If we make it as easy as possible, then we can convince some people to actually do it."
To find your polling place, visit the Chicago Board of Election.