Political pandemic: scope of local and national politics altered due to coronavirus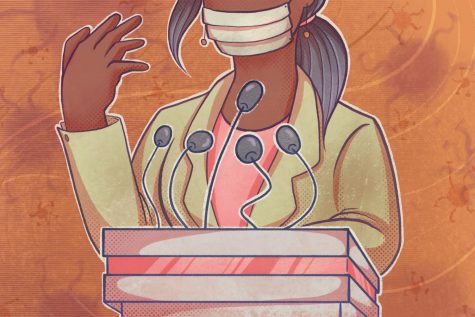 This week, Illinois legislators are set to return to Springfield for the first time since early March, but the circumstances in which they do will be quite different.
Both chambers are scheduled to be in session Wednesday through Friday. The Senate will meet in the Illinois State Capitol, while the House will convene in an event center in downtown Springfield. Masks and temperature checks will be required, and lawmakers in "vulnerable" groups will be asked not to attend, according to a May 13 statement from Speaker of the House Michael Madigan.
Like so many facets of daily life, the coronavirus pandemic has changed the dynamics of politics, said Laura Washington, a columnist at the Chicago Sun-Times while hosting a roundtable called "At the Virtual Table" on the Sun-Times' Facebook Live Thursday, May 14.
During the event, Washington and other political correspondents discussed how the coronavirus, or COVID-19, has impacted politics, as well as how journalists are covering public affairs and the campaign trail.
Chicago Mayor Lori Lightfoot, Illinois Gov. J.B. Pritzker and President Donald Trump hold livestream briefings for pandemic updates, which is how many journalists are getting a large portion of information, said Lynn Sweet, the Washington, D.C., bureau chief at the Sun-Times.
"I wake up in the morning, and just like in the old days, I'm not always sure what the day will bring," Sweet said. "A lot of the work now is by phone and watching press conferences and hearings by Zoom."
Elected officials have become more willing to take questions from reporters, she said, and many are using the platform as a way to gain public trust through patience and empathetic words. 
But not all politicians are working these days. Since presumptive Democratic presidential nominee Joe Biden is not an acting public official, he has largely stayed out of the spotlight, Washington said.
Sweet said being the presumptive Democratic nominee may prove to be anticlimactic for Biden, because it is highly unlikely the Democratic National Convention—currently scheduled for Aug. 17-20 in Milwaukee, Wisconsin—will be an in-person event.
"The party has unified much earlier for Biden than it did for Hillary Clinton and Barack Obama," Sweet said. "[Biden] has bought some time because he was able to nail down the nomination earlier than [the two]."
However, the Republican National Convention, currently slated for Aug. 24-27 in Charlotte, North Carolina, may go on as planned, said Tina Sfondeles, chief political reporter for the Sun-Times.
Republican National Convention planners have said they plan to proceed with their convention, which they expect to attract nearly 50,000 people, according to an article published Saturday, May 16 on the National Public Radio website.
Sfondeles said the pandemic itself has become political, specifically in terms of regional divides. It has highlighted the "Chicago versus everyone else" split, and Sfondeles said many people residing outside Chicago are upset a governor from Chicago is making decisions for all of Illinois.
Sweet said states like California have set a precedent for a statewide vote-by-mail system. However, she said it is unlikely such a system will be implemented through an executive order by Pritzker and instead will likely come from the Illinois legislature for the November general election.
In the presidential race, campaigning has already changed, Sfondeles said. In the weekend leading up to the Illinois primary, for example, candidates switched to livestream events over large rallies, motioning to how politics may function going forward due to the pandemic. 
"These campaigns are operating so differently," Sfondeles said. "Right now until the November election, they're going to really change their strategy because it's not the same at all."