Photography MFA students create a collaborative book to replace Manifest exhibition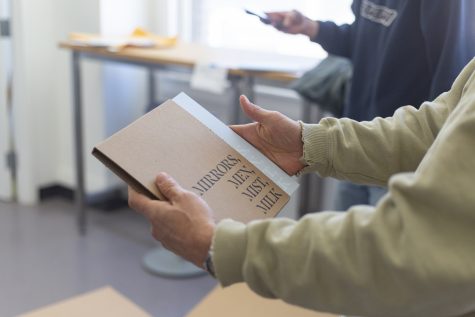 Graduating photography MFA students would normally have a photo exhibition to finalize their time at Columbia, but due to COVID-19 and a mostly virtual Manifest, an in-person event was off the table.
Paul D'Amato, a professor in the Photography Department and faculty advisor, proposed the making of a photo book instead of holding an in-person showcase at Manifest, an annual festival for graduating students to showcase their work.
The four photography MFA graduates Tommy Keith, Alison Georgescu, Daniel Hud and Lindley Warren Mickunas, decided to put the budget they received for Manifest toward the production of a photography book titled "Mirrors, Men, Mist, Milk."
The book showcasing their photos was designed by senior graphic design major Bri Elliott and congregates each of the students' thesis projects.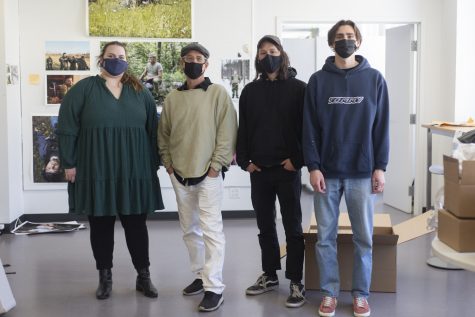 "We could have just gone with 'MFA photography 2021,' which was the placeholder, but now we have this more creative title that when someone has it, it looks like a book that also happens to be about these graduate students," D'Amato said.
Georgescu said even though she did not have any experience with book making, putting "Mirrors, Men, Mist, Milk" together was fun.
"Getting to create a book from scratch was a balance of everything we did because there's four of us and we all have very different styles," Georgescu said. "It was interesting to see how to put that together."
"Mirrors," in the title of the book, refers to Georgescu's thesis project which explores the unconscious as an idea in both photo and video format.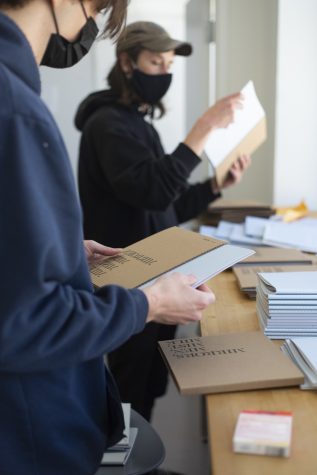 "Men" refers to Hud's project, in which he documented survivalist communities in Michigan.
"I moved to Detroit so that I could be closer to my project and that really freed me up to do a lot more shooting… the last three semesters I gave pretty undivided attention to my project," Hud said.
Keith's photography explores nature, especially in populated cities at night, which is why the word "mist" was chosen to honor his thesis project in the title of the book.
Keith said the design of the book was inspired by Donald Weber and Larry Froelich's "Interrogations" book design, which is a unique single stitched book and slides into a cardboard slipcase.
"I felt like it was an opportunity to make a cool object rather than just a straightforward book," Keith said. "We wanted to do something a little different."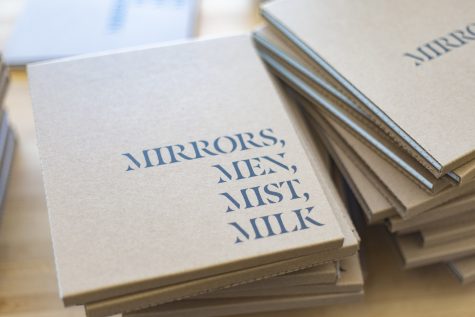 "Milk" refers to Warren Mickunas' "maternal sheet" thesis project, which explores family dynamics, the maternal bond, symbiotic relationships and "centers how trauma impacts all of those things."
Warren Mickunas' work is the only black and white project in the book.
"Black and white is important in my work because it kind of flattens time, in a way, so it's useful when you're talking about the impact of the past on the present," Warren Mickunas said.
Warren Mickunas is currently living in Des Moines, Iowa, and completed the semester remotely. She said "Mirrors, Men, Mist, Milk" and the pandemic were opportunities for her to connect with people in a different way.
The Photography Department will use the book for promotional purposes and each of the alumni involved will get several copies to use for personal promotion as they transition into the real world.
"You don't have to be in a certain place at a certain time to see it, the book lives on, goes into libraries [and] can get shipped around the world," D'Amato said.