Pete Buttigieg addresses building trust with black voters on campaign trail
After a police shooting shadowed South Bend, Indiana, Mayor Pete Buttigieg's time on the Democratic presidential primary debate stage, Buttigieg is attempting to earn trust with black Americans on the campaign trail.
"For every mention of black victimization in the justice system, we should also be speaking of black empowerment through education and entrepreneurship. For every discussion of so-called black problems, there should be just as much [discussion] about black solutions," Buttigieg said during his Tuesday address at the International Rainbow PUSH Coalition Convention. "We haven't solved our issues overnight where I come from, but we're taking concrete action and we've seen real movement. And I want to bring that same sense of concrete action to the federal level."
Six other Democratic presidential candidates made appearances at events throughout the convention, including Massachusetts Sen. Elizabeth Warren, former Vice President Joe Biden, Hawaii Rep. Tulsi Gabbard, New York Sen. Kirsten Gillibrand, New York Mayor Bill de Blasio and author Marianne Williamson.
On June 16, a white police officer shot and killed Eric Jack Logan, a black South Bend resident, while investigating a series of vehicle thefts. There is no recorded evidence of the incident, as the police officer did not have his body camera on.
As he did during the debate, Buttigieg accepted responsibility for not doing enough to alleviate the racial tensions in South Bend. He added he is still waiting for investigators to finish investigating the shooting.
Rev. Jesse Jackson, founder of the Rainbow PUSH Coalition said he was glad Buttigieg came to speak about solutions to the challenges South Bend and other cities continue to face with police violence.
"[Buttigieg] brings something different—transparency and integrity," Jackson said.
Although Buttigieg has initiated racial bias training, body camera mandates and police recruitment in South Bend, Buttigieg said as long as people in his community live in a "racial gulf," where they have different experiences based on their race, the changes will not be enough.
In a poll conducted by CNN, Buttigieg is currently polling at 0% with black voters, who make up a significant percent of the Democratic voting demographic.
Buttigieg pointed out during his address he is asked how will he earn the black vote 10 times more often than how his policies will help the black community.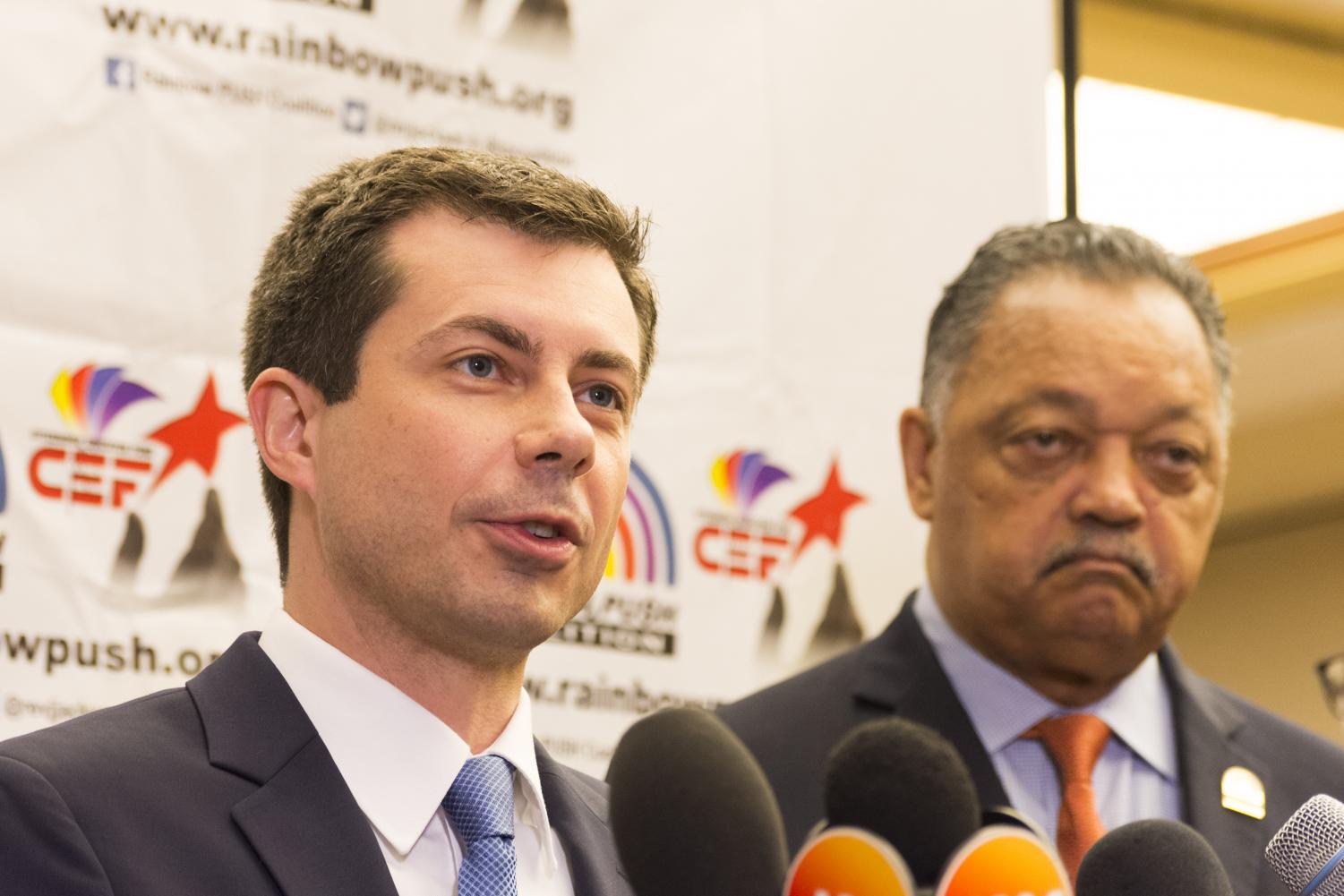 "This is deeper than politics," Buttigieg said. "This is not just a political problem; it is not just a police problem; it is not just my problem or my city's problem; and it is certainly not just a black problem. This is an American problem, and it requires nationwide awareness."
Replacing racist policies with neutral policies alone will not fix everything, according to Buttigieg. Instead, he has called for a new "Marshall Plan" to jumpstart the economic success among black people. It has been dubbed the "Douglass Plan," after abolitionist leader Frederick Douglass. Buttigieg's plan includes reducing the number of incarcerated Americans by 50% and tripling the number of entrepreneurs of color in underserved areas, which he said would create millions of jobs and billions in revenue for black communities.
Buttigieg said he understands racism in America does not start and end with police tensions. Systems like healthcare, education and climate change are also burdened by the shadow of racism and disproportionately affect marginalized communities.
He questioned whether America is the true democracy it touts itself to be, as its predominantly white democratic system blocks communities of color from voting through gerrymandering and the electoral college.
"Are we a democracy? Are we, in our democratic republic, democratic enough? I don't think we're a democracy if some people are systematically restricted from voting because one party has decided that it will be better off if fewer people vote," Buttigieg said. "The lives and livelihoods of millions of people, not distant descendants far off, but people who are alive this minute, depend on whether we resolve this in our time."