Pandemic unlikely to hurt Columbia's Higher Learning Commission accreditation, administrators say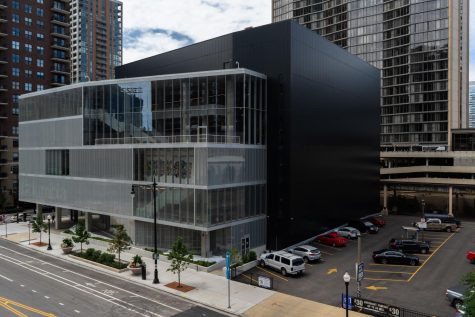 Even though a majority of courses at Columbia will be held online or hybrid, the college's accreditation by the Higher Learning Commission is unlikely to be threatened.
The Higher Learning Commission, or HLC, accredits colleges and universities in a 19-state region, including Illinois, and reports to the U.S. Department of Education. Columbia is accredited by the HLC as "open pathway"—a category reserved for the "healthiest" institutions—for undergraduate and graduate programs.
Columbia is not accredited to deliver what the HLC terms a "distance education program," where students complete 50% or more of a degree or certificate's curriculum online. However, the college is eligible to offer individual online courses.
Senior Associate Provost Nathan Bakkum said, as of right now, the college has not offered enough online classes to approach that 50% threshold in any programs.
"Certainly, the circumstances of the [COVID-19] pandemic mean that we need to monitor that more carefully, but we are not at this point at a place where we have any concerns about hitting that balance in any of our programs," he said.
In May, the Department of Education announced temporary changes to allow institutions to obtain a waiver that allows them to continue offering distance education through Dec. 31, 2020, in order to keep students and employees safe during the pandemic.
Associate Provost for Accreditation and Assessment Neil Pagano said Columbia decided to obtain the waiver to guard against the "worst-case scenario"—all courses being moved online—so the college would be covered during the fall semester.
"This situation has made things so messy, so complicated from an accreditation standpoint that the normal business of accreditation is completely disrupted. Life still goes on, institutions are still being evaluated," Pagano said. "We're all scrambling to make sure we can take care of our students."
Accreditation is pivotal for colleges to receive federal and state financial aid for students, and federal research grants for faculty. For graduate program applicants and transfer students, the majority of colleges will only recognize credits and degrees from accredited institutions, according to Columbia's website.
Columbia is accredited by the HLC every 10 years, with its last accreditation taking place during the 2018–2019 academic year. As part of this process, Columbia is required to submit annual institutional updates, with data on enrollment, finances, the number of programs and more, Pagano said.
By year four of the accreditation cycle, colleges submit an Assurance Argument, a written document explaining how the college has met federal policies and requirements, as well as the HLC's five criteria, including:
Mission
Integrity: Ethical and responsible conduct
Teaching and Learning: Quality, resources, and support
Teaching and Learning: Evaluation and improvement
Institutional Effectiveness, resourcing and planning
During years five through nine, open pathway institutions are required to design and implement a Quality Initiative project to improve an aspect of the institution. For the last accreditation process, Pagano said Columbia targeted three areas in its project—centralizing the academic advising model, creating a holistic student planning model headed by Columbia Central—formerly known as Student Financial Services—and streamlining requirements for degrees.
In year 10, colleges are visited by external reviewers from other institutions to conduct a Comprehensive Evaluation for Reaffirmation, which includes a student opinion survey and visits to on-campus facilities. Columbia's next HLC visit will take place during the 2028–2029 academic year.
In Columbia's last Comprehensive Exam, the external reviewers touted the college's "Big Chicago" classes for connecting students to the outside world, having faculty who are engaged in their fields and its commitment to Diversity, Equity and Inclusion, as reported March 19, 2019, by the Chronicle.
Columbia also has a review at a distance approaching in 2022–2023 by two peer reviewers. Pagano said a large part of the Assurance Argument in preparation for that virtual visit will highlight the college's "fantastic" response to the coronavirus pandemic in a turbulent time.
One way adhering to HLC criteria may become "tricky," Bakkum said, is when a handful of students cannot participate in the in-person aspect of hybrid courses, which may make it more difficult to verify the quality and consistency of their education. To remedy this, the college is looking to set up a system for students who are not able to participate in hybrid courses but have no online course sections to switch to, he said.
"In some classes, that's really hard because of the learning outcomes of the class because you need to have the in-person experience, you need to use certain equipment or you need to be in a certain facility," Bakkum said. "But, for most students, if they want to build a schedule that's fully online, they can do that."
Overall, despite coronavirus complications, Pagano is not concerned about the pandemic affecting Columbia's ability to meet HLC accreditation requirements when the time comes.