Paint The City initiative supports local artists who 'bring a little light back'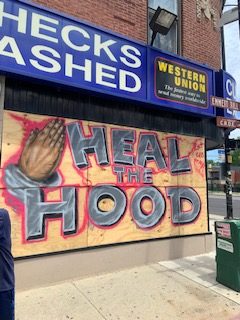 Black hands pray to "Heal the Hood" on a boarded-up currency exchange. A black-gloved fist is raised next to the words "Black Lives Matter" on the windows of a restaurant. A painting of a Black man holding "VOTE" on his back while "RACISM" crumbles below his feet is seen on plywood outside a storefront.
These murals by artist Bryant L. Jones, also known as GNEE, are just a few of the art pieces across the city by artists who have taken advantage of boarded-up storefronts, using them as canvases for activism.
Jones is part of Paint The City, an organization that connects local artists to businesses looking for art. Visual artist Barrett Keithley and Missy Perkins, an art curator, founded the organization in early June to help support more than 50 local artists during the coronavirus pandemic.
"One thing that we wanted to do was get [into] people's minds to support your local artists," Keithley said. "Not only are you supporting someone from your community or from your neighborhood, or just from your city, but you also support your local economy."
To further aid artists with reimbursement for their time and art supplies, Keithley and Perkins set up a GoFundMe campaign.
Funds raised through GoFundMe will directly benefit the artists, said Perkins. The goal is $10,000, which Perkins said the organization hopes to reach by the end of July. As of publishing time, the fundraiser has reached $7,430.
Keithley said he was looking for an opportunity to have artists and local businesses work together on a larger scale.
The idea for Paint The City first came at the onset of the pandemic, Perkins said, but after the protests which followed the death of George Floyd at the hands of a Minnesota police officer, there was an urgent need for such a program to bring the city together.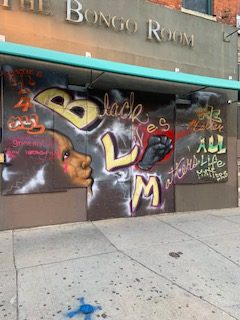 Artist Joshua Valdovinos said he wanted to find a way to visually show solidarity with the protests and the Black Lives Matter movement. He said he was asking local businesses on Facebook if they wanted art on their boarded windows before Perkins reached out about Paint The City.
"I'm just happy that I am able to produce works of art that hopefully invoke some kind of change in some people's minds," he said.
Valdovinos said he started as a graffiti artist but later got into breakdancing and hip-hop. But after an injury that disrupted his dancing, Valdovinos said he needed a creative outlet and found himself doing visual art again. He said hip-hop is still part of his roots, though.
"If it wasn't for hip-hop, which is Black culture, I wouldn't be where I'm at right now. I owe a lot to the Black community," Valdovinos said, adding his art is all he has the ability to contribute right now.
Valdovinos said the publicity of the fundraiser has pushed him into the art scene, and he has been getting calls for commissioned work. The first project he did for Paint the City was lettering "Love, Peace and Unity" on the Denim Lounge, 2039 W. Roscoe. Since then, the clothing store has asked him back to create work for the interior.
Jones said he became involved with Paint The City to "bring the city back" after recent unrest.
Jones had been doing murals in Pilsen when the opportunity to work with Paint The City arose. Now, the muralist said he wants to paint in his own neighborhood, Englewood.
"We need more conversations to keep going," Jones said. "The art brings forth the conversations."