Opportunities abound as planning begins for Manifest's in-person return in May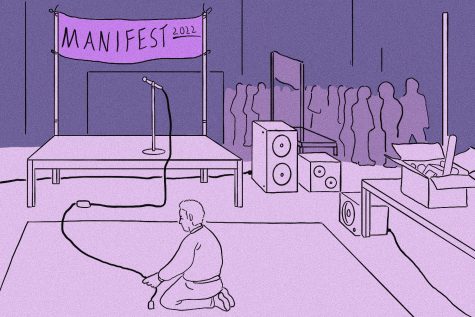 Meghan Skapyak, a sophomore interaction design major at Columbia, has never been to the annual Manifest Urban Arts Festival, but she is excited to go this year based on what she's heard from other students.
"I've never been to Manifest … I am planning on attending," Skapyak said. "It sounds really fun, and from all the marketing materials out so far and what I've heard from other students, [it] makes me really want to go."
The Manifest 2022 virtual kickoff event on March 4 introduced the festival to new students and provided information about opportunities to work at Manifest as volunteers, performers or exhibitors in areas across campus. The unique-to-Columbia urban arts festival showcases the work of graduating students to the Columbia community, parents, friends and industry professionals.
The festival will be held in person for the first time since the start of the COVID-19 pandemic, said Kari Sommers, associate dean of Student Life. Manifest's return as an in-person event will bring members of the Columbia community and the public together this May for the South Loop festival.
Manifest began in 2002 as a monthlong celebration originally called Mayfest, and it changed to a daylong festival in 2004. Throughout the years it has included a wide range of activities and features, such as a street team dressed as birdwatchers, a 200-foot zip line, BMX bicycle races and a carousel.
Information about volunteer positions and student organization tents can be found on the Manifest opportunities webpage. Non-graduating students can apply to exhibit their work at the Student Center. Twelve exhibitors will be chosen to use the 12 available spaces. Applications opened March 4, and the deadline to apply is April 15. Graduates who want to showcase their talent should contact the Columbia department corresponding to their talent and academic program.
New this year is ManiFresh at the P. Lee Fresh stage, created to honor Columbia's hip-hop studies minor program. A variety of talent featuring music, dance, DJs, artists and MC's will be featured at the event. "ManiFresh" will also be doing pop-up events at tourist spots around the city. The ManiFresh Talent Form is online now. The deadline to submit is March 21.
This year's creative director for Manifest, Thais Centeno, a graphic design major and graduating senior, created the visual face of Manifest using a design style called brutalism.
"Brutalism is meant to rebel against traditional design systems," Centeno said. "It's bold, unapologetic, daring … it plays with layered textures to create a disoriented, raw feel. It's a breath of fresh air and something very different from past years. I want people to feel empowered and to spark a feeling."
The headliner on the mainstage has not yet revealed, but the opening act — the winner of the Biggest Mouth talent contest — will be announced on March 22 in the Manifest newsletter, with the name of the headliner to come later, said Mariajose Melendez, a junior marketing major and Manifest 2022 intern for Student Activities.
"There's a lot of excitement to go back to in-person Manifest this year," Melendez said. "The previous two years have been virtual, and there's a lot of expectation of this being a comeback of Manifest."
Manifest 2022 will be held on May 13.