Opinion: Northwestern editorial shows media illiteracy, not media incompetency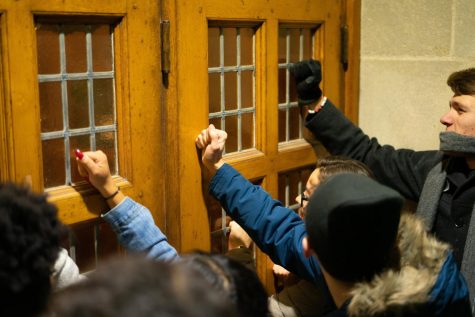 When the Chronicle covered student protests of former Attorney General Jeff Sessions' address on Northwestern University's campus, an air of hostility toward the media was
already present.
A Medill School of Journalism professor had sent more than a dozen students to cover the event for class, with some doubling or tripling up to ask attendees for interviews. Many of the attendees were averse to speaking with the students, and organizers of the protest did not allow any reporters, student or otherwise, to interview protestors on the designated grounds.
The foundation was already unstable for reporters from the student-run Daily Northwestern to cover the event.
Following The Daily Northwestern's coverage of the protest, the paper received complaints from students who participated, requesting photos of them be taken down and their names be retracted from the article. A Sunday editorial apologized for "mistakes" the paper made.
The editorial quickly took off on social media, with readers and professional journalists alike criticizing the paper for not standing up for their actions, which are considered standard journalistic practice. Many were also taken aback by the editors writing that students in the coverage felt it was "retraumatizing and invasive."
The Chronicle has often had sources request for their names to be retracted, for photos to be taken down or for articles to be removed from our platform altogether, and each time we point to the journalistic policy of standing by the transparency and attribution of our coverage. We will correct a story that is factually inaccurate, but we do not remove stories, names or photos, which, according to our policy, are "considered a permanent record of the news, events and opinions of its time."
Although the Society of Professional Journalists' Code of Ethics does encourage ethical treatment of sources, it also states, "Identify sources clearly. The public is entitled to as much information as possible to judge the reliability and motivations
of sources."
We cannot support The Daily Northwestern's decision to retract source identity, but we do admire the intention behind their apology. To end up taking on the brute force of the entire journalism industry—possibly even risking their careers—in order to honor their sources' concerns must be a disheartening experience for young professionals passionate enough to want to enter that industry, and it's disheartening for us to watch. More journalists should be as concerned with the humanity of their sources as they are with getting a big scoop.
What media critics fail to recognize is that social media has put an increasing amount of pressure on student journalists, more  than existed in the past, with millions of people able to tear down your work instantly and publicly even as you are continuing
to learn.
In that same vein, college journalists' sources are not a country away or working in a different state or even down the road—they are in our classrooms, they know our friends and sometimes they teach our classes.
The Daily Northwestern made conscientious efforts to examine the sensitive situations faced by their sources, an effort that many in the professional realm increasingly fail to do. Was it not the intense media pressure that forced Christine Blasey-Ford into the spotlight? Blasey-Ford, who wished to remain anonymous yet felt compelled to speak out against now-Supreme Court Justice Brett Kavanaugh on her traumatic experience of being sexually assaulted, was compelled to talk to The Washington Post only after inaccuracies emerged in reports and journalists began to hound her. Ultimately, she was scrutinized on a national stage by some congresspeople who attempted to humiliate and discredit her, and she failed in her mission to keep Kavanaugh from the bench.
Many journalists have lost their sensitivity, not only for sources but for the next generation of journalists. Within the comments section of The Daily Northwestern's editorial announcing the decision and on Twitter, veteran reporters called for the shutdown of the paper and for the blacklisting of the editors who signed their names to the editorial, shaming them for a complete disregard of Medill's journalistic legacy.
How is it possible that a newspaper at what is allegedly a top journalism school would apologize for the basics of reporting? This is a travesty and an embarrassment. https://t.co/nM10LwQnaK

— Glenn Kessler (@GlennKesslerWP) November 12, 2019
A few reporters were more lenient, calling for understanding of the learning process student journalists are still going through. Some even applauded their empathetic stand.
No matter how you feel about the situation, the Northwestern journalists listened to their community, understood and reconciled with their influence and then corrected course.

At a fundamental level, that's something we should all strive to be doing.

— Alex Connor (@thealexconnor) November 12, 2019
The real problem here is media illiteracy. A growing sector of society, including a significant portion of young people—although it's not just our generation— have no idea how journalism works, leading to an increasing distrust of media and an overwhelming label of fake news whispered even in the halls of Columbia buildings. The Chronicle often receives complaints from unhappy sources who do not understand why press releases are not run in full, why reporters ask sources to spell their names or what the difference is between an editorial and an article.
Instead of shaming student journalists, we should stand by student reporters and encourage them to demonstrate journalistic integrity to their fellow student body by sticking with the tough decisions, even when readers and sources are dissatisfied. The time and energy fellow journalists put into crafting their angry tweets directed at The Daily Northwestern could have been better spent offering them education and support while operating under the assumption we all have the same ultimate goals at heart. 

Journalists need to get off their high horses and remember they are not immune to making mistakes, and that the Twitterverse can turn on them just as quickly.