Opinion: Canceling the Pride Parade cancels so much more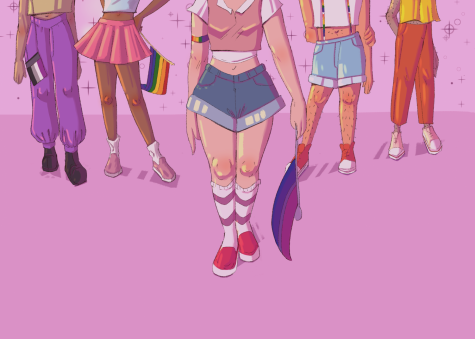 I always knew that I liked boys, but there was something about girls that always gave me butterflies in my stomach. When I would hold a pretty girl's hand, I got nervous, and I often blush and look away when a girl compliments me.
I came out as bisexual to my parents at the end of August, just before I left home for the Fall 2021 semester.
On Sept. 1, Tim Frye, the official coordinator of the 2021 Chicago Pride Parade, announced the parade was canceled. The parade had been postponed in June and rescheduled for Oct. 3.
"Our primary reason was, with the advent of three effective vaccines, we felt that the late date would allow for most people to be vaccinated and, thus, make it much safer to have a parade," Frye wrote in a letter to the public on the Chicago Pride website. "Sadly, we were very naive in that belief or, a more accurate word — 'hope.' Everyone knows the reasons we were wrong in our estimate as to how safe things would be in the fall. Leave it at that."
At first, I was disappointed, but not surprised. I knew COVID-19 cases seemed to rise as school began. But as I read the statement again, I got frustrated.
According to the official city of Chicago website, 62.8% of Chicago residents have received at least one dose of the vaccine as of Sept. 27. This is an increase from the data in June, which reported 55.7% of Chicago residents had received at least one dose of the vaccine. However, the daily average of COVID-19 cases is also different, with the daily number of cases climbing during the late summer.
Events like Lollapalooza, the Hella Mega Tour, Pitchfork and Riot Fest were still held in August and September. If concerts and festivals and professional sporting events could take place with precautions, despite case numbers going up, why not the Pride Parade?
Starting as a riot in New York City in 1969, in which members of the LGBTQ+ community fought back against police harassment and oppression, the Pride Parade in Chicago followed a year later. LGBTQ+ activists rushed to the streets in major U.S. cities in 1970 to mark the anniversary of the Stonewall Uprising, and thousands have gathered every year since.
As someone who just recently came out, I was looking forward to the parade as a "rite of passage" into the LGBTQ+ community. Not only is the Pride Parade something historic with meaning, it also is something that would make me, and many others, feel like a part of the community officially. It could be a place where I would feel accepted for who I am and who I love. The parade being canceled makes me feel more isolated. Instead of being accepted and loved, I feel pushed back.
I also feel discouraged because there are other means to hold the parade in a safe and effective manner. In August, the Bud Billiken parade drew thousands of people to the streets. There were various requirements set and resources made available for attendees at the parade and its accompanying festival, including the presence of vaccination stations and the offering of complimentary masks, plus the requirement of proof of vaccination or negative COVID test results for people attending the festival. Yet, there seems to be no such effort from the organizers of the Pride Parade. Instead, it feels like they simply gave up.
I am new to the LGBTQ+ community. I feel vulnerable and sometimes I doubt my own feelings. Now that the parade is canceled for the second year in a row, I feel like I have missed out on a massive part of the community. I feel angry that the organizers gave a vague response, and I am frustrated that I will not be able to experience an event that means so much more to me than just a parade. It would have been a welcome home, a place of acceptance in a world where I feel confused and outcasted.
I hope June 2022 can bring me and many others who have recently come out happiness and that feeling of acceptance within the LGBTQ+ community.