Opinion: Artists are not your personal babysitter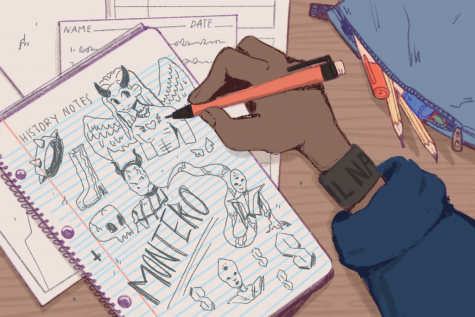 As a child, my mom did not let my siblings or me watch movies or TV shows with any sort of physical violence, whether it manifested through weapons or fist fights.
If a show came on TV that she did not approve of, she took the remote and changed the channel. Any websites my siblings and I planned to go on were reviewed by our mom before we could use them.
If there was a piece of content she did not want her children to see, she took matters into her own hands. Parents today seem to be forgetting the tools available to them in the wake of artist Lil Nas X's latest music video for his song "MONTERO (Call Me By Your Name)," which resulted in outrage from many parents who deemed it inappropriate.
The video, released March 25, includes scenes such as Lil Nas X sliding down a pole partially clothed, as well as a part where he gives the devil a lap dance.
The song reached the top spot on the Billboard Hot 100, and the music video, as of publication time, has more than 150 million views on YouTube.
In a now-deleted tweet, rapper Joyner Lucas said because of Lil Nas X's previous song "Old Town Road," children were automatically exposed to "Montero" when it came out.
"Old Town Road," released in 2018, spent a record 19 weeks in the top spot on the Billboard Hot 100 and the song and its remixes were each nominated for a Nickelodeon Kids' Choice Award, while Lil Nas X won the "Favorite New Breakout Artist" award at the event.
In response to Lucas, Lil Nas X tweeted that parents were already allowing their children to listen to adult topics, because drug use and adultery are referenced in "Old Town Road."
With "Montero," Lil Nas X joins a list of other artists who faced similar backlash from parents for the shift in their music.
Just last year, Cardi B and Megan Thee Stallion were at the center of controversy over their song "WAP" for the sexually charged lyrics throughout the song.
While Cardi B wrote the song, she said on Twitter her music is not for children, and during an Instagram livestream, she shut off the song playing in the background when her daughter walked into the room.
Despite the concern from some parents, "WAP" made waves for female empowerment. The song busted gender stereotypes that exist in the music industry, as expression of female sexuality has historically faced harsher criticism than male sexuality, especially in the rap genre.
Similarly, a few years earlier, Miley Cyrus was under fire for several performances that encouraged body positivity for women.
Cyrus faced criticism for her performance at the Video Music Awards for twerking on stage with Robin Thicke, as well as for the 2013 "Wrecking Ball" music video, in which she was nude at times.
Cyrus had previously played the titular role on the Disney show "Hannah Montana" from 2006-2011. Despite being an adult and no longer an employee of the company, she still received flak for not matching the family-friendly Disney standards.
Nonetheless, Cyrus taking control of her own body in the performance and in the music video was something the world had seen little of from women in the music industry at the time and helped to normalize women expressing their sexuality.
In cases like these, the concern for parents lies in worries about the content their child is consuming. And while access to technology has expanded since I was a child, there are also now more tools to help parents in these situations.
Measures like this are already in place with the YouTube Kids app, which is for children ages 12 and under. With the app, "Montero" cannot be watched. In fact, none of Lil Nas X's songs appear on the platform.
There are many different parental control apps available to monitor and restrict certain content, including built-in parental control options available in Apple and Android devices, all of which are options that take minimal effort from parents to set up.
While it may be upsetting for the parents of a young child to find out they viewed something they consider inappropriate, the only people to blame are the parents themselves, not the artists for pushing the envelope with their work.
Just as with Cardi B and Miley Cyrus, Lil Nas X's song empowers another marginalized community: those who identify as LGBTQ+. In a letter to his 14-year-old self in an Instagram post, Lil Nas X said he wants the song to "open doors" for members of the community to embrace themselves for who they are and to feel accepted.
It is irresponsible to eliminate the opportunity to empower members of the LGBTQ+ community or any marginalized community through music, simply so parents need not press a few extra buttons on their phone before handing it to their child.
When we put boundaries on artists, for any reason, we put boundaries on the ideas we can develop. Without these creative works normalizing ideas such as inclusivity for the LGBTQ+ community, we would not be having conversations about these important topics.