Online dance classes pose a 'creative challenge' for students and faculty
This article is part of the Chronicle's series "Difficult to Transfer," in which we explore how departments are transitioning arts-based courses online due to the coronavirus, or COVID-19 pandemic.
A 600-square-foot apartment with carpeted floors is not an ideal environment for any dancer, but that is where Maddi Keaton, a senior musical theatre major, and dance minor, will be taking her dance classes for the remainder of the semester.
Living on the third floor of her apartment building also makes it challenging to incorporate jumps into her dance routines, and Keaton has been practicing her tap routines outside because she doesn't want to disturb an older man who lives on the floor below her or get a noise complaint, she said.
Pre-pandemic, most dance classes relied on studio space provided by the college's Dance Center and being able to practice with other students. Keaton said all her classes' curriculums have been altered to accommodate each student's available space. Still, it is impossible to perform certain routines that were previously planned, she said.
"In a way, I am getting my money's worth because I know my professors care and want what's best for me," Keaton said. "But a large part of what I'm paying for is that actual studio space and that experience of being in dance class. To that effect, I don't think I'm getting my money's worth."
Holding classes over Zoom, a video communication platform that has experienced security and technical issues, has made classes more challenging for junior dance major Audrey Hartnett.
"If your internet cuts out, that means you don't hear the music when you're doing a combination, and it doesn't necessarily link up with the movement," Hartnett said.
Both Keaton and Hartnett said the most prominent issues faculty must address right now are the technical ones. This means figuring out a way to effectively adapt the material from the class in a way that students can adequately learn it online without changing the curriculum too much.
Lisa Gonzales, interim chair of the Dance Department, said all class-related problems that arise are thoroughly discussed in the faculty's weekly meetings.
"We are learning as we go. We're talking a lot about needing to be flexible with our students," Gonzales said, adding that she is grateful for all of the communication and feedback from students.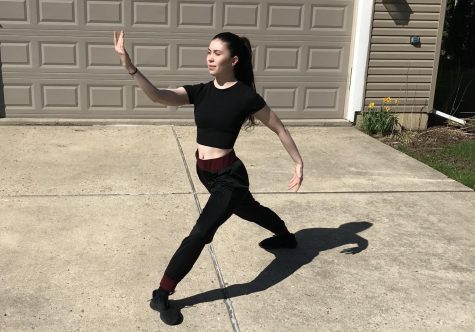 "As a faculty, we love our students so much, and we recognize everything that they're going through," said Paige Cunningham, associate chair and an associate professor in the Dance Department. "We've tried to be really conscious of that and [are] thinking of alternatives."
Cunningham said one of the faculty's priorities when transitioning to remote instruction was to make sure all classes incorporated alternative dance routines that could be done safely without students knocking objects over or injuring themselves in their homes.
Senior dance major Orlando De Leon said going without Columbia's Dance Center is not just a loss of space but a loss of community, too.
"I'm a big product of my environment, and I give the Dance Center everything in terms of my growth," De Leon said. "It's a visceral thing we do, dancing together as classmates. It just doesn't feel the same."
Gonzales said Columbia made the right decision to temporarily suspend classes in March so every dance class could be successfully transferred online, and no classes had to be canceled.
"I was in tears multiple times during those three weeks because it felt so daunting," Gonzales said. "People were working overtime. We were so exhausted."
Both Gonzales and Cunningham said they view the current situation as a "creative challenge" and encourage students to do the same.
"In a weird way, this is like a challenging piece of choreography," Cunningham said. "There's a new fire in my belly for when I can get back in the studio with my students."