One year into Russia's invasion, hundreds gather in Ukrainian Village
February 25, 2023
Dozens of Ukrainian flags rippled in the sky Friday evening as community members gathered in Chicago's Ukrainian Village to commemorate the somber one-year anniversary of Russia's invasion.
Chicago is home to one of the largest Ukrainian populations in the US, and hundreds rallied at Saints Volodymyr and Olha Ukrainian Catholic Church, located at 739 N. Oakley Blvd.
The invasion, a major escalation of the Russo-Ukrainian war that began in 2014, has caused tens of thousands of casualties, according to this United Nations Human Rights Office report. Approximately 14 million people have been displaced thus far.  
The rally, organized by the Illinois Division of the Ukrainian Congress Committee of America and St. Nicholas Ukrainian Church featured a variety of speakers, including Mayor Lori Lightfoot, U.S. Reps. Raja Krishnamoorthi and Mike Quigely, in addition to multiple Ukrainian activists and church members.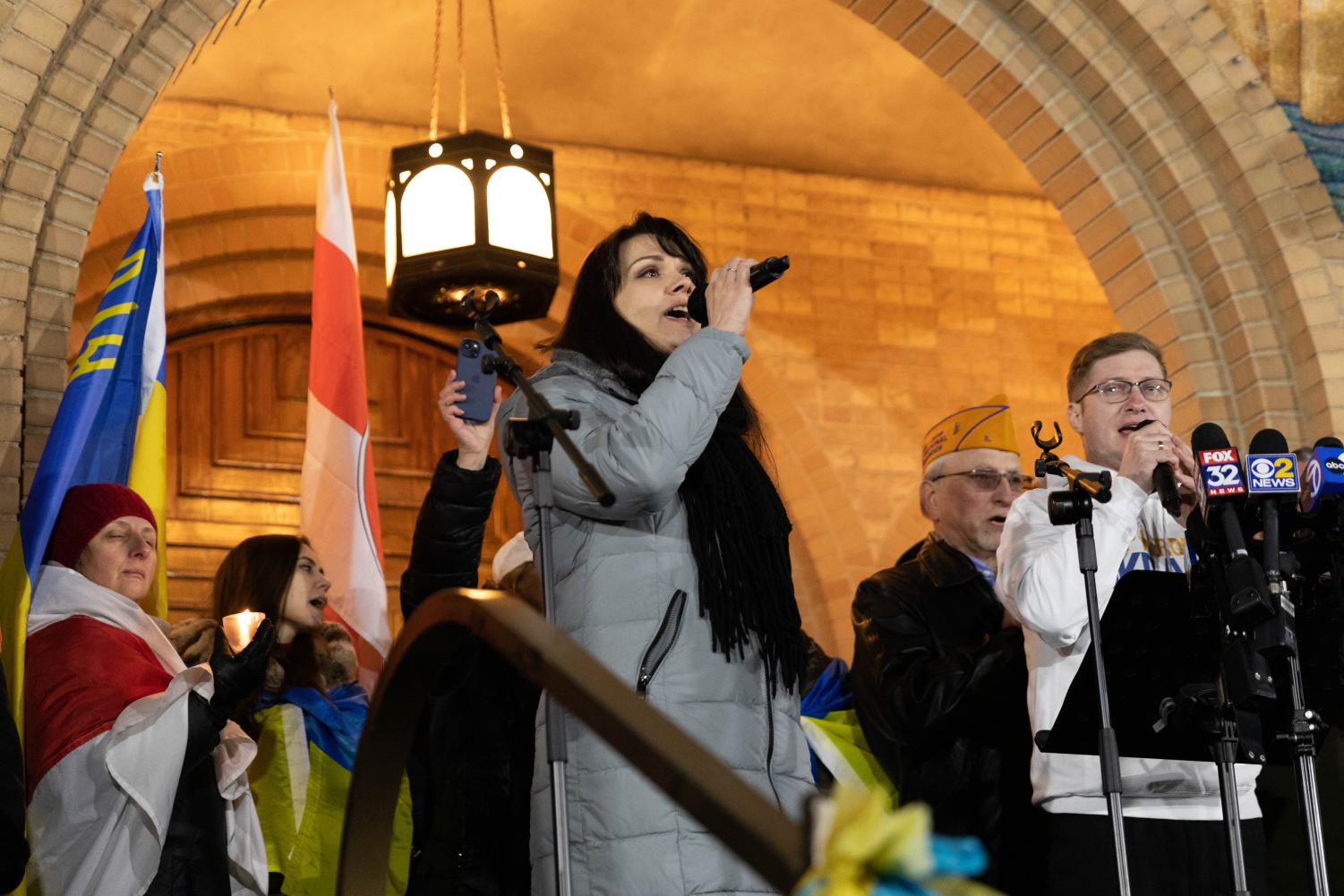 Many of the speakers ended their remarks with "Slava Ukraini!" The crowd responded loudly in unison, replying "Heroyam slava!" This common call-and-response — translating to "Glory to Ukraine / Glory to the heroes" — is a symbol of Ukrainian solidarity and honoring those fighting to protect the country.
"Tonight we are honoring the victims; the brave men and women who have defended Ukraine. We are going to count down one second of silence for each day," said UCCA-Ill. President Ihor Diaczun, who hosted the event.
Diaczun then played an audio clip to honor those who have died and endured the violence. With a loud heartbeat playing throughout the soundbite, the narrator described the original invasion, and other intense moments throughout  the past year; accounting various deadly bombings and vicious attacks, the audio was 365 seconds long.
One year after Russia's invasion of Ukraine, Ukrainian refugee and singer-songwriter Olha Tsvyntarna sang her song "I Used to Dream About My Future," to a crowd of protestors. 

"Dictatorship is not another word you learn from books, I know its face and how it feels and how it looks, a helpless cry, a mother who has lost her child," Tsvyntarna sang. 
Liliia Popovych is a nurse and Ukrainian activist in Chicago. The question, 'are you okay' has a new meaning, she told the crowd. "It means 'Are you alive today? Are you safe today,'" she said. 
Popovych then introduced 365 people, wrapped in blue and yellow flags, holding 365 posters representing each day the Ukrainian people have endured Russian attacks.
Each poster showed a photo taken on each individual day, with a descriptive caption and date.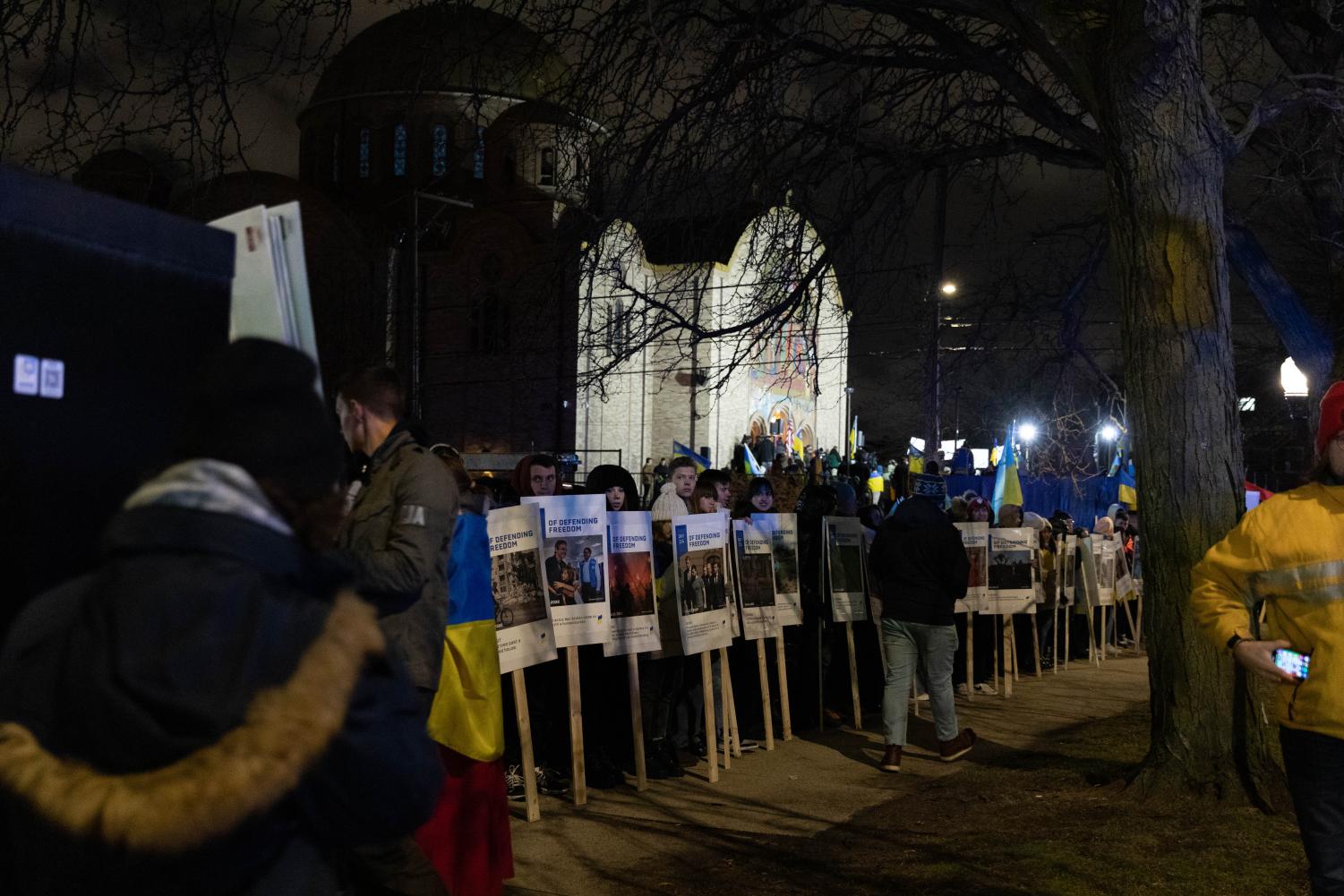 Endurance was the principal theme throughout the evening.
"We will never surrender to tyrants, we will never surrender to Putin," said Krishnamoorthi, who represents Illinois' 8th District.  
"We are all Ukrainians tonight. We are Ukrainians in our love of freedom, we are Ukrainians in our love of liberty, we are Ukrainians in our love of democracy," the congressman said. "I will always continue to stand with you."