New Title IX regulations, remote service amid the pandemic could create 'mass chaos' at colleges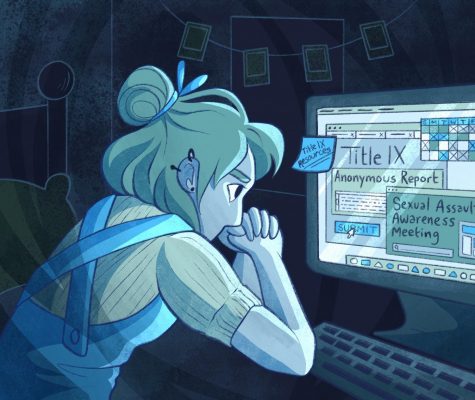 On top of transitioning Title IX services and resources online in recent weeks, colleges' Title IX offices now have just three months to implement controversial new federal regulations.
Title IX changes
Colleges and universities across the nation will be required to comply with U.S. Secretary of Education Betsy DeVos' changes to Title IX, a 1972 law prohibiting discrimination at federally funded higher education institutions on the basis of gender, including sexual harassment and misconduct.
Since 2018, DeVos and the U.S. Department of Education have gone through "wide-ranging research, careful deliberation, and critical input from survivors, advocates, falsely accused students, school administrators, Title IX coordinators, and the American people, including over 124,000 public comments," according to a May 6 press release from the U.S. Department of Education announcing the changes.
Janely Rivera, Title IX coordinator and director of equity issues at Columbia, said the college is reviewing the regulations and will be in "full compliance" by Aug. 14, though she had no further comment at this time on how the changes may impact the college.

Some of the changes have been criticized by sexual assault victim advocacy groups for being too lenient toward the accused, which they say could stop victims from coming forward. These changes give the accused the ability to cross-examine alleged victims through a lawyer or representative during required live hearings to challenge any evidence.
Ashka Dighe, a communications organizer for the student advocacy group Know Your IX, said the new regulations pose uncertainty about students' civil rights. She said the regulations in the past aimed for equality between the alleged victim and respondent, or someone accused of Title IX violations. Now the changes lean in favor of the respondent and potentially take away agency or autonomy from an alleged victim.
Previously under the Obama Administration, colleges and universities faced lawsuits from students accused of sexual harassment, assault or misconduct for not being "equipped to handle sexual assault investigations in an unbiased fashion," as reported by the Chronicle July 23, 2019. The Department of Education press release said the new regulation "restores due process on campus."

But Dighe said there are changes that will negatively impact students, with colleges and universities not required to investigate sexual assault, harassment and rape that occur off-campus. This includes study abroad programs, incidents between students from two different schools and incidents in off-campus housing. Dighe said a majority of reported incidents will now be dismissed.
If a student files a report, colleges are required to investigate incidents that occur in campus-owned housing or on campus property.
"All of [the changes] undermine Title IX and leave campuses less safe and students less able to access their education free from discrimination," Dighe said.
Another "harmful" change, according to Dighe, is the removal of the timeline for campus investigations, which used to have a recommended 60-day limit as a result of the 2011 "Dear Colleague" letter issued by the Office for Civil Rights. Now, students must be aware that if they report an incident it could take months, or even years before their investigation concludes.

The American Civil Liberties Union and the New York based law firm Strook & Strook & Lavan LLP filed a lawsuit against DeVos and the Department of Education for the changes in an attempt to block them before they go into effect Aug. 14, according to the lawsuit.

Additional changes to Title IX include defining sexual harassment including "sexual assault, dating violence, domestic violence, and stalking as unlawful sex discrimination"; the flexibility to use technology to conduct Title IX investigations and hearings remotely; requiring stronger evidence and higher standards for what is considered a violation; and more narrowly defining sexual misconduct as "unwelcome conduct that is so severe, pervasive, and objectively offensive that it effectively denies a person equal access to the school's education program or activity," according to the U.S. Department of Education.
"It's clear that Secretary DeVos is more interested in reducing reporting rates, because she is trying to protect universities from lawsuits and save them money instead of protecting students and focusing on their safety and their right to education," Dighe said.
Joseph Vincent, senior associate consultant with TNG Consulting, said while a number of the regulations introduced are necessary, some will make it difficult for potential victims or students to access appropriate remedies on campus.He said specific regulatory provisions are problematic, including the requirement for all evidence related to allegations be provided for all parties to view.
"There is often information that emerges in an investigation that's not relevant to the allegations, that could be potentially private or embarrassing," Vincent said.
He added that the new cross examination provision makes it possible for a respondent adviser to directly cross examine an alleged victim, which creates a dynamic where the victim may feel powerless, inferior or like their dignity is being attacked. He said this will potentially make people think twice about following through with a formal complaint process.
Properly implementing some of these regulations by the upcoming fall semester is also a concern because of the timing, according to Sandra E. Hodgin, CEO and founder of Title IX Consulting Group—a group that advises campus administrators, law firms and education-affiliated organizations with Title IX analysis, strategic planning and implementation.
Hodgin said it will be difficult for colleges and universities to focus on Title IX, an area where many campuses have existing subpar policies and procedures, and update them within a three-month window during a pandemic.

Vincent, who has experience as a Title IX coordinator, said the finalized regulations include more "specific and robust" training requirements than they have in the past. He said three months is not nearly enough time to properly implement the changes, which he said may also have budget implications at a time when schools could be facing budget cuts due to expected decreases in revenue and enrollment due to the pandemic.
Carly Mee, a Title IX and victims' rights attorney, said the changes will create "mass chaos" at schools.
"To implement totally new rules would require schools to start looking at their policies and making revisions in ways I don't think they would even have the resources to do right now," Mee said.
The U.S. Department of Education declined an interview request from the Chronicle about the new rules.

Remote Title IX work
Hodgin said there are also challenges with Title IX work being done remotely as colleges are "scrambling" to figure out how to deal with the coronavirus pandemic.

Rivera said Columbia's Title IX office has halted in-person meetings due to campus building and dorm closures, but she said all services are being offered remotely.
The options for reporting violations are still the same, Rivera said, including remote access to Students Relations, Counseling Services and two confidential staff resources. Rivera said no cases started prior to the pandemic are on hold at this time and the office maintains constant communication with students.
Any student, faculty or staff member can still reach out to the Title IX office for help, Rivera said, even if they are currently out-of-state.
"We still do the same outreach that we had before," Rivera said. "We are still receiving reports."

Rivera said online reports can still be filled out anonymously and virtual meetings held are protected with a password sent directly to the student to ensure safety and privacy.
Mee said remote services are beneficial because they are accessible to more students, but those who are home may not have a private space to talk with Title IX coordinators or be vocal about issues of sexual misconduct, and therefore may be discouraged from coming forward.
Jill Dunlap, senior director of Research, Policy and Civic Engagement for the National Association of Student Personnel Administrators, which focuses on improving student affairs including sexual misconduct on college campuses, said the effectiveness of these virtual services differs for each student.
For example, she said some students are more comfortable with seeking help in-person, or some may lack the technology to receive services online such as a laptop, webcam or microphone. However, Dunlap said some students may feel seeking help online relieves the pressure.
Mee said it is important that students continue to hold their schools accountable with regard to Title IX and continue to ask for necessary accommodations.

"I understand that this is a difficult time for schools," Mee said. "But you still have an obligation to complete this process and investigate complaints in a timely manner."