New theatre chair sets the stage for social change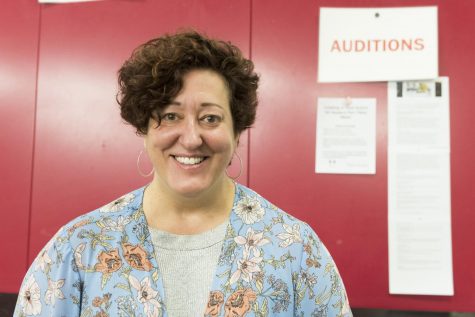 When Carin Silkaitis was in high school, her English instructor gave the class a choice for their final exam—they could write an essay, or perform a section of Shakespeare's "Hamlet." Adorned in a costume, Silkaitis performed as Ophelia. Afterwards, her teacher took her aside and told her acting was the path she needed to take.
Silkaitis immersed herself in the world of theatre, despite her father wanting her to become a lawyer.
So, she did both; minoring in theatre at Indiana University while earning her law degree. Eventually, Silkaitis pursued acting full-time in graduate school on a full-ride scholarship to Roosevelt University.
Although her father wasn't happy with her decision, he came around to her career when he saw her in a national promotional commercial for a Chicago Fire episode in which she appeared. He was most impressed when she became a professor.
"I fell totally head-over-heels in love with [teaching], to the point that I gave up acting for a long time; I just wanted to teach," Silkaitis said. "I fell in love with watching my students' 'aha' moments in class."
Silkaitis—a former associate professor and head of acting in the Theatre Department at North Central College in Naperville—will take on the role of chair in Columbia's Theatre Department Aug. 16. The position was previously occupied by Interim Chair Peter Carpenter, who accepted a position at the University of Florida, as reported May 15 by The Chronicle.
"[Columbia] is a diverse, exciting, vibrant place … [with] so much possibility for cross collaboration," Silkaitis said. "When I get Columbia people in the room auditioning for me, there's something about them. They're exciting people and they take risks in the room."
Although Silkaitis appreciates a good musical, she is drawn to shows that highlight social justice and marginalized communities. Her attraction to these themes comes from her own experience of coming out as a lesbian in the late '90s, after the murder of Matthew Shepard.
Shepard, who at the time was a student at the University of Wyoming, was robbed, beaten and tied to a fence by two men he met at a bar in 1998. After he died in a Colorado hospital six days later, police said Shepard was targeted because he was gay.
At first, Silkaitis never wanted to come out because she equated it with being killed; eventually the experience helped her own who she was and motivated her to seek social change through her art.
"It became not just about queer folk, it became about other marginalized populations and figuring out ways to use my voice and my art to wake people up to what's happening in our world," Silkaitis said.
Every 10 years, Silkaitis directs a production of The Laramie Project—a play by Moisés Kaufman about the public's reaction to Shepard's murder. For the 20th anniversary, Silkaitis took the cast to Laramie, Wyoming, to visit where Shepard was attacked and speak with the locals.
Silkaitis said she will continue to direct renditions of The Laramie Project until there are no longer hate crimes; until society treats the LGBTQ community equally; and until she's no longer afraid to hold her wife's hand in public.
Within Columbia's large Theatre Department, Silkaitis plans to bring openness to the forefront.
Although she does not want to look back, Silkaitis said she is aware of some of the issues the Theatre Department has been experiencing, such as a lack of casting opportunities for students of color, as reported May 28 by The Chronicle.
A few members have voiced their concerns to Silkaitis due to her being a rare outside hire. In response, Silkaitis said she plans to bring a diverse range of people to the table, collaborate with faculty on any future changes within the department and have conversations with students. Because of her background as a certified Title IX investigator, Silkaitis said she is accustomed to responding to related issues directly and quickly.
"Creating an open environment where we can have these conversations as a community in an ever-evolving culture surrounding diversity, equity, inclusion and access … never stops," Silkaitis said. "As a leader, teaching people that we're constantly evolving, [that] we're keeping pace with how society moves and as a department we can't be stuck in a place that was 20 years ago or 30 years ago. We've got to keep moving forward."