New Student Convocation to take place virtually amid pandemic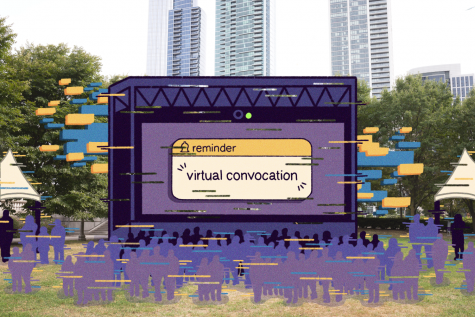 It is the event every first-year student should look forward to. Music booming throughout the park as bubbles and streamers float around students walking from booth to booth and Columbia organizations getting ready to kick off the new school year.
Typically, the event is held in Grant Park between East Ninth Street and East 11th Street the weekend before classes start and includes an afternoon of free food, live music and a speech from President and CEO Kwang-Wu Kim.
Due to the pandemic, the usual outdoor event will be hosted online this year.
New Student Convocation will take place virtually Saturday, Sept. 5, and is divided into two sections.
"Connections," the first section of Convocation will take place from 11 a.m.-1 p.m. and will be hosted by individuals from each academic department. This allows students to meet faculty members in their department and mingle with other students remotely.
Students will be able to access "Connections" through the Kickoff Weekend Website, which will lead them to the college's new digital platform, "Engage Portal," where they will participate in small group sessions.
Following "Connections," a virtual fair will take place from 3-5 p.m. on the Engage Portal, also known as "CampusGroups." During the fair, new students will be able to play games with orientation leaders and meet leaders from student organizations.
Isaiah Moore, senior television and cultural studies major and president of the Student Organizations Council, said "CampusGroups" was created to bring the Columbia community together during a time when it is hard to do so.
In lieu of the physical booths, student organizations have created virtual booths containing a slogan unique to their organization and a biography section containing general information about the club.
Some organizations have documents included with more in-depthinformation, a welcome video, images and videos from past organizational events.
Kin Marie, senior marketing major and president of the Black Student Union, said her organization will also include video snippets of members talking about what the Black Student Union means to them.
Marie said the organization still wants to make its presence known within the Columbia community, despite the pandemic.
"[We're] emphasizing to students that we're here to provide space despite the changes that [COVID–19] has caused on campus," Marie said.
Leaders of student organizations also have the ability to enable group chats and video conferences, which will allow attendees to ask questions and interact with the leaders in real time.
When students enter the site, they can indicate interests they want to pursue such as sports and fields of study, which will then automatically match them with specific student organizations based on those preferences.
Moore said Convocation will be different this year due to the lack of in-person contact between organization leaders and students interested in joining.
"Convocation is important in the sense that it's intended to build community and get you acclimated to Columbia College," Moore said. "Being online is different because not everyone fares well in terms of having to log in and go into a Zoom call, pop up randomly and just kind of be there."
Freshman game design major Tyler Delgado said as an introvert, a virtualConvocation will make it difficult for him to meet people because he will not be able to gauge the personalities of his peers as well as he would be able to in person.
"When you can look at another person, you can connect with them a little bit better when you can see their face and remember how their voice sounds," Delgado said.
Daniel Kaniewski, senior cinematography major and co-founder and representative of the Columbia Renegades E-Sports Club, said he is worried about not being able to reach new students who might want to get involved.
Kaniewski said he does not think Convocation will be well-attended because freshmen will not search for events on Columbia's website due to campus operating primarily online.
"I've been talking to some freshmen who are already in our server, … and I asked them if they knew what Convocation is … they don't," Kaniewski said. "The first time they ever heard of it is when I asked them about it, so that's a little unnerving."
Freshman musical theatre performance major RileyGrace Abbott said getting "plugged in" to the Columbia community is what she is looking forward to most.
"This time [during the pandemic], it's been really hard, especially moving out of state to make friends and get plugged in," Abbott said. "I'm excited to meet new people … and get out of that shell of only being me."