New president, same old political divisions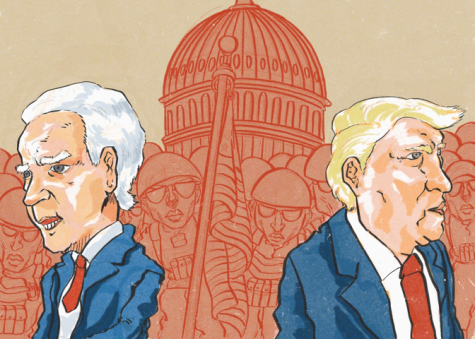 Within the first week of 2021, there was an attempted coup at the Capitol building in Washington, D.C. By the second week, former President Donald Trump was impeached for the second time. But Wednesday, during the third week, President-elect Joe Biden was inaugurated.
As the hours drew closer to Inauguration Day, members of the Columbia community and political experts weighed in on what might happen after Biden was sworn in as the 46th president.
Following his remarks on the siege at the Capitol, Biden said he was not concerned for his safety and security while taking his presidential oath. He and First Lady Jill Biden even exited the motorcade to walk the last stretch of the route to the White House.
Leading up to the inauguration, which Trump did not attend, the National Mall and major bridges leading to D.C. were closed, and 25,000 National Guard members were deployed to ensure his safety. Twelve members of the National Guard had to be removed from the security detail after being vetted for their ties to far-right extremist groups, according to CNN.
Stephanie Goldberg, an adjunct faculty member in the Communication Department, said she would have been fine with Biden being sworn in privately, but she understands this act could have been seen as a form of surrender.
Goldberg called the attack at the Capitol building the most "frightening fascist force" she has seen in her lifetime—something she could only compare to seeing the mass opposition to the Civil Rights Movement as a child.
She said she is unsure how Biden will be able to calm and heal Trump's "most avid followers."
"I don't know what it will take to quiet them, but I also don't think we can appease them," Goldberg said.
Although Biden has called for unity and healing during his campaign, Dick Simpson, a political science professor at the University of Illinois at Chicago, said Biden will have difficulty passing bipartisan legislation in Congress.
"To do that will require watering down what could be done so that some Republicans would agree to it," said Simpson, a former 44th Ward alderperson.
Simpson said the Freedom Caucus, a far-right conservative group in the U.S. House and Senate that often agreed with Trump, is not going to cooperate with any proposals from Biden's administration and will form a "very adamant" opposition.
Republican Georgia Rep. Marjorie Taylor Greene, a supporter of QAnon, said she plans on introducing articles of impeachment for Biden on his first day in office, according to The Hill.
Patrick Mallon, a sophomore film and television major from Virginia, said Greene's plan is a case of "I push you, you push me" and will make things worse.
Because of the attack on the Capitol, Mallon said his family was not able to visit his grandmother for her 80th birthday.
"It's not actually doing anything of merit," he said. "It's … the fact that Democrats did it to the Republicans, so now Republicans are going to do it on Democrats."
Simpson said time will tell how Biden does with having a bipartisan coalition in passing consequential legislation in his first 100 days in office.
"If the partisanship and polarization in Congress remain absolute, then the Biden program is going to be stalled fairly quickly," he said.
Simpson said Trump's presidency will be defined by the corruption within his administration, being the only president impeached twice, the pandemic and the economic recession the U.S. is facing.
Mallon said he would like to see Biden's administration improve upon the administrations of former presidents Trump and Barack Obama by not only appealing to their bases but hearing what other sides have to say as well.
Although the conversation around politics in 2020 focused on the negatives, in retrospect Goldberg said people should celebrate and take pride in what was accomplished during the 2020 election.
Goldberg said the efforts of Black women and young people in voter turnout should be lauded and that everyone needs to "stay woke," stay engaged and stay informed during Biden's presidency.
"The opposition mobilized by Trump is both fascist and terrifying," Goldberg said. "We can't be complacent about anything."
In Biden's inaugural speech, he spoke about unity in repairing and restoring the U.S. from the pandemic, an environmental crisis and racial injustice. He said his "whole soul" is in uniting the country for those who supported him and those who did not.
"The answer is not to turn inward, to retreat into competing factions distrusting those who don't look like you or worship the way you do, or don't get their news from the same sources that you do," he said.
During his address, Biden said love and healing should be the story that guides, inspires and is told to future generations.
"We answered the call to history, we met the moment," he said. "Democracy and hope, truth and justice did not die on our watch, but thrived."